mongabay.com
February 09, 2011
Rising food, energy, and mineral prices, coupled with new interest in forests for their carbon-storing capacity, are driving a global land grab that threatens the rights of hundreds of millions of people living in and around tropical forests, argues a new report published by the Rights and Resources Initiative (RRI).

The report, "Pushback: Local Power, Global Realignment," says that after 25 years of progress on governments recognizing forest peoples' land and resource rights (recognition of indigenous and community ownership and management tripled between 1985 and 2009), gains stagnated in 2010.

"The lack of progress at the global level in 2010 was doubly disappointing," said Andy White, RRI Coordinator, in a statement. "On one hand the necessity of secure rights is now widely promoted by climate change negotiators and development specialists, yet on the other, the rate of recognition is not at all keeping up with the rate of large commercial land acquisitions—so called 'land grabbing.'"

The report highlights several cases of land-grabbing and violent social conflict. It says governments in some countries have conspired with development interests to undermine rights of communities, and in some cases—including instances in Nepal and Peru—clamp down on forest rights advocates.

Pushback takes an extended look at the Reducing Emissions for Deforestation and Forest Degradation (REDD) mechanism, and sees both threats and opportunities. It notes that after years of demonstrations, forest people are finally getting a seat at the table when it comes to REDD discussions—more than 500 attended last December's climate talks in Cancún, Mexico. The report finds that groups which have the most optimistic outlook on REDD tend to be the ones that have secure rights to their land.

"At the local level, support or distrust of REDD is directly tied to how much control you have over your lands," said White. "Community groups in Mexico are very interested in REDD because they don't think it will prompt the government to come after their lands. But elsewhere, there is concern that REDD will become just another reason for government taking back land and resource rights."

Pushback says it is too early to tell whether 2011 will see progress in land tenure reform and recognition of traditional land and resource rights. It cautions that gains could erode as markets that tend to be sensitive to rights issues (Europe and the United States) shrink relative to less discerning markets.

"2011 could see a decline in the effectiveness of consumer pressure as a way to encourage land tenure reform. While consumers have been successful in pushing major western investors to act more responsibly, the West's share of the global market is declining," says RRI in a press statement. "Western interests are being replaced by investors from developing and middle income countries, who are less susceptible to consumer campaigns."
















Related articles

Report: indigenous people deserve right to refuse big companies

(02/04/2011) As large-scale mining, logging, and plantations threaten indigenous communities worldwide, a new report from the indigenous rights NGO Amazon Watch states that when extractive industries work in indigenous people's territories, the peoples' rights must be respected. The report argues that all indigenous groups have the right to 'free, prior, and informed consent' of any resource extraction occurring on their lands, and that this international standard should be upheld not only for obvious moral reasons, but for sound business.


'Land grab' fears in Africa legitimate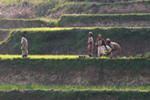 (01/31/2011) A new report by the International Institute for Environment and Development (IIED) has found that recent large-scale land deals in Africa are likely to provide scant benefit to some of the world's poorest and most famine-prone nations and will probably create new social and environmental problems. Analyzing 12 recent land leasing contracts investigators found a number of concerns, including contracts that are only a few pages long, exclusion of local people, and in one case actually give land away for free. Many of the contracts last for 100 years, threatening to separate local communities from the land they live on. "Most contracts for large-scale land deals in Africa are negotiated in secret," explains report author Lorenzo Cotula in a press release. "Only rarely do local landholders have a say in those negotiations and few contracts are publicly available after they have been signed."


Renewed conflict between tribes and oil companies looms in Peru

(01/06/2011) Indigenous peoples and their allies have intensified their fight against two oil companies over contamination in the Peruvian Amazon. Last week, a group of indigenous protesters blockaded portions of the Marañon and Corrientes Rivers in the province of Loreto in northeastern Peru. The protesters were demanding that Pluspetrol, an Argentinean oil company, compensate them for a recent oil spill. As of December 28th, after eight days, the blockade remained unbroken.


United States to back U.N. indigenous rights declaration

(12/23/2010) The United States will endorse the United Nations Declaration on the Rights of Indigenous People (UNDRIP), making it the last industrialized power to support the agreement, which recognizes the rights of indigenous peoples on issues including free prior and informed consent (FPIC), right to sovereignty, territory and respect for traditional knowledge. The move was announced last week by President Barack Obama.