Burning up biodiversity: forest fires increase in Madagascar
Rhett A. Butler, wildmadagascar.org
January 10, 2011


The number of fires burning in and around forests in the northeastern part of Madagascar increased during the 2010 burning season relative the the year before, according to analysis of NASA data by WildMadagascar.org / Mongabay.com. The rise in burning corresponds to an especially dry year and continued illegal logging of the region's biologically-rich rainforests.



Data available from Conservation International's Fire Alert System, which aggregates MODIS fire data from NASA satellites, shows that the number of fires in districts in Sofia, Diana, Analanjirofo, and Sava in northeastern Madagascar increased roughly 8 percent in September through December 2010 relative to the year earlier period. In total, 1,965 fires were recorded burning in and around forest areas during the 2010 time frame, whereas 1,827 were observed in 2009. But fires outside forest areas decreased by about a quarter in the region.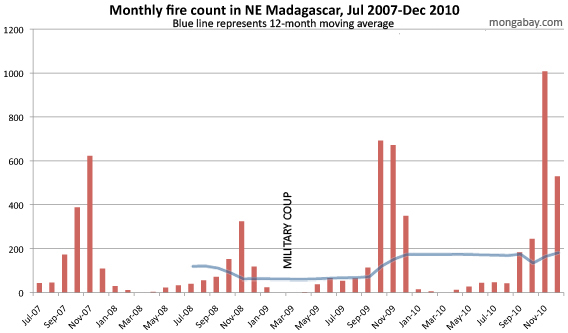 Analysis based on NASA MODIS data via the Fire Alert System (firealerts.conservation.org)

The number of forest and non-forest fires in 2009 and 2010 in the region was substantially higher than 2007 and 2008. Local observers say an increase in rosewood logging may have contributed to the increase. Last year's military coup, which displaced Madagascar's democratically-elected president and diminished governance across the country, has facilitated illegal logging in the region's rainforests reserves, including Masoala National Park, which reportedly has as many as 1,000 illegal loggers operating within its boundaries at present. Some 10,000 people are estimated to have settled in the park.

Although Madagascar officially maintains a ban on rosewood exports, an investigation by the Environmental Investigation Agency has found evidence linking Andry Rajoelina, the coup leader and acting president, to timber trafficking. Video provided by the NGO captured Chinese rosewood traders admitting to direct dealing with Rajoelina. The revelations have since contributed to a political scandal, dubbed "Rosewoodgate".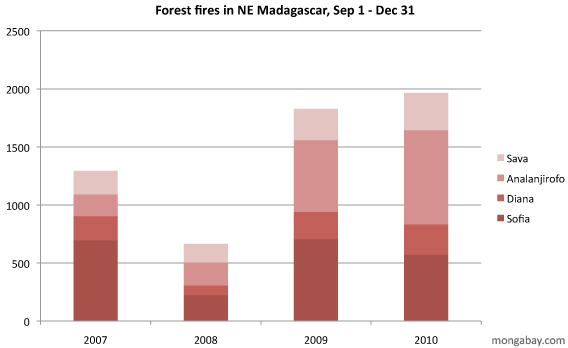 Analysis based on NASA MODIS data via the Fire Alert System (firealerts.conservation.org)

While the increase in fires is worrying to conservationists, fire is deeply entrenched in the culture of most rural Malagasy, as the people of the island nation are known. Each year vast tracts of land — most of which has been previously burned — go up in smoke to support subsistence cattle grazing. In some regions, poor farmers actively burn forests to establish rice fields. The resulting degradation has taken a heavy ecological toll: Madagascar suffers from severe soil erosion, declining agricultural productivity, and high deforestation.

Madagascar is best known for its incredible biodiversity, roughly 70 percent of which is found nowhere else. Lemurs are its most famous residents, but the island is home to a staggering array of unusual creatures, including hedgehog-like tenrecs; the fossa, an endemic predator; colorful chameleons and bizarre geckos; and hundreds of species of frogs. Its wildlife makes Madagascar a top destination for wildlife enthusiasts and ecotourists.



















CITATION:
Rhett A. Butler, wildmadagascar.org (January 10, 2011). Burning up biodiversity: forest fires increase in Madagascar. http://news.mongabay.com/2011/0110-madagascar_burning.html




News index | RSS | News Feed | Twitter | Home


---
Advertisements:



WILDMADAGASCAR.ORG
WildMadagascar.org aims to raise interest and awareness in Madagascar >>
T-SHIRTS