Jeremy Hance
mongabay.com
September 22, 2010
A search for 100 of the world's 'lost amphibians'—unseen for decades and in many cases supposed extinct—have turned up three species so far, one of which hasn't been recorded since the Nazis were bombing London. The lost amphibian expeditions, formed by Conservation International (CI) and the IUCN Amphibian Specialist Group (ASG), have found surviving populations of the cave splayfoot salamander (
Chiropterotriton Mosaueri
) in Mexico, the Mount Nimba reed frog (
Hyperolius Nimbae
) in the Ivory Coast, and the Omaniundu reed frog (
Hyperolius sankuruensis
) from the Democratic Republic of Congo.
"These are fantastic finds and could have important implications for people as well as for amphibians. We don't know whether study of these animals could provide new medicinal compounds—as other amphibians have, and at least one of these animals lives in an area that is important to protect as it provides drinking water to urban areas. But these rediscovered animals are the lucky ones—many other species we have been looking for have probably gone for good," said Robin Moore, head organizer of the 18 countries, five continents search, in a press release.
| | |
| --- | --- |
| | The recently rediscovered Mount Nimba reed frog. Photo © Ngoran Germain Kouame. |
Probably the most astounding of the announcements is the rediscovery of the cave splayfoot salamander which was recorded only once by a scientist back in 1941. Fortunately, researcher Sean Rovito from the Universidad Nacional Autonoma de Mexico was willing to descend down a large pothole to enter the salamander's expected cave system, which is used by locals for drinking water. There he found not one, but several individuals.
The Mount Nimba reed frog was found in a village's swampy field by researcher N'Goran Kouame in his native country of the Ivory Coast. This small hard-to-see frog hadn't been recorded since 1967.
The Omaniundu reed frog was heard before it seen. University of Copenhagen student, Jos Kielgast, was scouring flooded forest in a remote area of the Democratic Republic of Congo when he heard the frog; it took another hour before he could locate the singer itself.
"It's pretty extraordinary to think about just how long it has been since these animals were last seen. The last time that the mexican salamander was seen Glen Miller was one of the world's biggest stars, while the Mount Nimba reed frog hasn't been seen since the year the Beatles released Sgt Pepper's Lonely Heart Club Band and the Omaniundu reed frog disappeared the year that Sony sold its first ever Walkman," Moore says.
Searching for the 100 lost amphibians continues through October. Scientists hope more good news will be coming especially given how rare good news is for amphibians these days. Currently the IUCN estimates that 30 percent of the world's amphibians are threatened with extinction. They have been battered worldwide by habitat loss, pollution, agricultural chemicals, overexploitation, and climate change. Yet the biggest impact on amphibians appears to be the fungal disease called chytridiomycosis. This disease, known as the amphibian-plague, has wiped out whole species even in otherwise pristine areas. Experts say that in the past 3 decades it is likely that at least 120 amphibians have gone extinct.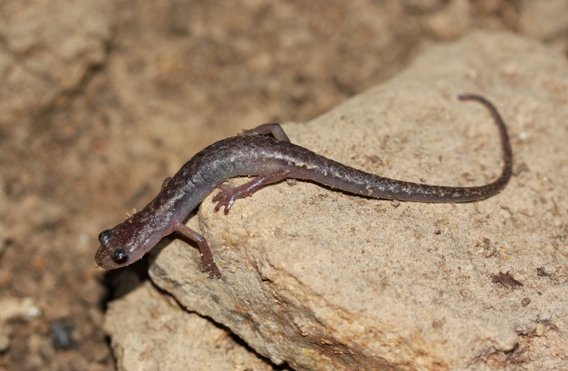 The cave splayfoot salamander. Photo © Sean Rovito.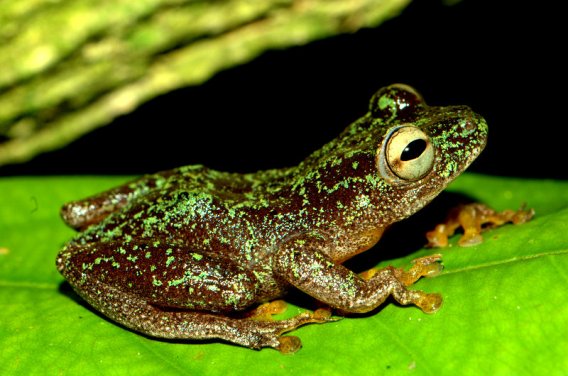 The Omaniundu reed frog. Photo © Jos Keilgast.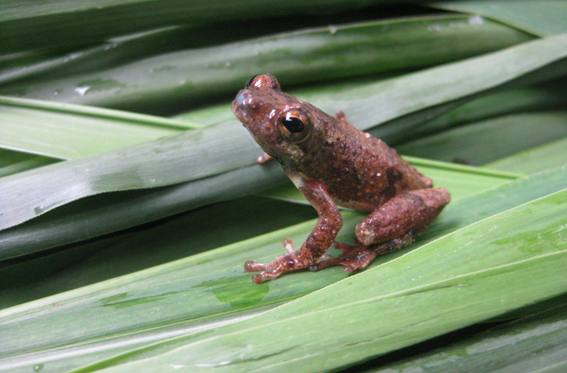 The recently rediscovered Mount Nimba reed frog. Photo © Ngoran Germain Kouame.
Related articles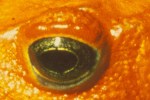 Photos: world's top ten 'lost frogs'
(08/09/2010) The International Union for the Conservation of Nature (IUCN) and Conservation International (CI) have sent teams of researchers to 14 countries on five continents to search for the world's lost frogs. These are amphibian species that have not been seen for years—in some cases even up to a century—but may still survive in the wild. Amphibians worldwide are currently undergoing an extinction crisis. While amphibians struggle to survive against habitat loss, climate change, pollution, and overexploitation, they are also being wiped out by a fungal disease known as chytridiomycosis.



Scientists hunt for 'lost frogs' around the globe
(08/09/2010) From now through October, teams of scientists will be scouring through leaf litters, in shallow pools, under rocks, and in tree trunks for the world's 'lost frogs'. Searching in 14 countries on five continents, the researchers are looking for some 100 species of frogs that have not been seen in decades and in some cases up to a century. While some of the species may well be extinct, researchers are holding out hope that they can find the ones that are still hanging on, albeit by a thread.


Photos: Asia's tiniest frog discovered living inside carnivorous plants in Borneo
(08/25/2010) One of the world's smallest frogs has been discovered living inside carnivorous plants in Borneo, reports Conservation International, a conservation group that is jointly supporting a campaign with IUCN to search for some of the world's 'lost amphibians.' The species, described in Zootaxa by Indraneil Das and Alexander Haas of the Institute of Biodiversity and Environmental Conservation at the Universiti Malaysia Sarawak and Biozentrum Grindel und Zoologisches Museum of Hamburg, is named Microhyla nepenthicola after the plant in which is was found, Nepenthes ampullaria, a species of pitcher plant from Malaysian Borneo.