Rhett A. Butler, mongabay.com
February 04, 2010
The European Union may be planning to classify oil palm plantations as forests, raising fears among environmental groups of expanded conversion of tropical rainforests for biofuel production, reports the EUobserver, which cites a leaked document from the European Commission.

The draft document [PDF] shows that policymakers are considering language that would specifically allow use of biofuels produced via conversion of rainforests to oil palm plantations.

"Continuously forested areas are defined as areas where trees have reached, or can reach, at least heights of 5 meters, making up a crown cover of more than 30%," states the document in laying out its definition of forest. "They would normally include forest, forest plantations and other tree plantations such as palm oil. Short rotation coppice may qualify if it fulfils the height and canopy cover criteria."

"This means, for example, that a change from forest to oil palm plantation would not per se constitute a breach of the [sustainability] criterion. A change form short rotation coppice to annual agricultural crops could constitute a breach of the criterion."

The regulations would allow the conversion of rainforest to oil palm plantations but not annual crops like corn, soy, or rapeseed. In other words, it appears to open a gaping loophole in its sustainability criteria.

Environmental groups quickly condemned the plan.

"This leaked document shows the disgraceful attempts to push palm oil through European laws designed to prevent destruction of the world's forests," said Adrian Bebb, agrofuels campaign coordinator for Friends of the Earth Europe, in a statement. "Allowing the expansion of palm plantations to fuel cars and lorries in Europe will have a devastating impact on the climate, biodiversity and the people who depend on forests."



Oil palm plantation in Sumatra


Rainforest in Borneo


Oil palm plantation and logged-over forest in Borneo.
"If the incoming Commission is serious about tackling climate change and halting biodiversity loss it needs to clean up the biofuels legacy and urgently ensure that forests are not sacrificed to fuel cars."

The text contains language about protecting biodiversity and avoiding conversion of land with high carbon stock, but these safeguards are subsequently undermined by the palm oil provision.

The leaked document suggests that lobbying efforts by the palm oil industry are paying off. The Malaysian Palm Oil Council (MPOC), the state-backed marketing arm of Malaysia's palm oil industry, and the Indonesian equivalent, the Indonesian Palm Oil Association (GAPKI), have sent several delegations to Europe over the past two years. MPOC has also retained GPlus, an international lobbying outfit, according to the EUobserver, and launched an aggressive PR campaign through advertisements, editorials, blogs, web sites, and new pro-palm oil NGOs. The campaign, which downplays environmental concerns of palm oil expansion and touts the crop's high yield and profitability, has proven controversial. Last year Britain's Advertising Standards Authority (ASA), a group that regulates advertisements, banned an MPOC spot for making false claims about the sustainability of palm oil.

Environmental groups and scientists say that oil palm production has driven large-scale destruction of rainforests across southeast Asia over the past two decades, triggering the release of billions of tons of carbon dioxide emissions and imperiling rare species, including the Sumatran tiger and the orangutan. The palm oil industry maintains that its crop is highly productive, requiring less land and costing less than other oilseeds like soy and canola, and has improved living standards for millions. Industry representatives have tended to dismiss environmental concerns as "colonialism" or masked trade barriers.

Should it be approved next month, the Commission document would lend support to Indonesia's recently announced plan to establish millions of hectares of oil palm plantations as part of its national climate change action plan. While details of the initiative remain scarce, environmentalists fear that plantation expansion would come at the expense of Indonesia's increasingly endangered native forests. Indonesia is seeking outside funding — including carbon finance — to underwrite the scheme.





Related articles

UK failing to meet biofuel sustainability standard

(02/01/2010) Only 4 percent of biofuel imported for use in the UK meets the environmental sustainability standard set by the Renewable Transport Fuel Obligation (RFTO), reports a new assessment from the Renewable Fuels Agency.


UK to fund efforts to shift towards greener palm oil production

(01/31/2010) Britain will contribute £50m ($80m) towards efforts to reduce greenhouse gas emissions in Indonesia, including a project that aims to encourage palm oil producers to establish plantations on degraded lands instead of in place of rainforests and carbon-dense peatlands, reports BBC News.


Orangutans vs palm oil in Malaysia: setting the record straight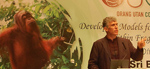 (01/16/2010) The Malaysian palm oil industry has been broadly accused of contributing to the dramatic decline in orangutan populations in Sabah, a state in northern Borneo, over the past 30 years. The industry has staunchly denied these charges and responded with marketing campaigns claiming the opposite: that oil palm plantations can support and nourish the great red apes. The issue came to a head last October at the Orangutan Colloquium held in Kota Kinabalu. There, confronted by orangutan biologists, the palm oil industry pledged to support restoring forest corridors along rivers in order to help facilitate movement of orangutans between remaining forest reserves across seas of oil palm plantations. Attending NGOs agreed that they would need to work with industry to find a balance that would allow the ongoing survival of orangutans in the wild. Nevertheless the conference was still marked by much of the same rhetoric that has characterized most of these meetings — chief palm oil industry officials again made dubious claims about the environmental stewardship of the industry. However this time there was at least acknowledgment that palm oil needs to play an active role in conservation.


Consumers should help pay the bill for 'greener' palm oil


(01/12/2010) Palm oil is one of the world's most traded and versatile agricultural commodities. It can be used as edible vegetable oil, industrial lubricant, raw material in cosmetic and skincare products and feedstock for biofuel production. Growing global demand for palm oil and the ensuing cropland expansion has been blamed for a wide range of environmental ills, including tropical deforestation, peatland degradation, biodiversity loss and CO2 emissions. In response to these concerns, a group of stakeholders—including activists, investors, producers and retailers—formed the Roundtable on Sustainable Palm Oil (RSPO) to develop a certification scheme for palm oil produced through environmentally- and socially-responsible ways. It is widely anticipated that the creation of a premium market for RSPO-certified sustainable palm oil (CSPO) would incentivize palm oil producers to improve their management practices.


Indonesia to plant and restore vast area of forest to reach emissions target

(01/07/2010) Indonesia will rehabilitate degraded forests and plant millions of hectares of new forests to meet its target of reducing greenhouse gas emissions 26 percent from projected levels by 2020, reports Reuters.


Rainforest conservation: a year in review


(12/27/2009) 2009 may prove to be an important turning point for tropical forests. Lead by Brazil, which had the lowest extent of deforestation since at least the 1980s, global forest loss likely declined to its lowest level in more than a decade. Critical to the fall in deforestation was the global financial crisis, which dried up credit for forest-destroying activities and contributed to a crash in commodity prices, an underlying driver of deforestation.


More on palm oil