Shipment of questionable Madagascar rosewood canceled after international outcry
Rhett A. Butler, mongabay.com
December 28, 2009


A planned shipment of rosewood that had been illegally logged from Madagascar'a rainforest parks has been canceled following international outcry, report sources in Madagascar. The shipment, which would have been transported by Delmas, a French shipping company, had been scheduled for December 21st or 22nd out of the port of Vohemar.

Several sources in northeastern Madagascar report that Delmas picked up only vanilla from Vohemar during its port-of-call last week. The company had been under pressure after word of the shipment was leaked to international media less than a week before the scheduled shipment. Ecological Internet, an activist network, followed the report with a campaign targeting the French government and Delmas. The French delegation at climate talks in Copenhagen was also made aware of the allegations, which put Delmas directly in conflict with France's push to establish stronger safeguards against illegal logging as a means to reduce emissions from deforestation.


| | |
| --- | --- |
| | Two ships belonging to Delmas, the Consistence and the Lea, have reportedly been shipping rosewood out of Madagascar. Photos taken in Vohémar port, Madagascar. |
Word of the shipment also reached Andry Rajoelina, Madagascar's interim president, who was reportedly "enraged," according to Radio Vanille. 13 rosewood traffickers were subsequently arrested, although it is unclear whether they are still incarcerated.

Nevertheless rosewood logs still sit in Vohemar and other towns awaiting shipment. Local sources expect the timber to be eventually exported and laundered through nearby Reunion or Mauritius on the way to China where it will be turned into furniture.

The rosewood trade exploded following the March military coup that dislodged President Marc Ravalomanana. In the absence of law enforcement, armed gangs marauded through national parks, cutting rosewood for export and poaching birds and lemurs for an emerging commercial bushmeat trade. Up to 15,000 ha (40,000 acres) of Masoala, Makira, Marojejy, and other protected areas were affected by logging, which drove off tourists, an important source of income in the region. The transitional authority has since implemented some controls over the trade, but with limited effectiveness. Valuable hardwood continues to be illegally shipped out of the country.


MADAGASCAR RAINFOREST MASSACRE









Related articles

French company CMA-CGM facilitating destruction of Madagascar's rainforests, undermining France's position in Copenhagen

(12/17/2009) Delmas, a subsidiary of French shipping giant CMA-CGM, is facilitating the destruction of Madagascar's endangered rainforests by providing transport for timber illegally logged from the country's national parks, report multiple sources that have been investigating the illegal rosewood trade in the Indian Ocean island nation. The accusations put Delmas directly in conflict with the French government's push at climate talks in Copenhagen to establish stronger safeguards against illegal logging.


Major international banks, shipping companies, and consumers play key role in Madagascar's logging crisis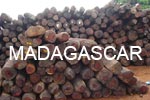 (12/16/2009) In the midst of cyclone season, a 'dead' period for tourism to Madagascar's east coast, Vohémar, a sleepy town dominated by the vanilla trade, is abuzz. Vanilla prices have scarcely been lower, but the hotels are full and the port is busy. "This afternoon, it was like a 4 wheel drive show in front of the Direction Regionale des Eaux & Forets," one source wrote in an email on November 29th: "Many new 4x4, latest model, new plane at the airport, Chinese everywhere."












CITATION:
Rhett A. Butler, mongabay.com (December 28, 2009). Shipment of questionable Madagascar rosewood canceled after international outcry. http://news.mongabay.com/2009/1228-madagascar.html




News index | RSS | News Feed | Twitter | Home


---
Advertisements:



WILDMADAGASCAR.ORG
WildMadagascar.org aims to raise interest and awareness in Madagascar >>
T-SHIRTS