Jeremy Hance
mongabay.com
August 31, 2009
In 2008 greenhouse gas emissions in the EU fell 1.3 percent, the European Environment Agency (EEA) said today. This figure measures only the emissions in the 15 EU countries that have commitments to reduce emissions, however when all 27 members of the EU are included, greenhouse gas emissions actually fell further: 1.5 percent.

While the decline in emissions last year appears largely due to the global recession, it is the fourth year in a role that the EU has succeeded in lowering its emissions.

"The vast majority of the decline in emissions in 2008 was due to lower CO2 emissions from fossil fuel combustion in the energy, industry and transport sectors," the EEA said in a statement, because of "the effects of the global economic recession which began in 2008, which resulted in reduced industrial output and reduced energy consumption by industry, and correspondingly reduced freight transport."

Emissions are now 6.2 percent below 1990 levels for the 15 older EU members. These counties have a target of reaching 8 percent below the 1990 level sometime between last year and 2012. EU Environment Commissioner Stavros Dimas said in a statement that with this newest drop the EU is on track to hit its target. However, he also added that "this trend needs to be further consolidated in the coming years."

The EU also has an independent target—not apart of the Kyoto Treaty—to lower emissions 20 percent by 2020.

While the United States saw a similar decline in emissions in 2008 (down by 2.8 percent) because of the global recession, the nation has a long way to go to catch up to Europe. The EU has lowered emissions by 6.2 percent from 1990 levels; in the same time period emissions in the United States have actually risen 15.9 percent.

"This is a timely message to the rest of the world in the run-up to the Copenhagen climate conference in December," Dimas said.







Related articles

China moves forward on global warming: top scientists recommend emissions peak in 2030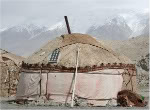 (08/17/2009) In a move that many have seen as a step forward for China in terms of its willingness to combat climate change, the nation's top climatologists have released a report recommending that China begin drawing down greenhouse gas emissions after 2030. The report comes just four months before a widely anticipated global meeting to set up a new international framework to combat climate change in Copenhagen, Denmark.


India surpasses Japan in CO2 emissions

(08/12/2009) India accounts for about five percent of global carbon dioxide emissions, roughly a quarter of the emissions of China and the United States, according to an Indian government study reported by Reuters.


US responsible for 29 percent of greenhouse gas emissions over past 150 years

(05/31/2009) In the past 150 years, the United States has emitted more greenhouse gas emissions than any other nation in the world, according to a recent report by Greenpeace. In fact, US emissions account for 29 percent of the world's total since the mid-1800s. The US emitted 328,264 million metric tons of carbon dioxide (MtCO2) in the past 150 years, which is over 3 times the amount emitted by China in the same century-and-a-half.


U.S. CO2 emissions fall 2.8% in 2008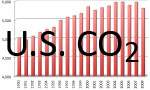 (05/21/2009) Carbon dioxide emissions from fossil fuel use in the United States fell 2.8 percent in 2008, the largest annual drop in more than 20 years, reports the Energy Information Administration. A slowing economy and high gasoline prices contributed to the decline. U.S. emissions from fossil fuel burning in 2008 were 15.9 percent above the 1990 level (the baseline for the 1997 Kyoto Protocol) and 2.8 percent below the 2005 level (the baseline proposed under the American Clean Energy and Security Act of 2009 [Waxman-Markey bill]).


CO2 levels rise to a new record

(02/17/2009) Atmospheric carbon dioxide concentrations climbed 2.28 parts-per-million (ppm) in 2008 to the highest level in at least 650,000 years-and possibly 20 million years-reports NOAA.