July 29 marks World Tiger Day for 2022, an important year for tiger conservation.
A coalition of conservation organizations today issued a statement calling for bold action in advance of meeting next month to identify new tiger conservation commitments for the next 12 years.
This article is a commentary. The views expressed are those of the authors, not necessarily of Mongabay.
In 2010, in the Lunar Year of the Tiger, the governments of 13 Tiger Range Countries met in St Petersburg, Russia and agreed to work together to double global tiger numbers. This commitment to tiger conservation has resulted in increasing tiger numbers in many countries and landscapes across Asia. But, despite these increases in the total population of wild tigers, tigers continue to disappear from much of their historical range. Tigers are currently found in fewer locations than at any time in history. Tigers have gone extinct from three countries in Southeast Asia since 2000 and the species is now absent from many of the diverse range of habitats that represent the extraordinary adaptability of tigers. If we want to conserve and recover tigers, and restore their full ecological role as top predators in habitats across much of Asia, we need to increase the total area and diversity of ecological settings in which tigers occur.
Expanding the range (i.e. the area occupied) of tigers can occur in two ways: 1) the natural movement and dispersal of tigers from places where they currently occur into neighboring lands and 2) active conservation translocations such as reintroductions when tigers are transported into new landscapes or protected areas from which they have been extirpated. Both of these mechanisms are feasible, and both are currently happening with tigers across Asia. These two processes also drove the impressive recovery of other carnivore populations, including Eurasian lynx, grey wolf, and bears, both in mainland Europe and across large areas of North America.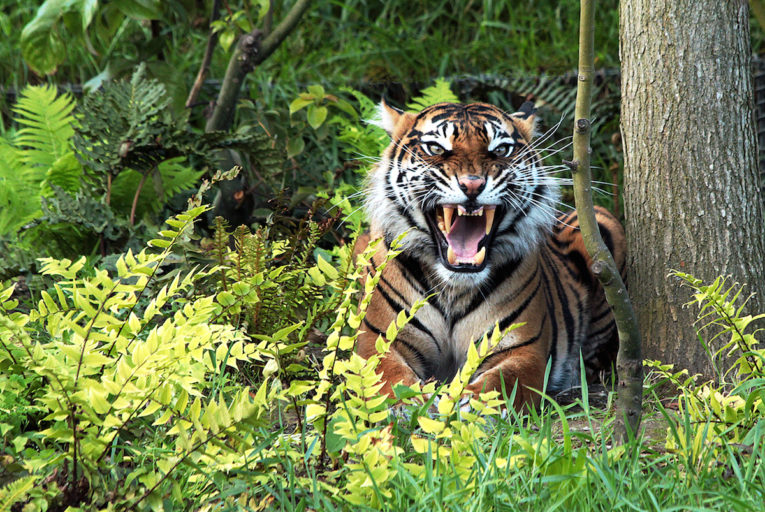 In North East China the natural dispersal of tigers from nearby forests in Russia is driving population recovery and tiger range expansion. The creation, in 2016, of the 14,600 km2 Northeast China Tiger and Leopard National Park, the largest protected area for tigers globally, represents an opportunity for recovery of a large, protected population in China. Active tiger reintroductions using translocated wild tigers, have been successful in expanding tiger range in both India and Russia. In Kazakhstan there are well advanced plans to reintroduce tigers into the Ili-Balkhash Delta. This would return tigers to central Asia, an entire region in which the species is currently absent. Preparing a site for tiger reintroduction involves securing sufficiently large areas of protected habitat, ensuring there is sufficient food (which in Kazakhstan involves reintroducing large deer and other species), and working with local communities to ensure that both tigers and people will be safe and respected.  Preliminary plans for reintroduction are underway in other countries as well, including both Thailand and Cambodia.  Other countries where tigers have been extirpated in the 21st century, such as Lao PDR and Viet Nam, should consider writing their own plans. In all cases, it is critical that threats resulting in tiger extirpation are removed prior to reintroduction.
2022 is an important year for tiger conservation, as it is the Year of the Tiger in the Lunar calendar. It is also a critical year for biodiversity as the world's governments prepare to make ambitious commitments to halt and reverse nature loss by 2030 under the UN's Post 2020 Global Biodiversity Framework.
The goal tiger range countries agreed to in the last Year of the Tiger was wildly ambitious and although we have yet to double the world's wild tigers, it was the high ambition of the goal itself that changed the trajectory for tigers and will enable their continued recovery.
The governments of tiger range countries will convene in August in New Delhi, India, to begin the process of identifying new commitments for the next 12 years. This is an unprecedented opportunity for Asia to lead the world in biodiversity conservation—by committing to halt the extinction of an iconic and critically endangered umbrella species and restore tigers to their former range.
Tigers currently inhabit only 7% of their former range but based on a recent analysis, tigers could inhabit over twice as much habitat as where they occur today, and with a renewed commitment to recover natural ecosystems, even more habitat could become suitable for tigers in Asia in the future.
Saving tigers means protecting over 300,000 km2 of intact forests, increasing resilience to climate change, and retaining natural ecosystems that provide water and other essential services to the people of Asia. Repopulating existing habitat with tigers would mean protecting 1.6 million km2 of intact forests.
We urge the 13 Tiger Range Countries, as well as those that formerly held tigers, to commit to expanding the tiger's range and returning the species to protected areas, landscapes, and ecosystems from which it is absent. Based on the total area and the quality of intact tiger habitat, this would make an extraordinary—and measurable–contribution to national and global commitments to halt and reverse biodiversity loss by 2030. Wildly ambitious? Yes. But also feasible and essential for a vibrant and healthy future in Asia and beyond.
Signed,
Thomas Gray, Tiger Landscape and Recovery Lead, WWF
Abishek Harihar, Deputy Director Tiger Program, Panthera
Eric W. Sanderson, Senior Conservation Ecologist, WCS
Micheal Belecky, Policy Lead, Tigers Alive Initiative, WWF
Elizabeth Bennett, Vice President, Species Conservation, WCS
Christine Breitenmoser, Co-chair, IUCN SSC Cat Specialist Group
Urs Breitenmoser, Co-chair, IUCN SSC Cat Specialist Group
Stuart Chapman, Leader of the Tigers Alive Initiative, WWF
John Goodrich, Chief Scientist and Tiger Program Director, Panthera
Luke Hunter, Executive Director, Big Cats Program, WCS
Debbie Martyr, Technical Advisor, Kerinci Seblat Tiger Protection & Conservation, FFI
Dale Miquelle, Tiger Program Coordinator, WCS
Ana Nieto, Head of Species Conservation Action Team, IUCN
Sugoto Roy, IUCN SSC Cat Specialist Group
See related:
Tigers may avoid extinction, but we must aim higher (commentary)