In the wake of the 2011 revolution, persistent energy shortages prompted Egypt's government to consider overturning a long-standing ban on coal imports.
The move was backed by industry groups, particularly the cement industry, but opposed by health and environment activists. This split between interests was echoed at the cabinet level, creating a rare public debate over policy.
In 2014, Egypt's cabinet voted to allow coal imports for industrial use. The law was amended again in 2015 to allow coal-fired power plants.
Now, economic factors are swinging the pendulum away from coal again, and planned projects have been suspended.
In the months following the overthrow of former President Mohammed Morsi in July 2013, the biggest, most public cabinet-level political battle in Egypt wasn't about terrorism, human rights or the ongoing political transition. Instead, it was about something seemingly far more prosaic: coal.
The fight to preserve a long-standing ban on coal imports galvanized Egypt's environmental movement, cost a cabinet minister her post and ultimately demonstrated the continued influence of powerful business lobbies in post-revolution Egypt.
Egypt's energy crisis
The first signs of this upcoming battle could be seen just a year after the 2011 uprising that deposed long-standing President Hosni Mubarak. In 2012, energy shortages regularly caused prolonged electricity blackouts, forcing the government to choose between providing natural gas to heavy industry or to power plants. Wary of antagonizing the public, the government opted to favor electricity generation.
As a result, roughly a quarter of the cement companies operating in Egypt received a fraction of the fuel they needed to operate, causing a severe drop in cement production. Figures vary, but it is estimated that fuel deficits caused a dip of 20 to 50 percent for 2013. Desperately looking for cheap and quick fuel alternatives, the cement industry saw coal and petcoke — a solid material derived from oil refining — as the solution.
A few weeks before he was ousted in July 2013, Mohamed Morsi made an official statement voicing his plan to allow coal imports for the cement industry, prompting the ire of environmentalists and health professionals in Egypt. Two years later, under Egypt's current President Abdel Fattah al-Sisi, the country's environmental law was formally changed to allow the use of coal by heavy industry, and to permit coal-fired electricity generation.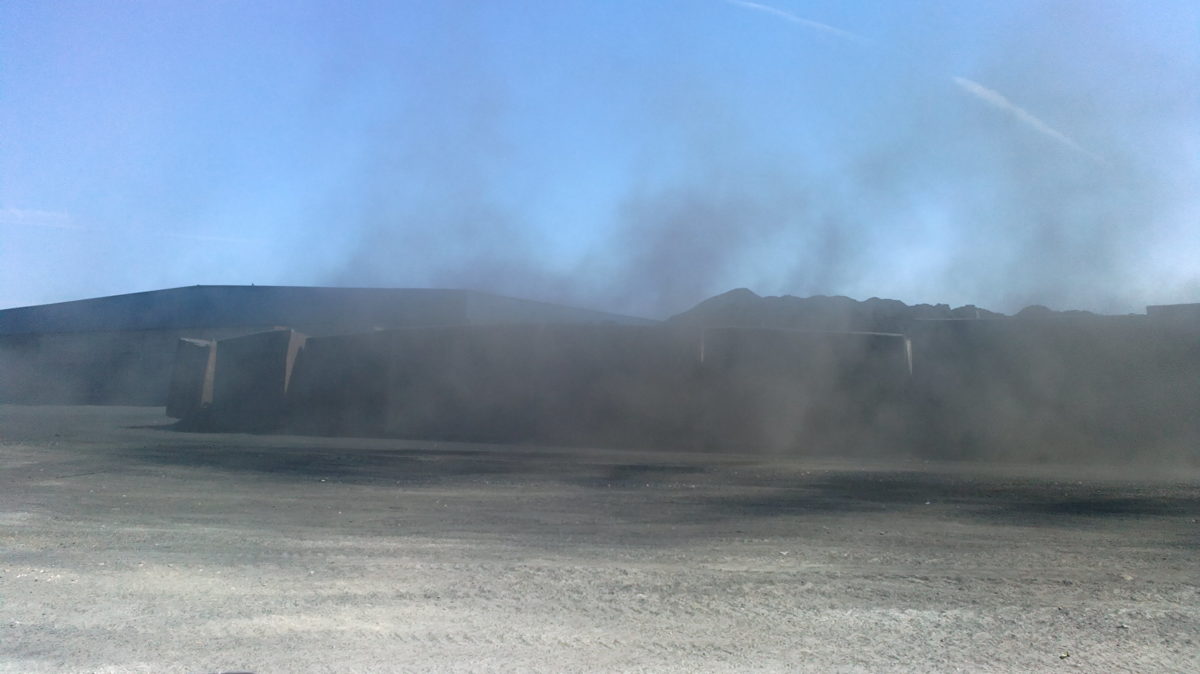 Most cement companies started the costly process of transitioning from gas-fired to coal-fired kilns, but waited for the government to send an official signal before importing coal from South Africa, China, Europe or the United States. France-based Lafarge, a world leader in cement production, however, landed a coal shipment before doing so was legalized.
After photos circulated in the local press depicting uncovered stockpiles of coal and petcoke in the port of Alexandria, a stone's throw away from a busy residential area, then-Minister of Environment Laila Iskander put her foot down. The company was eventually fined 10,000 Egyptian pounds (~$1,400 at the time) for importing coal without the approval of Egypt's environmental regulator, making a negligible dent in the 670 million euros generated by Lafarge in 2013. The company, which has since merged with Switzerland-based Holcim, did not respond to multiple request for comments.
The cement lobby
Cement companies, who were the main target of rising anti-coal sentiment in Egypt, made sure to emphasize that responsibility laid with the government, which had breached promises to supply the industry with sufficient quantities of natural gas. Indeed, back in 2007, cement operators paid the government 140 million to 250 million pounds per kiln to safeguard the supply of natural gas to their factories. Once the government ducked out, the industry bore the financial brunt of transitioning from gas to coal-fired furnaces.
These companies, along with influential political figures like the Ministers of Industry and Investment, argued that if the government couldn't meet its obligations to supply gas, then manufacturers should be allowed to use coal instead.
For environmentalists, the prospect of legal changes favoring heavy industries over citizens' and environmental health acted as a wake-up call. By 2013, an anti-coal movement of academics, doctors and environmentalists had coalesced around the Egyptians Against Coal (EAC) Facebook page and movement. "The first thing we did was share the photo of Lafarge's illegal shipment of coal in Alexandria port," explained Sarah Rifaat, Arab World coordinator for environmental NGO 350.org and one of EAC's founding members.
Their objective was to raise awareness of the health and environmental threats associated with coal, and to prevent coal from becoming a normalized source of energy in Egypt. Within months, the group garnered an increasing amount of attention online; their page currently has over 150,000 likes. In parallel to their social media activities, the group organized meetings with affected local communities, cement industry representatives and government officials, held workshops and press conferences, and filed a court case against the amendments to Egypt's environmental law from April 2015.
"During that time, coal became a national topic of discussion: on social media, on TV, people who had never heard of coal started to talk about it," said Rifaat, who believes it made a tangible mark on the public's memory. The movement also linked up with existing community struggles against cement companies.
"The Titan cement factory in West Alexandria is located in the very populous neighborhood of Wadi el Qamar," said Ragia el Gerzawy, an environment researcher at the Egyptian Initiative for Personal Rights. "The various dust and fine particles were already endangering the residents' health before coal was introduced in one of the lines, and after coal was used, whenever the line was activated it created clouds of CO2 and soot that infiltrated nearby houses," she explained. Residents of the middle-class neighborhood had been staging protests against Titan since 2004, and launched lawsuits against the company in 2010 and 2016.
From 2013 onwards, local NGO Habi Center for Environmental Rights set out to reveal the violations committed by two large cement multinationals, Lafarge and Suez, which had been reported by the Egyptian Environmental Affairs Agency (EEAA). Mohamed Nagui, Habi's director, explained that according to Egyptian law, cement companies need to conduct an environmental impact assessment (EIA) and make its summary public before switching to coal. They also have to organize a public hearing before starting coal operations. "But none of these requirements were met, and the right to knowledge and participation were both overlooked," he said.
The Minister of Coal
For a time, environmental activists and lawyers found an ally within the cabinet: then-Minister Laila Iskander worked closely with them to rally against the use of coal, which she saw as highly detrimental to Egyptians' and the country's health. Under Iskander's supervision, the Ministry conducted and published a study on the impacts of coal on citizens' health and the environment. The study estimated that using coal in the cement industry would come with a $3.9 billion annual health bill, and that one coal-fired power plant would raise this figure to $5.9 billion on a yearly basis. Rifaat explained that the study has since been taken down from the Ministry's website.
Iskander's vocal opposition to coal imports was aired on TV and radio and was widely relayed in the press. Still, pro-coal voices carried the day. In April 2014, the cabinet voted to allow coal imports for heavy industry. Then, in June, Iskandar was swiftly removed from her position and appointed as Minister of Urban Development.
Khaled Fahmy, who took her place as Minister of Environment, was promptly nicknamed "Minister of Coal" given his strong support to the industry.
"Khaled Fahmy is too understanding of economic pressures," said El Gerzawy. "I don't think that should be his priority as Minister of Environment."
Soon after the cabinet reshuffle, environmental activists lost ground, the media was cut off from the Ministry, and the powerful pro-coal lobby won its biggest battle. In April 2015, an amendment to Egypt's environmental law allowed the use of coal not only for cement production, but also for electricity generation. The law was also amended to eliminate a blanket ban on the use of coal and heavy fuels in residential areas, replacing it with a provision allowing the Prime Minister to allow such use "to serve the public interest."
A string of international power companies rushed to draft memorandums of understanding (MoUs) with the Egyptian government. Private power companies from China, Japan, Saudi Arabia, the United Arab Emirates and Egypt started making offers to develop coal-fired plants of capacities ranging from two to six gigawatts on the coasts of the Red Sea, Suez Canal and Mediterranean Sea.
The changing energy economy
In a surprising turn of events in February this year, it was announced that all coal-fired power plants project would be put on hold for the next five years. El Gerzawy believes this postponement is partly the result of the devaluation of the Egyptian currency, which doubled the price for these projects.
A second reason could be a new gas-powered mega project, built by German firm Siemens, which is slated to inject 14.4 gigawatts of electricity into the grid once completed. The project has already connected 4.8 gigawatts to the grid, creating a surplus in electricity generation. "Before we can add more electricity, the grid infrastructure will need to be upgraded," explained El Gerzawy.
Finally, the discovery of the supergiant "Zohr" gas field in the Mediterranean waters in 2015 — said to hold enough gas to power Egypt for decades — could have also played a part in the government's decision to delay planned coal-fired power plants.
It is by no means certain whether this natural gas will be used to power cement and other energy intensive industries. According to Alain Gentils, technical director at Sinai Cement, the return of natural gas to power cement factories is seen as a dream for many. "Natural gas pollutes less, has a stable flame and a good calorific value," he said. However, he believes it doesn't make sense to use natural gas to produce cement, arguing that all cement firms in Europe use coal. "Worldwide, gas prices are higher than coal, but not in Egypt where subsidies have distorted market prices," he explained.
However, Gentils said that if the government decided to reintroduce natural gas supplies to cement industries, it would come at no cost for the cement companies. "We would only need to reconnect the old gas pipes." This decision would only be costly for newer coal-fired plants, which wouldn't be able to operate on natural gas without substantial and costly infrastructure works.
"If the government exports natural gas to get foreign currency … coal will keep being used," El Gerzawy said.
Rifaat, however, sees the power-plants' postponement as a positive development. "It likely means that those projects won't end up happening," she said. "Coal may not take over as one of Egypt's main fuels after all."
Louise Sarant is a freelance journalist who reports on the environment, science and energy. You can find her on Twitter at @louisa020.
FEEDBACK: Use this form to send a message to the author of this post. If you want to post a public comment, you can do that at the bottom of the page.
Banner image: Egyptian environmental activists rally for climate change action at the Giza Pyramids in 2009. Photo courtesy of 350.org.