Coal helped power China's industrial boom, but at a heavy price: the country is now the world's largest carbon emitter and many cities suffer dangerous pollution levels.
Economic changes and policies that take into account pollution and climate change are driving a shift away from coal.
China's coal consumption has fallen for three consecutive years.
XI'AN, China — On bad air days, Cao Yiyang doesn't take his 3-month-old daughter out for a stroll. It's too dangerous. Staying inside, near the air purifier he recently bought, is better.
"The air pollution is something my children's generation will have to live with," the 27-year-old IT technician said. Cao's son, almost three years old, is allowed to go out and play only if he dons a face mask with a filter for PM2.5 particles – the ones so fine they permeate the lungs, causing long-term damage to the human respiratory system.
Cao lives in Xi'an, a city of 8 million people and the capital of Shaanxi, one of the main coal producing and consuming provinces, right in China's heartland.
If he looks at the industries around Xi'an and the coal-fired power plants that fuel them, he has little hope the air will improve. "I think it will be a long-term problem. I'm ready for 20 years of this," he said.
But if it's up to China's government, Cao, his children and 1.3 billion Chinese will see significant changes sooner rather than later. Half of China's air pollution has been identified as coming from the country's heavy coal consumption – but the government is aiming to change that through reforms, new policies and international agreements.

Changing economy, changing mentality
A combination of factors is pushing China away from coal: a natural shift in the economy away from heavy industries and toward services, forward-looking policy changes that take air pollution into account and massive investments into renewable energies.
In many ways, modern China, the world's second-biggest economy, was built on coal. Since the country's opening up in the early 1990s, its GDP has grown by more than 6.5 percent each year, with peaks at more than 14 percent in 1992 and 2007. Coal-fired power plants produced the electricity needed by steel factories and other heavy industries that spurred this growth.
Tens of thousands of coal mines spread across the country, many of them small, unsafe caves hoping to make money off the "black gold." Others were massive operations, like the Haerwusu open-pit coal mine in Inner Mongolia, which was designed to produce as much as 20 million tonnes of crude coal per year.
The massive consumption, however, had its price. A decade ago, China overtook the United States as the world's biggest emitter of greenhouse gases. Today, it consumes half of the world's coal, and discharges twice as much greenhouse gas as the United States, making it the biggest contributor to global warming worldwide.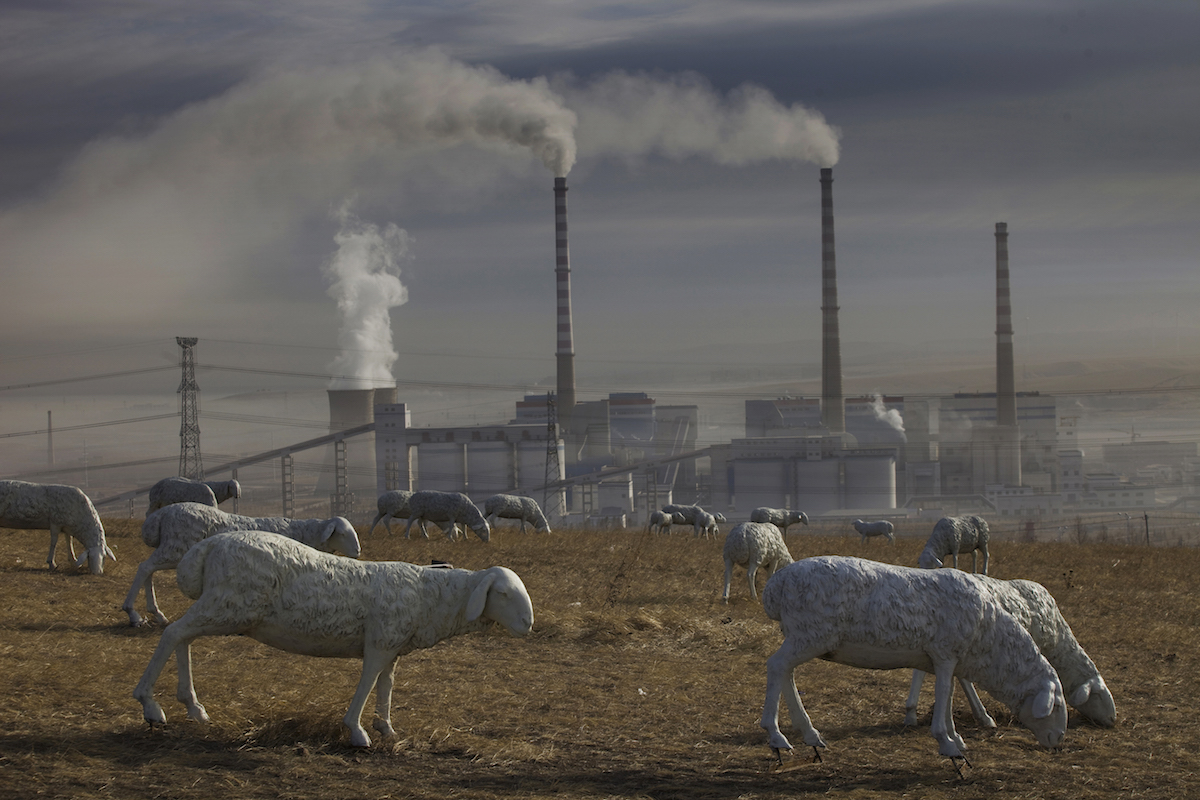 Air pollution has become a plague that nobody living in China is truly able to escape. Lung cancer is now the most common form of cancer. Around 7,500 Chinese die from cancer each day, and while heavy smoking is still the leading cause, air pollution is poised to take its place.
But analysts say coal consumption likely peaked around 2014. Last year, coal use fell by 4.7 percent, marking the third consecutive annual drop.
Experts believe that coal consumption will continue to decrease over the next few years. "Investment in energy-intensive industries had been significantly declining and is unlikely to rebound," said Xu Zhaoyuan, head of the research division at the industrial economy department of the Development Research Center of China's State Council.
"The biggest reason for the shift is economic reconstruction," agreed Li Shuo, climate policy advisor for Greenpeace East Asia. Li lives in Beijing and has grown used to wearing masks when he leaves the house. But the environmentalist sees hope. "China is moving from energy-intensive work to more service-oriented work, and this is reflected in several key coal-consuming sectors," he said.
This fundamental change in China's economy was already predicted in 2007, when then-premier Wen Jiabao identified the economy's biggest problem as its "unstable, unbalanced, uncoordinated and unsustainable" growth. Economists pointed to the solution: more domestic consumption was needed.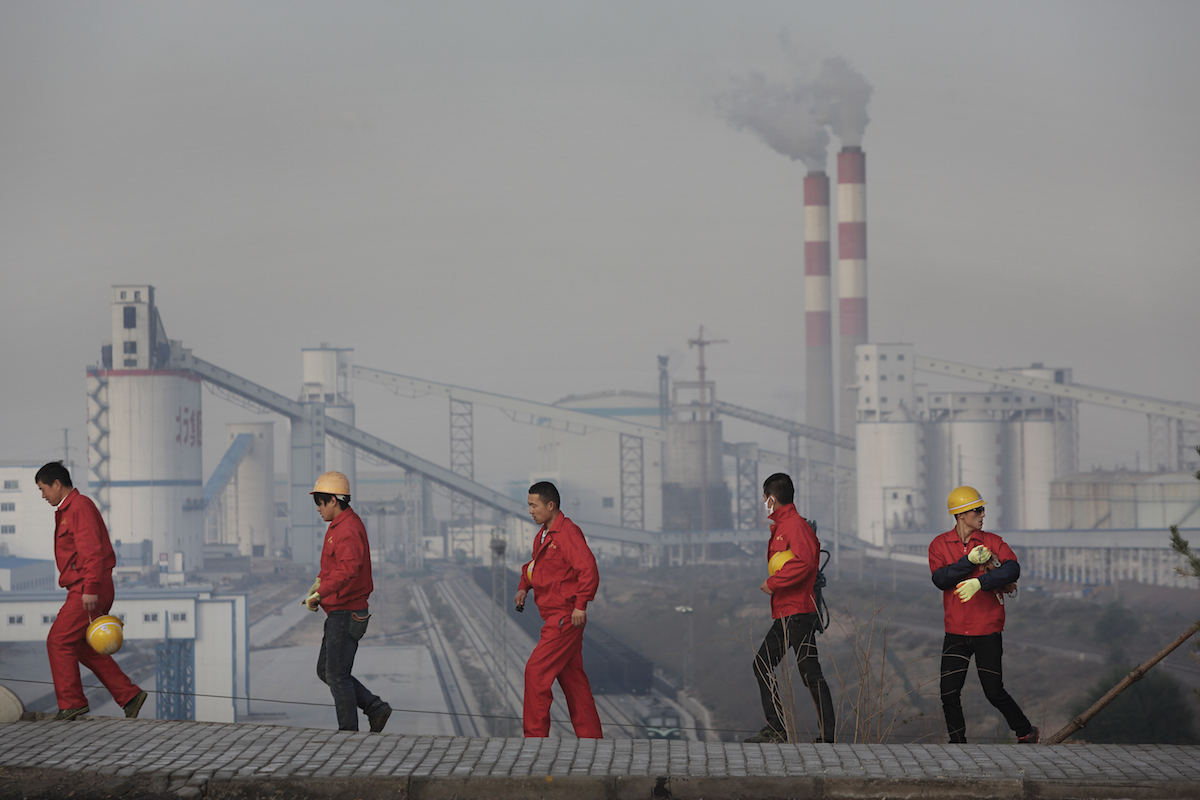 Exports and heavy industries have made it possible for millions of Chinese to make the jump to middle class, a group that now numbers more than 100 million, mostly white-collar and service industry workers who would never think about toiling in coal factories and mines. The economy is increasingly reliant on their spending.
In 2015, services-sector income surpassed 50 percent of GDP for the first time. By the end of the same year, more than 90 percent of China's coal enterprises were reporting losses, according to data from the China National Coal Association.
Another signal of significant changes in China's economy came last year, when Yin Weimin, the minister for human resources and social security, announced that 1.3 million people employed in the coal sector would likely lose their jobs. He gave no exact timeframe, but cushioned the outlook by noting that over the next two years 100 billion yuan ($14.53 billion) has been slated to help those who will lose their jobs.
"This task will be very difficult, but we are still very confident," Yin said.
Electricity produced by coal-fired power plants dropped by 2.3 percent in 2015 year-on-year. Overall growth of electricity consumption slowed down as well. And yet, new coal-fired power plants were and are still being built. In 2015, the total capacity of new coal-fired power plants built in China was 52,000 megawatts.
Demand may be dwindling, but local governments continue to approve new coal-fired power plants, as they are seen as a quick and easy solution to spurring economic growth and keeping unemployment down.
Trying to take back some control, the National Energy Administration (NEA) has cancelled or halted the construction of 103 projects that would have seen another 120 gigawatts of future coal-fired capacity.
Countrywide, the NEA has capped China's coal-fired power capacity at 1,100 gigawatts by 2020.
"In terms of drivers for China's shift from coal, these real changes in the economy are in our favor, and they are the key driver," Li said. "But you are also seeing a mentality shift," he added, remembering the first "airpocalypse" in 2013, when air pollution levels reached unprecedented levels in Beijing.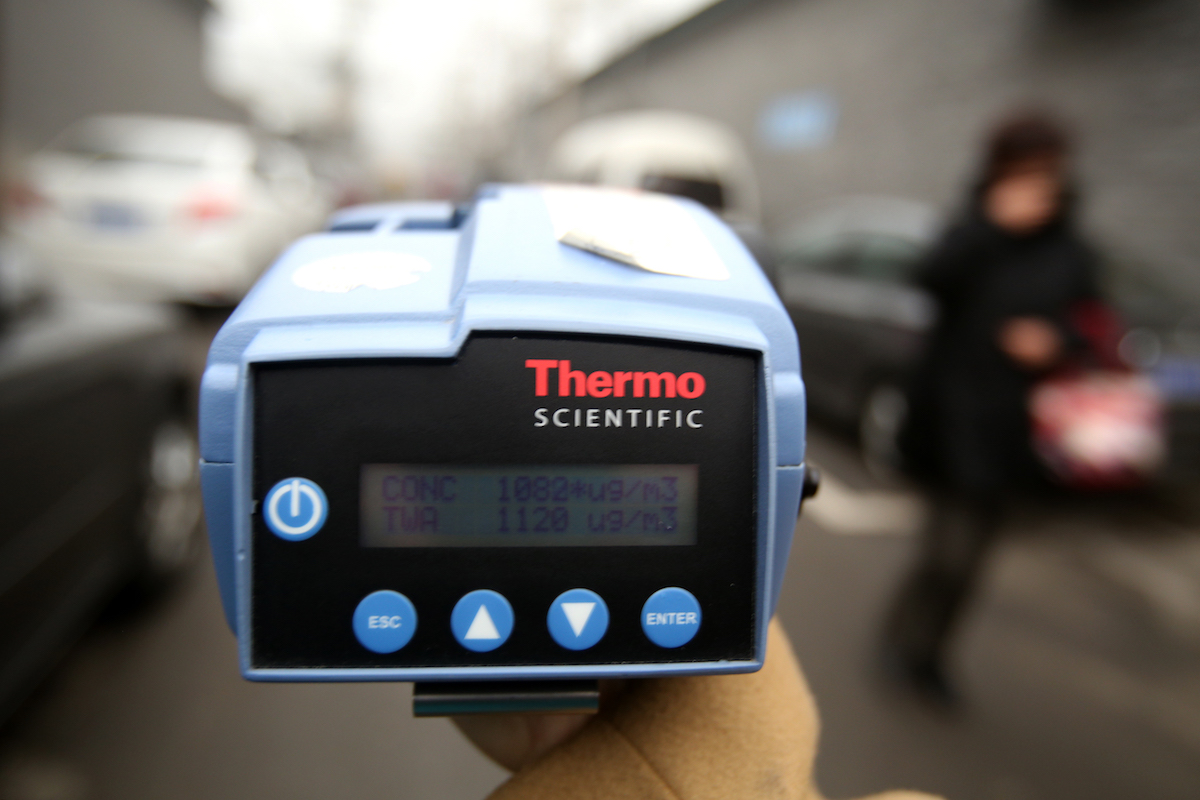 China's air pollution crisis
Institutions like the American Embassy and consulates already had been measuring China's Air Quality Index (AQI)  levels, but in 2013, the government officially recognized the dangers of the small particles in the air and started to publish its own readings. On particularly bad days, the AQI reads more than 500, and has even climbed above 900 in Beijing. The maximum recommended by the WHO is 50; levels of 301 to 500 are classified as "hazardous" — potentially fatal for the elderly and people with cardiopulmonary disease.
Shifting public opinion and real concern about air pollution are accelerating the transition from coal, and making new projects unpopular. It's become a concern for all Chinese – whether government officials, wealthy businessmen or IT workers like Cao.
Filter masks are more and more popular, and sell out during spells of particularly hazardous air. Equipped with handheld PM 2.5 readers, mothers in Beijing check air-pollution levels of restaurants and museums before they decide whether they'll stay with their kids. Some even move out of cities, seeking better air elsewhere.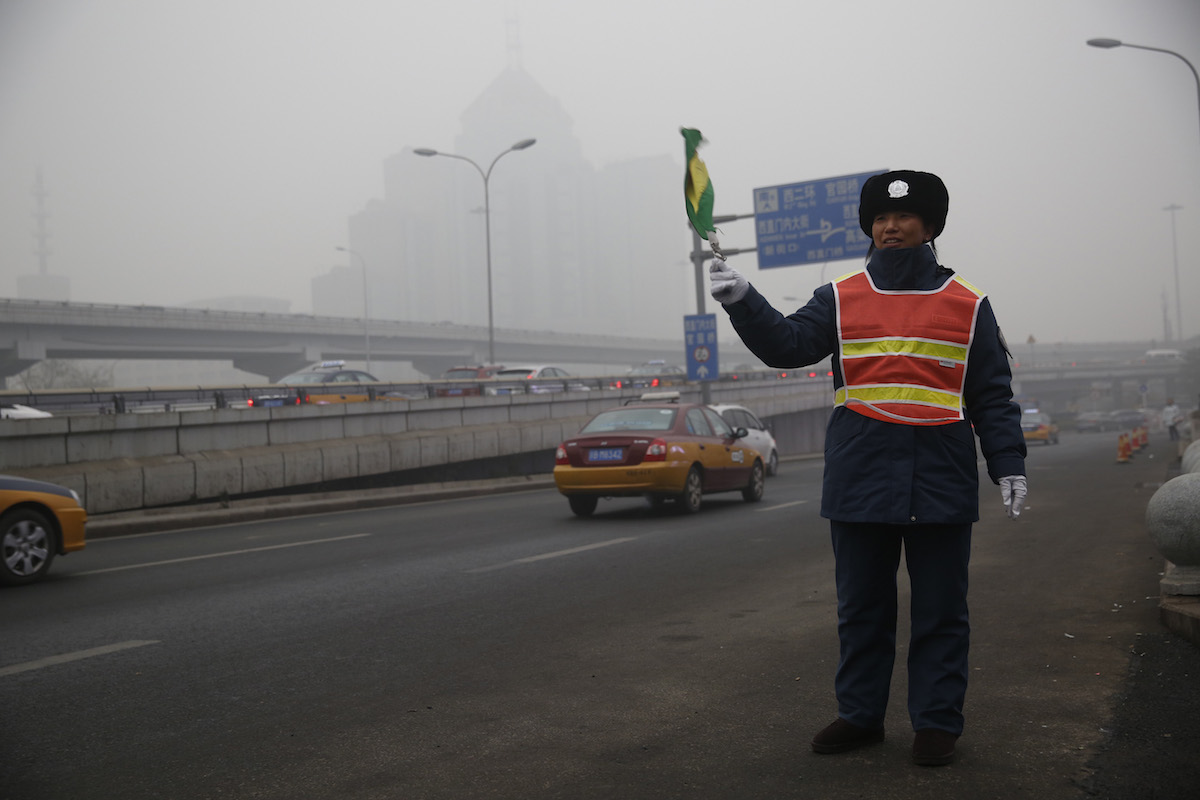 Despite the massive layoffs, support is growing for the shift away from coal. In a public showing of the government's commitment to reducing its emissions – and thereby its coal consumption — President Xi Jinping signed the Paris agreement last year.
In the agreement, China has committed to cutting carbon emissions by 60 to 65 percent per unit of GDP by 2030, using emissions from 2005 as a baseline. In addition, it pledged that 20 percent of the country's energy will come from renewable energies like wind, solar and hydropower.
"I believe that the air pollution issue makes it much easier for the government to commit to major international climate change targets, since most measures and technologies help improve the air and mitigate greenhouse gases concurrently," said Ranping Song, a senior associate with the World Resource Institute who is monitoring China's emission targets.
Although China relies on imports for less than 10 percent of its coal use, its shift away from fossil fuels is having an impact on the world economy, especially on exporting nations like Indonesia, which, at times, saw exports drop by almost 40 percent. "Significant cutbacks on imports are expected to increase," research by Global Risk Insights found.
Investing in alternative energy sources
China is leading the world in investments in renewable energies like wind and solar power. The country invested more than $100 billion into green energy sources in 2015, according to Bloomberg New Energy Finance, while the US invested less than half of that.
But China doesn't plan to stop there. The NEA aims to spend more than $360 billion through 2020 on new renewable energy projects.
"The increase in non-fossil fuels and natural gas will be three times as much as coal consumption, which will account for more than 68 percent of the total expected increase in energy consumption," Li Yangzhe, the agency's deputy director, said at a press conference.
With such huge investments in renewables as well as the caps on coal, China will be able to achieve its commitments under the Paris agreement, said Alvin Lin, China climate and energy policy director at the Natural Resources Defense Council.
"China still accounts for about half of the world's coal use, but with these targets to reduce coal consumption and its share in the energy market, they will ultimately be able to reach these targets," Lin said.
Total solar capacity now stands at around 77 gigawatts, wind at 149 gigawatts.
But Lin also cautioned that large investments don't necessarily speak to efficiencies.
On the Tibetan Plateau, a solar-panel farm covering an area the size of Macau could produce energy for 200,000 households, while the world's biggest wind farm, located in the grasslands of Gansu province, counts more than 7,000 turbines. Much of the energy they produce, however, is wasted.
Coal's share in the overall energy mix may have dropped to 62 percent in 2016, down from 64 percent the previous year, but it could have dropped much more: On average, 20 percent of wind power is wasted. In sparsely populated areas like Gansu, where the grid isn't well connected to the populous coast, that figure was as high as 45 percent. Plans to build smaller farms that are closer to the actual demand are under way, but grid connectivity needs to be addressed, Li said. "The grid is one of the key players," he said. Policies aimed at efficiently feeding the grid and optimizing its use could dramatically boost renewable energy usage even without constructing new solar or wind facilities.
Better planning and infrastructure upgrades are just some of the issues the government will have to tackle over the next several years. Still, the majority of experts agree that China could become a role model for the use of renewable energies, and for shifting away from coal.
"In any case," said Li Boqiang, the dean of China's Institute for Energy Policy Studies at Xiamen University, "China's energy system will continue to decarbonize, and the share of coal in China's energy mix is going to shrink."
With additional reporting by Liao Fangzhou
Denise Hruby is a Shanghai-based writer and editor who covers the environment and social conflict. Find her on Twitter at @nisnis 
FEEDBACK: Use this form to send a message to the author of this post. If you want to post a public comment, you can do that at the bottom of the page.