Wildlife traffickers are chipping away at the dwindling populations of Sumatran and Bornean orangutans. Deforestation lends poachers an assist, rendering the primates homeless and easier to catch.
Keeping an orangutan pet is illegal in Indonesia, but not once has a citizen been prosecuted for it. The owners tend to be influential figures — police officers, soldiers, politicians.
Krismon was separated from his mother as an infant in the late 1990s. Only last year was he finally recovered from the military family he was living with.
The ape will spend the rest of his life behind metal bars — unless a plan to construct an orangutan haven comes to fruition in North Sumatra.
KABANJAHE, Indonesia — Zulbaidah used to take her family's pet orangutan on road trips. He'd ride in the back with the kids.
"He was like my own son," the 55-year-old woman said at her home in this North Sumatran town. "Who wouldn't love him?"
Those were the good times, when the ape, Krismon, was small and cute. But as the years passed, and he grew more mammoth and strong-willed, the family began to use a cage to keep him under control. Eventually they threw away the key.
By June 2016, when authorities confiscated Krismon, then aged around 20, he had been confined to the tiny enclosure for so long, his legs had wasted away to the point he could no longer stand.
He is now relearning to climb and move at a rehabilitation center near Medan, the capital of North Sumatra province. But he lacks the skills to survive in the forest, and his caretakers doubt he can ever return to the wild.
"We didn't know he would get so big," said Zulbaidah, who like many Indonesians goes by one name. "The man [who gave him to my husband] said he would stay small forever."
Krismon is one of thousands of victims of the blackmarket trade in orangutans that has helped push these great apes to the brink of extinction. The babies are prized for their adorability as well as for the prestige an exotic pet can bestow on its owner.
The trade is driven in large part by poachers who slaughter the mother to get to her young. It is abetted by the deforestation that flushes the apes from their arboreal homes. Indonesia has lost more rainforest than any other country since the turn of the century, when the plantation sector commenced a relentless expansion that made the archipelago nation the world's top producer of palm oil, found in everything from ice cream to laundry detergent.
Homeless and hungry, the displaced primates wander into violent confrontation with farmers who carry pellet guns to defend their crops. Orphaned apes can be sold into a vast network of traffickers that extends throughout Indonesia and beyond.
The animals are found on Thailand's tourist track, for instance, where they are dressed in silk shorts and made to spar like boxers. In 2014, at least 14 orangutans were repatriated to Indonesia after being confiscated from Thai zoos.
In the late 1980s, more than 1,000 orangutans were illegally imported into Taiwan because a TV show featuring an orangutan character was stoking demand there, the WWF has reported.
Above the law
It is in Indonesia where the trade is foremost. The law here provides a maximum penalty of five years imprisonment for anyone who transports, trades, keeps or kills a protected species such as the Sumatran or Bornean orangutan (Pongo abelii and Pongo pygmaeus). Both are listed as Critically Endangered by the IUCN.
But not once has a citizen been prosecuting for keeping an orangutan pet.
It is not that seizures are uncommon. Since 2012, the Orangutan Information Center (OIC), a nonprofit, has assisted authorities in the confiscation of 114 orangutans, including 39 pets.
At the root of the discrepancy, observers say, is that owners tend to be not poor villagers but influential figures, such as soldiers or politicians. They can afford to pay for an orangutan's upkeep — and get away with having one in the house.
"They know the law, but they ignore the law," Panut Hadisiswoyo, the OIC's founder, said at his office in Medan.
Hadisiswoyo recalled how he and his colleagues tried to recover an ape from a high-ranking police officer in neighboring Aceh province, where most Sumatran orangutans live.
"Don't teach me about the law — the law is in my head," the man told Hadisiswoyo's team at his front door, before asking them to leave.
Another time, they found a baby orangutan on display in a park in Aceh. It turned out to belong to the mayor of the city, who dutifully handed it over.
The OIC also helped confiscate two orangutans from a former commander of Aceh's now-defunct separatist movement, the GAM. The man claimed to have purchased the apes only because villagers were threatening to kill them. The police let him off the hook — only to discover he was preparing to ship five more by bus to a buyer in Medan. The animals were retrieved; the man remains at large.
Hadisiswoyo sees traders and pet owners alike as criminals deserving of punishment.
"The orangutans we rescue are the lucky ones — they get a second chance at life," he said. "There are many more who cannot be rescued."
Krismon's story
And then there is Zulbaidah. Her late husband ran a military base. The soldier received baby Krismon as a gift, she said, in 1998, while on duty near the Leuser Ecosystem, one of the country's most biodiverse rainforests.
It was a year in which Aceh was roiling with insurgency. The national currency had plunged amid the Asian financial crisis — known to Indonesians as Krisis Moneter.
"We'll name him Krismon, so we don't forget," Zulbadiah recalled her husband saying.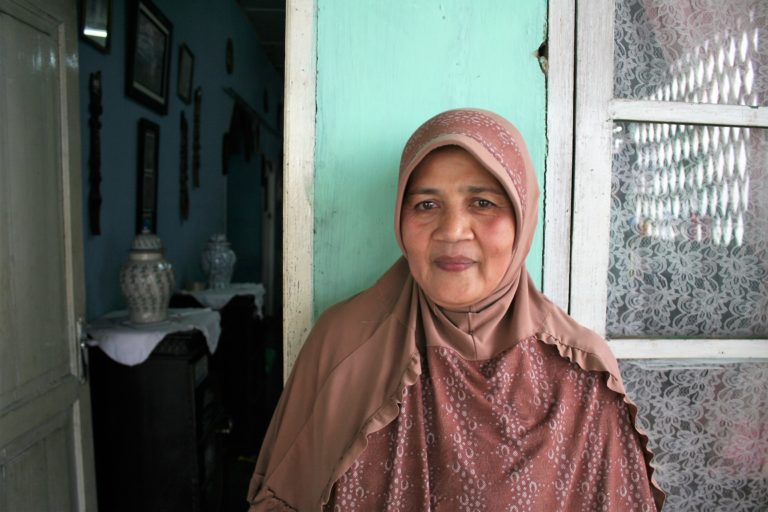 The children grew up with Krismon, enjoying TV shows and tickle fights in the living room. The young ape would laugh like the sound was stuck in his throat — hhk hhk hhk.
The family brought him on trips to other towns, confident their military status precluded arrest for driving around with an endangered primate. Once they visited Zulbaidah's relatives hundreds of miles away in West Sumatra province.
As Krismon matured, his teeth grew longer and sharper; his body swelled in size. Sometimes he got angry and threw things. Zulbaidah let him ply the street outside — the neighbors liked to feed him cakes — but if he became unruly she stuck him in a cage. It was meant for chickens, with a doorway the size of a bird. She employed the device more frequently as time went on.
The larger he grew, the more he seemed to be hurting himself squeezing in and out of that small opening.
"Finally we didn't have to lock him in anymore," Zulbaidah said. "He was too big to get out."
From one cage to another
The adult Krismon was a rag doll of an ape by the time an anonymous tip sent the OIC to Zulbaidah's house, his muscles atrophied from years of disuse and a diet of table scraps. His immense frame nevertheless inhabited the cage like a capsule hotel. They had to cut it open to get him out.
When he arrived at the Sumatran Orangutan Conservation Progam's (SOCP) rescue center outside Medan, "his entire body was shaking nonstop" from prediabetes, said Jennifer Draiss, who works at the facility. "He couldn't even balance his hand to bring food to his mouth."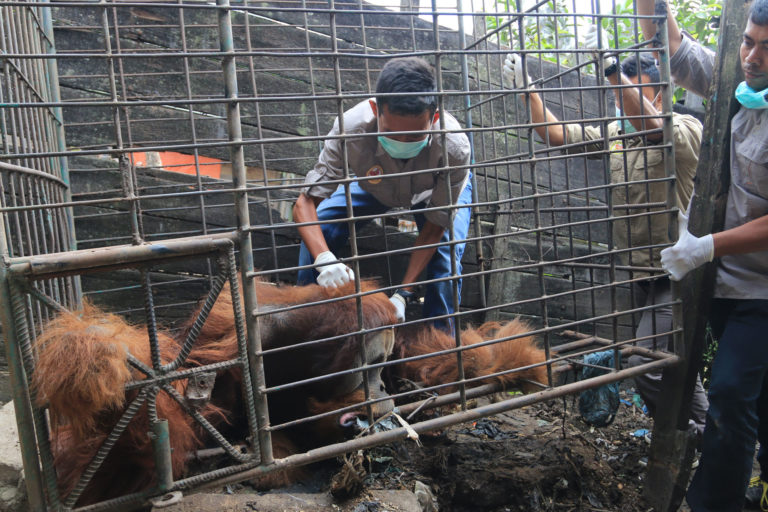 The staff put Krismon in quarantine. Slowly, they weaned him off rice and bread and onto a normal orangutan diet. After four months he began to walk, albeit with a heavy slump.
Soon he began to lumber up the metal bars of his new enclosure, where a hammock hangs from the rafters — but he's still terrified of anything unstable.
Draiss says he'll never return to the wild. "He's been with people for so long there's no way," she explained, watching Krismon munch on an okra at the SOCP's facility. "They just don't have the understanding of the forest they need to survive."
Ian Singleton, who runs the center, is more optimistic. "He just needs to get his legs back under him," he ventured.
The center was never meant to house permanent residents. But that's the fate awaiting a number of its apes — unless the SOCP succeeds in constructing the orangutan haven it is planning nearby.
The idea is to build a cluster of islands in a reclaimed rice paddy for orangutans who cannot be released, and then to open it up to local and international visitors, where the animals' stories could be used to educate the public about the follies of keeping an orangutan and why Indonesia's rainforests must be conserved.
Krismon wouldn't have complete freedom at the haven. He'd still get his food from caretakers and sleep in a night house.
"But he'd have outdoor space and not a cage," Draiss said.
Provided it can raise the funds, the SOCP will open the haven in three years.
For now, Krismon's victories are small and few. But they come. Draiss looked up at a horizontal pole toward the top of his enclosure. It was higher than the ape had ever climbed.
"Just this morning, I caught him sitting on that pole in the sun," she said. "I'd never seen him do that before."
Banner image: Krismon behind bars in Kabanjahe. Photo courtesy of the OIC