Trees in Tanzania's southeast region are being burned down, sometimes illegally, to make way for sesame farms.
In one small village with a thriving community-owned forest project, sesame cultivation has become the leading cause of deforestation.
The particularly destructive cultivation of sesame often involves cultivators burning huge swaths of forests to create farmland that is only used for two or three seasons.
NANJIRINJI A, Tanzania – Patches of scorched earth line the road on the 100-mile drive from the town of Kilwa Masoko to Nanjirinji A village in southeastern Tanzania. A few big tree trunks, some still smoldering, stick out from the ground here and there in what's known as Lindi region – the only clues that the barren-looking land was once a thriving forest.
The trees, some more than 50 years old, are being burned down by the hundreds to make way for sesame farms. Sesame is used for oil, toasted seeds, as well as meal and flour and pharmaceutical applications, and Africa contributes 70 percent of the globally traded volume according to ETG, one of the continent's largest agricultural conglomerates.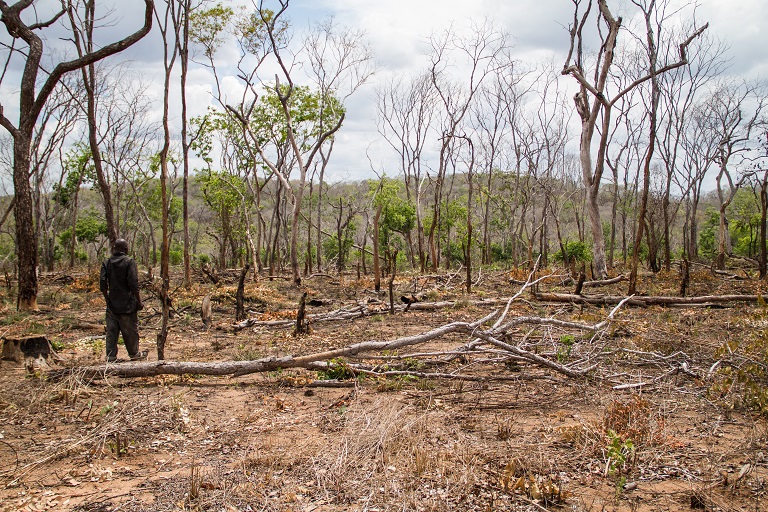 Tanzania is Africa's largest producer of sesame seeds and one of the continent's largest exporters, according to the latest available data from the UN Food and Agriculture Organization (FAO). The crop is extremely important in particular to the coastal region of Lindi. According to the most recent research from 2010, 44,000 families grew sesame in Lindi and the neighboring region of Mtwara, about 12 percent of all agricultural households.
Today, world demand for sesame seeds is on the rise and the market is growing in Tanzania.
In 2016, there was a big push from domestic exporters to get more farmers to grow sesame. The acting director general of the Tanzania Trade Development Authority (TanTrade), Edwin Rutageruka, told The Citizen newspaper in January 2016 that Tanzanians had been missing out on trade opportunities. He said that the Lindi and Mtwara regions alone could export 440,925 tons of sesame seeds annually. Currently, the regions produce around 41,888 tons, according to Rutageruka.
Encroaching on the forest
In Nanjirinji A, a small village which benefits from a community-owned forest project, sesame cultivation is the leading cause of deforestation. A survey done by the Mpingo Conservation Development Initiative (MCDI) in 2012 estimated the rate of agricultural expansion at 5 percent annually in the district. The organization facilitates the community forest project in the village. In more recent years, an increasing number of outside farmers have been creeping into the village's 61,274-hectare forest reserve (over 151,000 acres) in search of fresh land to farm.
"These days there are many farmers coming from outside to farm sesame," said Jafari Nyambate, chairman of Nanjirinji A.
Sesame farming is a particularly destructive form of agriculture, according to Glory Massao, a manager with MCDI. Massao said cultivators burn huge swaths of forests to create their farms, which they only use for two or three seasons. According to research done by the group, farmers prefer virgin land because the soil is easier to work on and requires little maintenance. There is also a belief among local farmers that virgin land produces higher yields.
As far as income goes, it's profitable work. Sesame is the second most lucrative crop farmed in the region, after cashews, and farmers can make about $200-$400 per acre, according to MCDI. Prospecting for new growing space is booming.
"Because of the current high price for sesame, a lot of people have been looking for new areas which have lots of potential for growing sesame and one of these areas is the village land forest reserve," Massao said.
Chairman Nyambate added that there are significant concerns over how the crop is being grown. He said farmers hack down the forest recklessly, inadvertently taking down rare species of trees found in the coastal forests such as African blackwood (Dalbergia melanoxylon, locally known as mpingo), panga panga (Millettia stuhlmannii) and African teak (Pterocarpus angolensis). Mpingo timber is considered one of the most valuable hardwoods in the world. The wood is used to manufacture musical instruments like clarinets, oboes and bagpipes as well as to make furniture and jewelry.
The Lindi region is not alone in its predicament. Sesame cultivation is on the rise across the country, according to Tumaini Elibariki Mkenge, a project manager at Farm Africa who focuses on sesame cultivation. He said over the last five years, a slight rise in prices and a growing market has pushed more farmers to turn to sesame farming.
"When you grow an acre of sesame, the cost is very low compared to other crops in terms of input and the operations on the farm," Mkenge said. "The price of sesame has been increasing so farmers have been very interested to get profit from sesame."
Mkenge also said that the traditional shifting cultivation method practiced by many sesame farmers is severely damaging the land. "When burning the land, the fertility of the soil decreases very rapidly compared to normal cultivation," he said.
Situation has become 'awful'
In January, Tanzania's Prime Minister Kassim Majaliwa, who doubles as the Member of Parliament for the area, asked residents in a village neighboring Nanjirinji A to stop cutting down trees, according to a local newspaper report.
He warned that if people don't stop contributing to deforestation, their wetland forests will turn to a semi-arid zone.
"Sesame farming has become awful; there is no water now due to cutting down of trees by the farmers," Majaliwa said in the article. "For instance, Mbwemkuru River, which did not go dry throughout the year, has now turned into a seasonal water source." The phenomenon is still too new for there to be available government data.
The Nanjirinji A Village Natural Resource Committee has upped their patrols of the forest in response to encroaching sesame farmers, but the chairman said it is struggling to cover the vast area.
"It's a big challenge because the farmers come from outside the village, so we don't know them or who they are," Nyambate said. "We are patrolling the forest using rangers and motorbikes, but we need more resources."
Tensions between the village and sesame farmers have sometimes led to aggressions. Last year, Nyambate said that the farmers burned one of the village council's motorcycles which was used in their patrols and bought with money made from forest profits.
"The communities are losing a lot of money," Massao said. She added that MCDI plans to work with the village to plant trees in order to restore areas that have been destroyed by sesame farmers.
While MCDI does not have statistics assessing how much forest has been lost to sesame farming, a recent survey from 2015 by the Tanzania Forest Services Agency points to shifting agriculture as a primary driver of deforestation. Mkenge believes there is an urgent need across the country to educate farmers in conservation.
"This is for the future of [our country], our farmers need to get knowledge on conservation agriculture which is more sustainable for the land itself and also to guarantee their farming future."
Banner image: The main road passing through the Lindi region is lined by plots of scorched earth from sesame farming. Photo by Sophie Tremblay for Mongabay.
Sophie Tremblay and Willy Lowry are foreign correspondents based in Arusha, Tanzania. You can find them on Twitter at: @sophietremblay and @willy_lowry
FEEDBACK: Use this form to send a message to the author of this post. If you want to post a public comment, you can do that at the bottom of the page.
Resources:
Schulz, A. & Mbuvi, J. (2010) "Unlocking Sesame Farmers' Potential for Fair Trade in Southern Tanzania."
The Citizen. "Tanzania Misses Sesame Export Chances"
Miya M., Ball S. & Nelson F. (2012) "Drivers of Deforestation and Forest Degradation in Kilwa District"
Daily News. "Don't cut trees, Ruangwa residents told"
Tanzania Forest Service Agency. NAFORMA Report 2015.