Seko, in the North Luwu subdistrict of South Sulawesi, is home to Pohoneang, Hoyyane and Amballong indegenous communities.
Surveys have begun for a planned 480-megawatt hydroelectric dam, part of a broader plan to build 1,154-megawatts of hydropower in the region.The dam has become the center of a bitter fight that has divided families and communities.
On March 27, a district court sentenced 13 Seko residents to seven months in prison in connection with an August 2016 action against the dam.
This is the first in a series of two articles on the situation in Seko.
NORTH LUWU, Indonesia — Benyamin Langga invited me to walk with him along the rice field embankment, climbing up a hill and then down a steep slope. At 60 years old, he could still maintain a steady balance while walking in all kinds of terrain.
When we arrived at a slope overlooking the Betue River, we could see the water flowing below like strokes of white paint. A black eagle soared over us with its wings spread wide. Further down the slope, three sparrow hawks chased each other.
We were walking to the site where developers of a hydroelectric dam have begun drilling and testing samples. Our destination was a thirty-minute walk away, according to the residents of Tana Makaleang Village in the Seko Subdistrict of North Luwu, in the southern part of Indonesia's Sulawesi Island. Alas, I was not as nimble as the locals – it took us about an hour and a half.
Tana Makaleang village has a temperate climate. Its people belong to an indigenous group called the Pohoneang. Houses on stilts are huddled together on narrow streets — some paved, most just muddy.
The is no cellphone service in the area, and the national electric company seems to be reluctant to build an electric network to reach this remote area. Those who can afford it buy generators, with several houses often sharing the cost of the machinery and fuel oil in order to enjoy a few hours of power in the evenings.
I visited the village in June 2016 and spent a week enjoying the hospitality of the local people. They smiled freely, offering snacks and coffee when I passed their houses. But inside, the people were gripped by an unsettling feeling.
Since 2014, the Seko Power Prima Company has planned to build a 480-megawatt hydroelectric dam in the area. The company and the local government have told residents that once the dam is built, the village will be electrified.
Despite these promises, many villagers are wary of the development. According to the project's environmental impact documentation, the company plans to dam the mainstream of the Betue River at the village of Sae, rerouting it towards Ratte village, roughly 18 kilometers away (11 miles), via three eight-meter-wide (26 feet) channels.
These channels would stretch through trees, cliffs, and even run underground. They would also divide villages, the primary source of concern for communities.
The planned height of the dam is 30 meters (about 98.4 feet). When the dam finally operates, the water will rise for about 15 meters (almost 50 feet).  I made repeated attempts to contact Ginandjar Kurli, the project's operations manager, but so far, he has not responded.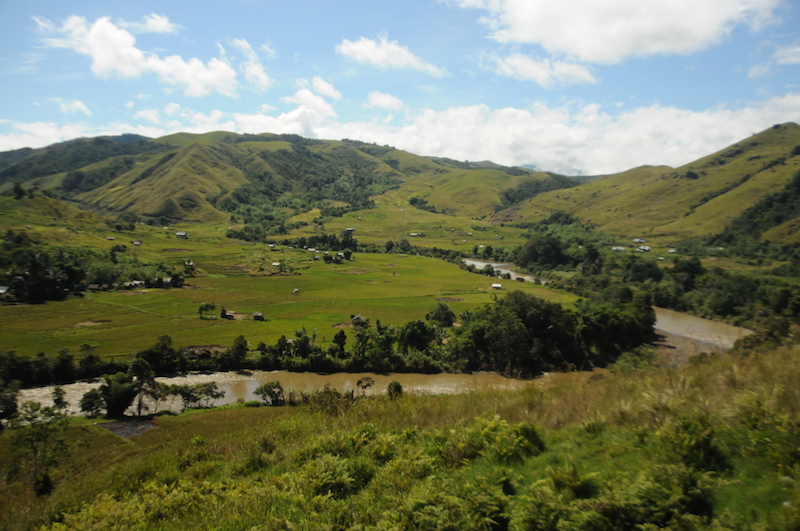 An encounter with the headman
On our way back from the drilling site, my throat was parched. Langga took off over a hill, reappearing with a basket of cucumbers on his back. "From my own garden," he said. "Eat these so you won't be thirsty." The cucumbers were delicious.
As we enjoyed our snack, we heard a motorbike coming toward us from the direction of the drilling tents. Two men arrived, wearing what looked like military-issued boots. One of them was Topel, village head Tana Makaleang.  So angry his lips were quivering, he demanded to know where I was from. "Why do you come here? You should have reported yourself first," he said.
"I am with the local people here, we wanted to see their garden," I said.
"Oh, it doesn't work that way. I am the head of this village. I am the government here. All activities and everything going on in this area has to be to my knowledge," said Topel.
He continued talking without pause.
"You should report yourself first. I don't know who you are. Who knows if you're a provocateur? I could have easily accused you of being provocateur. Young man, you have to know, it's currently unstable around here. Things are volatile because there are some people who are trying to prevent the company's activities here. What if I chase you away from here? That could have happened."
Topel sat in front of me, in the tent used by the workers to rest. A few sample rocks from the drilling were stacked nearby. While speaking, he stamped the ground with a machete sheathed in a round metal pipe.
This encounter with the village headman was just a taste of the trouble brewing below Seko's peaceful surface. From October 2015 to May 2016, a month before my visit, residents successfully blockaded the road to Central Seko, keeping heavy machinery out — an effort that succeeded until police until police detained two of the protestors for questioning, creating a distraction that allowed equipment to be slipped in.
In the months that followed my visit, some of the residents would escalate their resistance to the mine, dismantling the drilling-site tent and removing soil samples collected by company engineers. Eventually, 13 Seko residents would be arrested for vandalism and, on March 27, sentenced to seven months in prison. In the meantime, I have regularly received disturbing updates from my contacts in the area: reports of children beaten at school, a police raid that sent most of the village scrambling to the forest to hide, detainees being brutally beaten by police, women's demonstrations being violently dispersed, and a general climate of fear.
Debate within the community
In June 2016, in the company of two members of the Indigenous Peoples' Alliance of the Archipelago (abbreviated in Indonesian as AMAN), I rode motorcycle taxis for two days from Sabbang to Central Seko to Tana Makaleang village. When we finally arrived, filthy and exhausted, at the house of local resident Andri Karyo, we saw around a hundred pairs of sandals lined up outside. A meeting of residents opposed to the dam was in session.
The living room was bursting at the seams. Young and old, men and women were there. As they sat on the floor discussing the plans, I observed from the kitchen door. A woman held her sleeping grandchild on her lap, while intently listening to the discussions.
"Why are you against the hydroelectric dam?" I asked.
"If they build it, it will be in Ratte. I have my plot of land there. If they take it over, where will I plant my vegetables and rice?" she replied. "Even if they compensated me with money and asked me to move, I wouldn't accept that. I inherited that land from my parents. We have owned it for a very long time."
Karyo said that the people in Seko were divided when they learned about the plan to build a hydropower dam there.
"Some supported the plan, some don't," he said. "Since I'm against the dam, my house has been used for meetings, then they've accused me of being the mastermind."
Nine months later, Karyo would be one of the 13 people sentenced to prison.
Searching for the facts
In 2016, the North Luwu government arranged for a few community representatives to visit a hydroelectric dam project on the Musi River in South Sumatra.
"We were shown how the hydropower plant operates. But there was no explanation whatsoever about how it was in the beginning and how the local people responded," said Bata Manurun, the head of AMAN in Tana Luwu, who was part of the visit. "Well, since that trip, we at AMAN still reject the project and we're standing with the people," he said.
Topel, the machete-wielding village head, also went with the group to Musi. "Everything was fine there. In 2014 and 2015, I was one of the strongest opponents of the project here. But after coming home from Musi, I realized that I had misunderstood the project all this time. It turned out that it was all for the good of the people," he said.
The residents assumed, Topel continued, that the tunnels would go through the village and displace houses. This isn't true, he said.
From his spacious terrace, he pointed toward the nearby mountain range. "The information I got is that the tunnels will be placed there. So, the village is safe. If they were asking the villagers to move, I would have also rejected it."
Topel's statement contradicts what I was told by Ahmad Yani, the head of Mining and Energy Authority in North Luwu, when we met in August 2016.
"The Seko Power Prima Company only has the principle permit and also the location permit," he said. "We don't know yet how the hydropower plant would turn out. Whether they would build fully-covered tunnels all the way, or open canals. Or maybe they'll combine both. Let's wait the for assessments' results."
Adding to villagers' concerns, the dam on the Betue River is just one of a group of planned hydroelectric projects in the area.
According to to Yani, 11 preliminary permits for hydropower plants have been granted there. These plants are to be built in several areas where rivers have sufficient water flow.
"When all the plants are operational, the total power produced will reach 1,154 megawatts. But the thing is, we don't know when all these facilities will be up and running," Yani said.
Unmet promises
On our way to Sae from Sabbang, our motor taxi had to stop in Palandoang for a while. It is here that the tributaries flow into the Betue River. Heavy equipment was gutting a cliff and flattening the road. In front of this machine – locally known as a beko – two workers were taking a break while staring at the flowing river below.
The road's construction is carried out by the Seko Power Prima Company, the same company building the dam. I could see the soil removed during construction had been dumped into the river, almost blocking the water's flow.
"Why don't you dump the soil elsewhere?" I asked.
"We can't do that," replied a worker. "Around here are people's properties, they'd get angry and wouldn't let us. If we dump it in the river, no one will complain."
According to preliminary documents for Seko Power Prima's Environmental Impact Assessment, all soil removed during the construction phase is to be placed in a safe area and used in ways with the least negative impact on the environment.
So, it appears that at least one written promise is already not being fulfilled in reality.
During a stakeholder meeting in Makassar, Yani said Seko Power Prima had only acquired principle and location permits, and only for activities related to surveying and analysis. At one point, he said, he would have a sit-down meeting with everyone involved and discuss issues using the Environmental Impact Assessment document as reference. "Rest assured that if it turns out that this project has more disadvantages than it does advantages, we'd be the first to reject it. In the meantime, let's give them a chance," he said.
Since news arrived that a hydropower plant would be built in Seko, a handful of people from three local indigenous communities — Pohoneang, Hoyyane, and Amballong — became anxious. Many rumors floated around, for example, that the surrounding rice fields would be flooded out, and that residents would be evicted.
Now the climate of suspicion has been on the increase. The residents are divided between those who welcome the project and those who oppose it.
Will the dam power extractive industries?
The peaceful Seko land has always been terrorized by actions in the name of development, said Mahir Takaka, a native of Seko Padang who is now a staffer at AMAN, the indigenous peoples' organization. In the 1990s, a company called Kendari Tunggal Timber had timber concessions covering Baebunta, Sabbang, Rongkong and Seko.
At first, the communities were hopeful about the arrival of Kendari Tunggal Timber, which had promised to bring various empowerment programs to the people. "But apparently, it was all empty promises. What that company left behind was only a big mess of forest roads and landslides everywhere because the big upright trees were gone," Takaka said.
I also learned that a plantation company called the Seko Fajar Company held a 35,000-hectare (~86,500 acres) concession in Seko Padang beginning in 1985. In 2011, the property was deemed idle, and the National Land Agency revoked this certificate the following year.
"But the Seko Fajar Company appealed at the State Administrative Court and they won it back. So they had control over the area again," said Takaka.
It is not impossible, he continued, that the presence of the hydropower plant could be used as a leverage to bring in bigger industries like mining into the region.
According to data released by the North Luwu Mining and Energy Authority, two mining permits have been issued in Seko. The first one was obtained by the Kalla Aribamma Company (owned by the family of Indonesia's current Vice-President), which has plans to mine iron in Marante, Seko Padang. Their concession area is 6,812 hectares.
The second company is the Citra Palu Mineral Company, who will mine gold in its 36,382-hectare concession area in Seko Padang and Rampi.
"I was not so good at school, but now we know that there are a few plans for mining in Seko. I assume that all that electricity will be used for these industries," Karyo said. "Now, I am defending our rights as a community here. Even if I have to die in the process, then that's the consequence."
So who will be the real beneficiaries of this hydropower plant?
This story was reported by Mongabay's Indonesia team. A version of this article was first published on our Indonesian site on Sept. 8, 2017, with updates throughout January, February and March.
FEEDBACK: Use this form to send a message to the author of this post. If you want to post a public comment, you can do that at the bottom of the page.