In 2015 Mongabay published nearly 3,700 articles across seven languages.
Stories ranged from in-depth investigative pieces to profiles of charismatic species to breaking news.
The increase in content production was accompanied by growth of our team from 9 to 17 people in four countries.
In 2015 Mongabay published nearly 1,300 news stories in English and over 600 articles in Spanish, French, Italian, Portuguese, German, Japanese, and Chinese. Mongabay-Indonesia posted over 1,800 stories in Indonesian. That amounts to more than 3,700 articles for the year.
Stories ranged from in-depth investigative pieces to profiles of charismatic species to breaking news. We broadened our network-based reporting initiative with special series on Almost Famous Animals, Amazon Infrastructure, Conservation and Religion, Endangered Environmentalists, Evolving Conservation, Global Palm Oil, Indonesia's Haze Crisis, Indonesian Fisheries, Indonesian Palm Oil, Jokowi's Environmental Commitments, Latin American Wildlife Trade, Leuser Ecosystem, and Indonesian Community Forests. We also launched Wildtech, a joint initiative with Resolve and World Resources Institute, that explores how technology is being used to advance conservation efforts.
The increase in content production was accompanied by growth of our team. In Indonesia, the full-time staff increased from five to six, while our network of correspondents is now more than 40. For the English site, our team went from four to ten people, while our correspondents rose from under 20 to more than 50. We also hired the first team member for our upcoming Spanish-language environmental news services.
Our ten most popular news stories
Number 10 is a look at what to expect for rainforests in 2015.
Number 9 is a story about how deforestation rates are tracked for the Amazon. The article is updated on a regular basis when new data is released by the Brazilian government, Imazon, or Global Forest Watch.
Number 8 is a story published by John Cannon in May on large-scale destruction of rainforest in Peru for industrial oil palm plantations. Cannon's story was produced under our Global Forest Reporting Network, which uses leverages from Global Forest Watch, a forest-monitoring platform.
Number 7 is a 2014 story about Lady Gaga handling, and getting bitten by, a slow loris. The piece highlighted the plight of slow loris trafficked for the pet trade.
Number 6 is a 2015 report about a large-scale die-off of saiga antelope in Kazakhstan.
Number 5 is another 2015 piece that reported on the extinction of the Sumatran rhino in Sabah, a state in Malaysian Borneo. Experts said Sabah's wild rhino population plunged from 50 in 2008 to zero in just seven years.
Number 4 is a story by Rhett Butler about Peru's creation of Sierra del Divisor National Park, a 1.3 million hectare reserve some people have called the "Yellowstone of the Amazon." The post got more than 40,000 likes on Facebook, making it the second most shared story on Mongabay in 2015.
Number 3 is a post by Jeremy Hance about researchers capturing the first camera trap photos of African golden cat kittens in Uganda's Kibale National Park.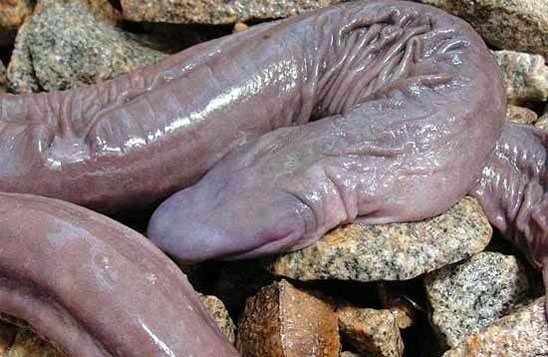 Number 2 is a perennial favorite: a 2012 post by Rhett Butler about a large, phallic-looking amphibian found in a tributary of the Amazon. The \"'penis snake', as the meter-long caecillian was quickly dubbed, was discovered as the tributary was being drained to build a new dam. The piece used the creature as a vehicle to highlight the dam-building spree currently threatening Earth's largest river.
Number 1 is an interview of Chris Herndon, who runs Acaté Amazon Conservation, about the Matsés peoples of Brazil and Peru creating a 500-page encyclopedia of their traditional medicine. Conducted by Jeremy Hance, the interview was shared over 130,000 times on Facebook, making it Mongabay's most shared and most read article of 2015.