This was a year that saw President Obama reject the Keystone pipeline as historic droughts and a vicious wildfire season wracked the western US and Canada.
The world committed to climate action in Paris as Southeast Asia was choking on the worst Indonesian haze in years.
Shell aborted its plans to drill in the Arctic for the "foreseeable" future and ExxonMobil is being investigated for lying to the public about climate risks.
As 2015 comes to a close, Mongabay is looking back at the year that was.
This year saw President Obama reject the Keystone pipeline as historic droughts and a vicious wildfire season wracked the western US and Canada.
The world committed to climate action in Paris as Southeast Asia was choking on the worst Indonesian haze in years, Shell aborted its plans to drill in the Arctic for the "foreseeable" future, and ExxonMobil is being investigated for lying to the public about climate risks.
Here, in no certain order, are the top 15 environmental stories of 2015.
1. The world committed to climate action in Paris in what will almost definitely be the hottest year on record.
In what was surely the biggest news of the year, negotiators representing nearly 200 countries reached a historic agreement to address climate change in Paris this December.
The Paris Agreement commits countries to curbing greenhouse gas emissions with a goal of limiting global temperature rise to 2 degrees Celsius (about 3.6 degrees Fahrenheit) relative to pre-industrial levels.
All signatories are required to take action toward meeting that goal by some combination of becoming more energy efficient, reducing deforestation and forest degradation, and burning less fossil fuels. That includes rich, industrialized nations like the United States and China as well as small, poor countries that are already struggling with the impacts of rising sea levels and temperatures.
Some elements of the agreement are legally binding, but most language related to emissions reductions is voluntary, an approach insisted on by U.S. negotiators because Republicans in Congress would never ratify a binding treaty — despite the fact that 2015 will almost definitely be the hottest year ever recorded, 2016 is looking to be even hotter, and the World Meteorological Organization is warning that inaction on climate change could mean that average global temperatures will rise by 6 degrees Celsius or more.
2. 2015 saw one of the worst and most prolonged periods of Indonesian haze ever.
The smog crisis created by wildfires in Indonesia is an annual occurrence, but this year it was especially bad as the El Niño event delayed the rainy season and caused dry, drought-like conditions in most provinces. In fact, this year's haze might have even been the worst in history, with Indonesia alone reporting a death toll of 19, and half a million citizens suffering from respiratory ailments.
The wildfires and resulting smog aren't just a human health hazard, however, as wildlife also feels the impacts, and plants' reproductive and photosynthesis capabilities are diminished. The fires also released as much as 600 millions of tons of carbon into the atmosphere, according to the Global Fire Emissions Database, which will contribute to global warming and, in turn, make future wildfire seasons even worse.
Twenty-three companies found to be responsible for the fires were fined or had land-clearing licenses revoked by the Indonesian government.
Indonesia wasn't the only country affected by the haze, of course: Satellite images released by NASA showed the extent of the smog as it blanketed much of Southeast Asia:
3. Shell aborted its attempts to drill in the Arctic.
When Royal Dutch Shell's icebreaker Fennica, a ship critical to the company's Arctic drilling fleet, attempted to leave Portland for the Chukchi Sea, it was delayed by one of the more daring acts of protest in 2015.
Thirteen Greenpeace activists hanging from the St. John's Bridge, supported by a flotilla of "kayaktivists", blocked the ship's passage for two days before authorities were able to clear the way for the Fennica to join the rest of the fleet.
Two months later, Shell, reportedly $4.1 billion in the hole, announced it was officially declaring defeat in the Arctic after its exploratory wells met with discouraging results.
Company officials said they were abandoning their Arctic ambitions for the "foreseeable" future, and while the historically low price of oil and the prospect of the world finally taking action on climate change probably had a lot to do with that decision, the Guardian reports that the company also admitted it was taken by surprise by the fierce opposition it faced.
4. Brazil's deforestation rate may have inched back upwards this year, but deforestation is still down overall in the Amazon rainforest.
The deforestation rate in Brazil declined drastically over the past decade, which might save 1,700 lives a year in addition to being good news for wildlife, forest-dependent communities and Earth's climate.
But an analysis of satellite data earlier this year suggested that deforestation in the Brazilian Amazon may have reached a seven-year high, and the country's government later confirmed that deforestation was pacing much higher in 2015 than in the previous year.
Still, the overall trend is that deforestation is declining across the Amazon rainforest. A study released earlier this year (available in Spanish) found that deforestation fell sharply both inside and outside the Brazilian Amazon between 2010 and 2013.
Average annual deforestation rates in most non-Brazilian Amazon countries — including Bolivia, Colombia, Ecuador, Guyana, Peru, and Suriname — fell significantly in that time period relative to 2005-2010, the study found.
Only Venezuela and French Guiana saw increases in deforestation — though the trend in Venezuela was particularly troubling, as deforestation has been rising steadily in the country for the past decade and a half.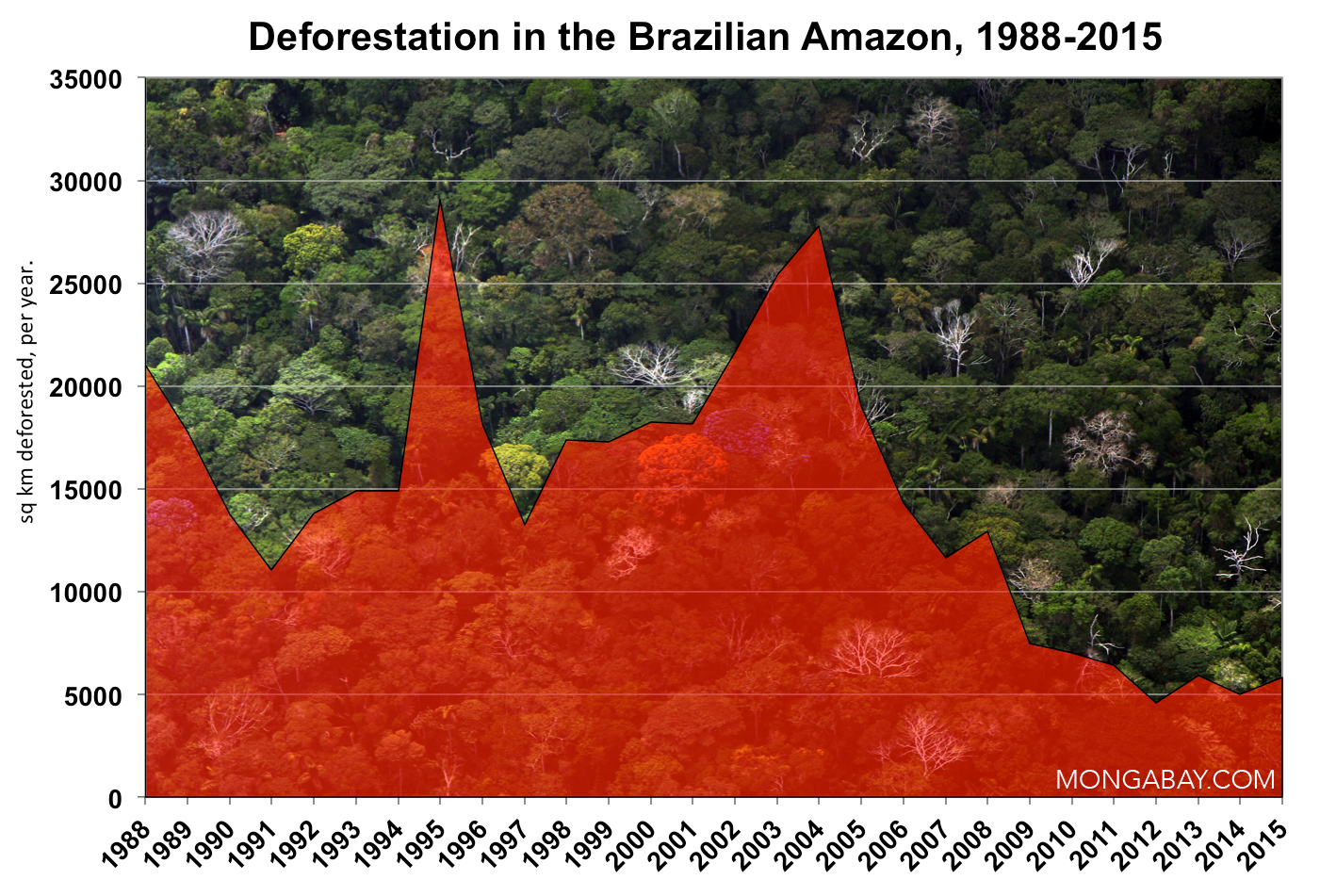 5. The sixth global mass extinction event is happening, and humans are causing it.
Earlier this year, a study confirmed what scientists have been saying for decades: Our actions are driving a sixth global mass extinction event that rivals past mass extinctions caused by such cataclysmic events as large asteroids or comets colliding with Earth and hyperactive volcanism.
In fact, humans are probably wiping species out at a rate at least 100 times faster than historical levels — and that's based on "extremely conservative" assumptions on past and current extinction rates, according to the researchers who conducted the study.
The researchers said it's still possible to reverse the trend, but to do so we must intensify conservation efforts for already threatened species and alleviate pressures on wildlife populations, especially habitat destruction, exploitation for economic gain, and climate change.
6. The price of oil cratered — like the prices of many other commodities have been doing for years.
The price of oil was lower in early December 2015 than it was during the financial crisis of 2008 – 2009, when the global economy was in the throes of the Great Recession. This time it's not weak demand driving the price down, however, but a surplus of oil on the global market, mostly from (formerly) booming production in North America's tar sands and fracked oil fields.
It's not just oil. Since early 2014, prices for many global commodities have been dropping. Palm oil is down by 40 percent, soy has fallen by a third, and beef by a tenth.
This has granted something of a reprieve to tropical forests, where much of these commodities are produced, as investments by natural resource and agricultural companies has dried up.
But experts say the reality is more complex. Low commodities prices also reduce government spending on conservation programs, drive increases in land use changes for subsistence agriculture, and provoke political pressure by companies who want to see reduced forest protection.
On the other hand, low commodity prices present new opportunities for conservation by making it easier to establish reserves through land acquisition and persuading governments to set aside protected areas.
7. Investigations revealed ExxonMobil has known about the dangers of climate change since at least the early 80s — and continued to fund climate denial anyway.
Investigations by InsideClimate News and the LA Times revealed that top executives at ExxonMobil were warned of the catastrophic impacts of runaway climate change by the company's own scientists as early as 1981.
Nonetheless, the company went on to wage a public relations campaign aimed at delaying action to halt global warming, spending more than $30 million on think tanks and researchers that promoted climate science denial, according to Greenpeace.
Now everyone from presidential hopeful Bernie Sanders to US Senators and members of the US House of Representatives are calling for Exxon to be held accountable for its actions, and New York Attorney General Eric Schneiderman has already launched an investigation into whether or not the company deliberately lied to investors and the public about climate change.
8. Environmental activists killed for standing up for the planet.
According to a report by London-based NGO Global Witness released earlier this year, "Each week at least two people are being killed for taking a stand against environmental destruction."
The report found that 116 environmental activists were murdered in 2014. Nearly half of them were Indigenous activists, and they were mostly killed for opposing hydroelectric dam projects and mining and agribusiness operations on their lands.
This year, sadly, saw much more of the same. Though not all of these cases have been proven to have been related to the victim's activism, here are a few of the people who dedicated their lives to standing up for the planet that we lost this year.
Rigoberto Lima Choc was fatally shot in broad daylight in the town center of Sayaxché, Guatemala after a court suspended the operations of a palm oil company believed to be responsible for a massive fish die-off.
Fernando Salazar Calvo was fatally shot outside his home in Colombia. He was an active member and spokesperson of the Association of Artisanal Miners of the Cañamomo Lomaprieta Indigenous Reservation.
Jopi Peranginangin, a 39-year-old Indonesian activist who opposed unbridled oil palm expansion and was the head of campaigns for Sawit Watch, was stabbed to death outside a nightclub in South Jakarta.
Telésforo Odilo Pivaral Gonzalez, who actively opposed a conflict-ridden Escobal silver mine project, was killed by unknown assailants who shot him five times.
Sieng Darong, a Forestry Administration ranger, and Sab Yoh, a police officer, were shot and killed while patrolling a protected forest in Cambodia.
And just last month, Alfredo Ernesto Vracko Neuenschwander, a woodworker who led a movement to resist forest invasions by illegal gold miners in Peru's biodiverse Tambopata region, was gunned down at his home.
9. Unprecedented drought and wildfires wracked the Western United States and Canada.
On April 1, 2015, the snowpack in California's Sierra Nevada mountains stood at just 5 percent of its historical average — the lowest it's been in 500 years.
The Golden State, like much of the western and southwestern United States, is in the midst of a multi-year drought. Nearly a third of Californians' water comes from Sierra Nevada snowpack, and it was revealed earlier this year that the state has only about one year of water left. That prompted the first-ever statewide restrictions on water use.
California did not suffer alone, however, as the dry conditions contributed to a terrifying wildfire season across the western United States and Canada. Some 5 million acres of Alaska had already burned by August 2015. Nearly 10 million acres in total have burned throughout the United States this year, making it the worst wildfire season in history, per the Washington Post.
Meanwhile, thousands of people had to be evacuated from their homes in western Canada as a result of wildfires. Studies showed the increased particulate matter in the air due to the fires increases the risk of cardiac arrest and other heart conditions.
10. President Obama rejected the Keystone XL pipeline.
Just a month before the crucial climate talks were to begin in Paris, President Barack Obama announced he was rejecting the Keystone XL pipeline. Specifically citing the project's impact on the global climate, President Obama said the pipeline, meant to transport tar sands crude from Alberta to refineries on the US Gulf Coast, was not in the nation's interest.
11. Climate catastrophe is avoidable if tropical deforestation is halved, a goal scientists say is achievable.
A study released on the eve of the Paris climate talks found that cutting tropical deforestation in half by 2020 would greatly reduce the pace of global warming.
There certainly are a lot of emissions to be saved by halting deforestation: the researchers found that tropical deforestation was responsible for an average of 2,270 million metric tons of carbon emissions every year from 2001 to 2013 (that data can be accessed on forest monitoring platform Global Forest Watch's new Climate tool, which visualizes carbon emissions from tropical deforestation around the world).
Halving global deforestation may sound like an incredibly difficult task, but the authors of the study point to Brazil as evidence that it is achievable. Deforestation in Brazil released an average of 1,066 million metric tons of carbon into the atmosphere between 2001 and 2013 — nearly half of the global load. But the country's huge gains in reducing deforestation have also scaled back its emissions — from 2004 to 2009, Brazil's gross carbon emissions dropped to 482 million metric tons.
And there are signs that the international community is finally getting serious about combating deforestation as part of broader efforts to stop global temperatures from continuing to rise unabated. Climate negotiators in Paris included mechanisms for addressing deforestation as a major means of accomplishing the overall emissions reductions targets enshrined in the Paris Agreement.
12. 25,000 Olympic swimming pools-worth of toxic mining waste spilled over 800 kilometers of Brazil.
When the Fundão tailings dam in the state of Minas Gerais, Brazil failed earlier this year, it triggered what's been called the biggest environmental disaster in the country's history.
As much as 62 million liters of toxic mud formed by iron ore waste and silica left over from mining operations buried the small historic town of Bento Rodrigues and travelled around 600 miles, eventually reaching the Doce River and the Atlantic coastline of Espírito Santo state. At least 11 people died, hundreds more were forced out of their homes, and the water supply of more than 250,000 people was compromised by high concentrations of heavy metals.
"As there was never an environmental incident of this magnitude, it is impossible to calculate the real impact right now," said Klemens Laschefski, a researcher at the Federal University of Minas Gerais, according to Scientific American.
13. Volkswagen was caught deliberately violating clean air standards.
The United States Environmental Protection Agency announced in September that it had discovered carmaker Volkswagen was installing software in some of its cars that was deliberately designed to lower emissions when an emissions test was being performed, and to release levels that violated Clean Air Act standards the rest of the time.
About half a million diesel vehicles sold in the U.S. contained the "defeat device," but the company admitted that as many as 11 million cars sold worldwide have the emissions test-cheating software.
14. Beijing's air pollution was really, really bad this year.
According to readings taken by the U.S. Embassy in Beijing, China, the city's air quality was rated "good" or better less than 20 percent of the time. Particulate matter concentrations in the atmosphere spiked to hazardous levels so often that the government ordered thousands of factories to cut back on production in an attempt to lessen the smog shrouding the Chinese capital.
15. Palm oil still the world's most controversial commodity.
A report by London-based NGO the Environmental Investigation Agency released last month found "dodgy assessments" of palm oil companies' operations were the norm for auditors approved by the Roundtable on Sustainable Palm Oil (RSPO), the world's biggest sustainable palm oil organization.
The RSPO quickly adopted a resolution acknowledging the problems plaguing its certification process and committed to a number of reforms. But that was hardly the only controversy facing the global palm oil trade in 2015.
The production of palm oil led to a number of high-profile conflicts this year. In Indonesia, Dayak tribal villagers say their borders were redrawn to allow two companies to grow oil palm in their territory. In Peru, where more than 9,400 hectares (more than 232,000 acres) of closed-canopy Amazonian rainforest have been removed for two oil palm plantations in the Ucayali region since 2011, activists speaking out against deforestation have been receiving death threats.
There are even competing models for how to make palm oil without destroying the environment and violating human rights.
A group of major palm oil companies formed the Sustainable Palm Oil Manifesto and released a study that lays out a methodology for carbon neutral palm oil production. Critics of the new SPOM study say the carbon thresholds it proposes would allow "young rejuvenating forests" to be cleared for palm plantations.
They also point out that the study didn't appear to be necessary in the first place since many of those same palm oil companies have spent the past four years developing a similar methodology in partnership with civil society, with the main difference being that the new study was steered entirely by plantation, manufacturer and consumer companies.