Africa is famous for its lions and other large carnivores, but populations are dwindling and even vanishing all over the continent. A new study published in mongabay.com's open-access journal Tropical Conservation Science quantifies the disappearance of the lion (Panthera leo), cheetah (Acinonyx jubatus), and wild dog (Lycaon pictus) from 41 protected areas in West and Central Africa, and finds that together the three species disappeared from 74 percent of the sites they once inhabited.
"A number of recent studies have suggested that large carnivores are rapidly disappearing in West Africa, including in protected areas (PAs). The extent of this extinction process, however, is poorly known," David Brugiere of the French environmental consulting firm BRL Ingénierie and two co-authors write in the paper.
The authors focused on 41 PAs devoted to the conservation of biodiversity that are scattered throughout 15 countries in West and Central Africa. They compared historical data in published literature on the occurrence of the three large carnivores at each PA around the time it was founded — as far back as 1925 — to current data published within the past five years. The researchers also interviewed 14 scientists and park staff with advanced knowledge of the protected areas to verify data from the literature and gather new information on the animals' status.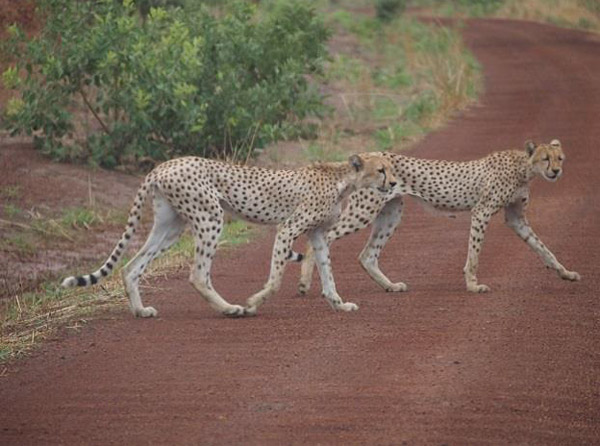 Cheetahs in the W-Arly-Pendjari complex (in Benin, Burkina Faso, and Niger), Photo credit: C. Pavey.
They found that lions are extinct or near extinct in 23 out of 38 protected areas where they were present historically. The pattern is more prominent in West African countries, where lions have vanished or are nearly gone from 15 out of 18 PAs. The three areas where they remain are Senegal's Niokolo-Koba National Park, Nigeria's Kainji Lake National Park, and the W-Arly-Pendjari (WAP) complex located in Benin, Burkina Faso, and Niger. In Central Africa, lions have disappeared or are nearly gone from 8 of 20 PAs, and their status could not be verified in one.
According to the study, cheetahs were historically much less widespread throughout the protected areas of West and Central than lions. Cheetahs have now disappeared or are nearly gone from 11 out of 15 PAs in West and Central Africa. The WAP complex is home to the last West African savannah cheetah population. However, cheetahs do roam the desert landscapes of two PAs in Niger (one of them not included in the study because it was recently formed). As for Central Africa, the only known cheetah population lives in two contiguous PAs in Chad.

African wild dogs are in the direst situation of the three large carnivores studied. They have disappeared or are nearly gone from 28 out of 31 protected areas. In West Africa, they remain only in Senegal's Niokolo-Koba National Park; in Central Africa, only in one PA each in Chad and the Central African Republic.
The authors point to several factors that contribute to the disappearance of large carnivores from protected areas, including disease, declining prey populations, and the threat from humans inside PAs or on the periphery.
The study also found that PAs where lions still exist are "significantly larger" than PAs where they do not, probably because lion populations in expansive protected areas are much less susceptible to outside threats.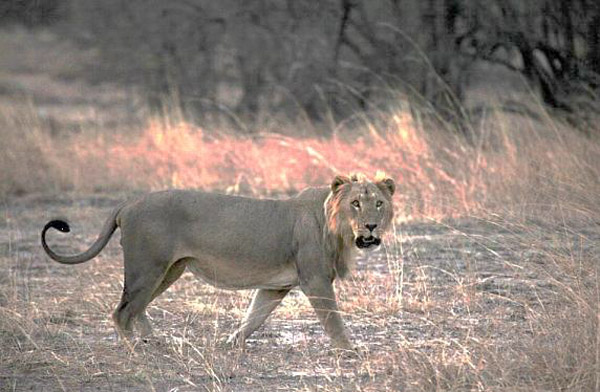 A male lion in Pendjari National Park in Benin (part of the W-Arly-Pendjari complex located in Benin, Burkina Faso, and Niger). Photo credit: Philipp Henschel/Panthera.
To determine whether the presence of people affected lions, the researchers estimated the size of sedentary human populations within a 50-kilometer (31 mile) buffer around each protected area. Surprisingly, dense human populations around PAs did not necessarily lead to the disappearance of lions, the study found, contradicting a widely held theory. Instead, the authors theorize that pastoralists — seasonally transient livestock farmers — may be driving large African carnivores toward extinction through their increasing use of poison to kill livestock predators.
"We suggest that indicators of the pastoralism pressure, including the presence of pastoralists in transit or for a longer time, as well the use of poison, should be developed and tested to better understand the generalized pattern of large carnivore population decline in West and Central African PAs," the authors write.
"From a large carnivore perspective, the only remaining functional conservation areas seem to be the WAP complex in West Africa, the Northern Cameroon savanna complex, and the larger Zakouma ecosystem in Central Africa. The two latter areas are more vulnerable to large carnivore extinction because they harbor pastoralists throughout the dry seasons, while the WAP complex is mainly a transit area," the authors write. "Scarce conservation funding should target these areas with priority."
According to the IUCN Red List, the West African lion, Saharan cheetah and West African wild dog are all listed as "Critically Endangered".
Citation: