The most positive environmental stories of the year

Sunrise over the Okavango Delta. Photo by: Tiffany Roufs.
Also see our Top 10 Environmental Stories of 2014
1. China and the U.S. Pledge Joint Action on Global Warming:
In what was widely seen as a possible breakthrough in the battle to coordinate some kind of response to global warming, China and the U.S. announced joint actions this year. On November 12th, the world's two most powerful countries surprised pretty much everyone by announcing that they would work together to tackle the crisis. The U.S. committed to reduce its carbon emissions 26-28 percent by 2025, based on 2005 levels. Meanwhile, China said that its emissions would peak by 2030 (or sooner) and 20 percent of its energy would come from clean sources. While these commitments are no-where near what's needed to avoid catastrophic climate—not even combined with the EU's pledge to cut emission 40 percent by 2030–they signaled that both the U.S. and China were finally on board in the more than 25-year endeavor to deal with climate change on a global scale. The optimism that followed didn't produce much progress at the Climate Summit in Lima months later—though it's impossible to know what would have happened without the commitments—but the real test will be Paris next year and beyond. Jeremy Hance
2. The Year of Zero Deforestation Pledges:
In 2014, the unimaginable happened: companies representing the majority of palm oil production and trade agreed to stop cutting down rainforests and draining peatlands for new oil palm plantations. After years of intense campaigning by environmentalists and dire warnings from scientists, nearly two dozen major producers, traders, and buyers established zero deforestation policies that include environmental, social, and labor safeguards. And it wasn't just the palm oil sector: following the lead of Wilmar, agribusiness giant Cargill extended the policy across its entire $135 billion commodity supply chain. Meanwhile early adopters of zero deforestation policies, including Indonesia's Golden Agri-Resources (GAR) and Asia Pulp & Paper (APP), continued to make progress on their commitments, with GAR extending the policy to all palm oil it processes and trades, and APP pledging to support conservation and restoration of an area equivalent to its concessions: one million hectares. Still while there was positive progress toward eliminating deforestation from key supply chains, some companies continued to destroy forests. Asia Pacific Resources International Limited (APRIL) came under heavy criticism for continuing to source fiber at the expense of peat forests. The company claimed the deep peat Greenpeace documented it clearing didn't breach its sustainability policy. Rhett Butler

Global Forest Watch, an online mapping platform with data on forests, has an agricultural suitability layer that incorporates information about forests, peatlands, and biodiversity to suggest areas that should be off-limits for forest-friendly agricultural expansion. Click image to enlarge.
3. Launch of Global Forest Watch:
In one of the most significant developments for forest monitoring since the launch of Landsat more than 40 years ago, the World Resources Institute (WRI) in February unveiled the Global Forest Watch, an online platform that maps a wealth of forest data. Critically, Global Forest Watch extends a near-real time deforestation alert system worldwide, enabling authorities and environmentalists to potentially take action on large-scale forest clearing as it occurs. A similar system in Brazil has been credited with more than 60 percent of the drop in deforestation in the Brazilian Amazon between 2007 and 2011. Global Forest Watch also aggregates data on concessions, fires, and agricultural suitability in an effort to guide future agricultural expansion away from wildlife-rich and carbon-dense forests. The launch of Global Forest Watch led Mongabay to develop a reporting program to tell the stories behind the data. Rhett Butler
4. Election of Jokowi:
For the first time, Indonesians elected a president who is not part of the old order. Joko Widodo, popularly known as Jokowi, rose to political prominence on his clean and effective approach to governing as mayor of Solo and the Jakarta. As he entered office, civil society groups had high hopes that Jokowi would expand on outgoing President Susilo Bambang Yudhoyono's environmental commitments. Jokowi didn't disappoint, visiting fire-plagued areas in Riau and announcing a new moratorium on all logging permits and a plan to audit licenses of companies found to be clearing peatlands. In a shakeup, the new president merged the powerful Ministry of Forestry with the weaker Ministry of Environment and appointed a civil servant as its head. Rhett Butler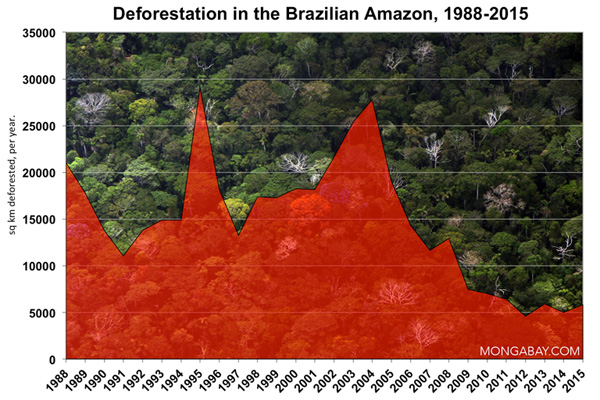 Annual deforestation in the Brazilian Amazon, 1988-2014. Click image to enlarge.
5. Deforestation Drops in Brazil:
After a one-year uptick in deforestation, forest loss in the Brazilian Amazon resumed its downward trend, falling 18 percent for the 12 months ended July 31, 2014. The decline surprised many environmentalists who feared that a controversial revision to the country's Forest Code might spur increased deforestation. Deforestation in the Brazilian Amazon is now roughly 80 percent below the 2004 peak. A combination of law enforcement, government policies, new protected areas, forest monitoring, pressure from environmental groups, and private sector commitments—including a moratorium on deforestation for soy production, which was unexpectedly renewed for another 18 months in late November—are credited for the decline. Yet there remain concerns that the gains in the Amazon may not hold with Brazil's economy flagging and ambitious plans to expand infrastructure in the region. Furthermore, the drop in deforestation in the Amazon hasn't been matched in Brazil's other ecosystems like the Atlantic forest and the cerrado. And deforestation isn't slowing outside the Brazilian Amazon. Rhett Butler

Coral on Australia's Great Barrier Reef. Photo by: Rhett A. Butler.
6. U.S. raises over $800 million for oceans:
We're not called a blue planet for nothing: 71 percent of the world is covered not in green, but blue, marine waters. Yet, our oceans are in a state of crisis, a state unimaginable just a few decades ago when many believed the oceans were just too big to impact on such a scale. Today, we know better: overfishing, ocean acidification, climate change, pollution (from nitrogen influxes to microscopic plastics to oil spills), invasive species, destructive fishing methods, and other impacts have degraded our oceans. It's in this context that the U.S. State Department hosted it first ever "Our Oceans" conference, raising over $800 million for conservation. Looking at the scale of the problem, $800 million is really (forgive me) a drop in the ocean; still it's an acknowledgement of the problem and a sign that some governments are beginning to take note. The conference was also notable for the U.S. announcement that it was expanding the Pacific Remote Islands Marine National Monument to cover 490,343 square miles (1,269,980 square kilometers), an area about twice the size of France. Jeremy Hance
7. Over half a million people march for climate action:
It's unlikely that the world's governments will take climate change as seriously as they should until civil society steps up the pressure. That may be happening. On September 21st, an estimated 400,000 people marched in New York City for climate action—the largest civil action ever for climate change. The march demolished predictions of 100,000 and was believed to be the largest march in the city since anti-war marches against the Iraq Invasion. While the march in New York City was the focal point, other marches worldwide garnered another 170,000 people or so. The marches were held a day before a high level UN Summit on climate change in New York City. Jeremy Hance

Rainforest on mainland Australia. Photo by: Rhett A. Butler.
8. World Heritage Committee rejects Australia's big to strip protected forest:
It took the UNESCO World Heritage Committee literally less than ten minutes to reject a plan by Australia to strip 74,000 hectares of forest in Tasmania from a World Heritage site. The rejection proved a major embarrassment for Australia, which lobbied hard to remove the forest so it could be logged. Australia contended that the forest in question was almost wholly degraded, but the IUCN found that, in fact, 85 percent of the forest was natural and 45 percent was old-growth forest. The region in question is made up of temperate rainforest and may house populations of endangered mammals like the tiger quoll and Tasmanian devil. Jeremy Hance
9. Japan's whaling takes a hit:
Japan's controversial whaling program isn't dead, but it is injured. In March, the International Court of Justice ruled that Japan's whaling program in the Southern Ocean was clearly not operating for scientific purposes as argued. As such, it must be halted. At first, it seemed Japan's whaling in the Southern Ocean would be over. But soon Japan announced it would revamp its whaling in the Southern Ocean to fit the 'scientific' criteria, including targeting far fewer whales than before. Still, none of this impact Japan's whaling operations in the North Pacific, as the ICJ ruling only applied to operations in the Southern Ocean around Antarctica. Japan targets several hundred whales in the North Pacific every year. Jeremy Hance

New Caledonia's massive new marine protected area covers its entire Exclusive Economic Zone.
10. New Caledonia sets up world's biggest park:
This year, New Caledonia did something incredible: it established a protected area 69 times bigger than its land mass. In May, the island country established Le Parc Naturel de la Mer De Corail (The Natural Park of the Coral Sea), which just happens to be the largest protected area on the planet. Covering the entirety of New Caledonia's Exclusive Economic Zone (EEZ), the marine protected area is mixed use, meaning certain activities, such as fishing and tourism, will be allowed in some areas. The park covers 1,300,000 square kilometers (807,000 square miles), or about twice the size of Afghanistan. Under the Convention for Biological Diversity (CBD), nations have pledged to protect 10 percent of the oceans by 2020. However to date, only around three percent of marine waters are under some sort of protection. Jeremy Hance
RUNNER UPS
1. Climate fund secures $10 billion:
The UN's Green Climate Fund reached its goal this year of $10 billion in pledges. The fund has become one of the primary components of the UNFCCC process and is meant to help developing countries both mitigate and adapt to climate change. Nations have said they will raise $100 billion a year for UN climate finance efforts by 2020, but the fund is starting out comparatively smaller. Big funders this time around included the U.S. ($3 billion), Japan ($1.5 billion), and France, Britain, and Germany (around $1 billion each). Even some developing nations pledged money, such as Mexico, which gave $10 million. After saying it would not contribute to the Green Climate Fund, Australia eventually caved, although it pledged a paltry $200 million over four years. Canada also proved stingy, pledging just $265 million. Jeremy Hance

The Baker River in Chile's Patagonia region. This is one of two rivers which would have been dammed by the HidroAysén project. Photo by: Jorge Morales F.
2. Chile drops mega-dams in Patagonia:
In June, Chile's highest administrative authority killed a highly-controversial five dam project in the nation's famously rugged Patagonia region. The dams, known as the HidroAysén project, would have dammed two rivers in the region and was fiercely opposed by many environmental organizations, tourism groups, and locals. When the dams were first approved in 2011, over a thousand protestors took to the streets. Critics of the massive industrial project say Chile has other energy options beyond hydroelectric and fossil fuels. Jeremy Hance
3. $215 million raised for Amazon parks:
One of the biggest threats to the world's protected areas rarely make headlines: lack-of-funding. In fact, a recent study found that
50-80 percent
of the world's protected areas suffer from underfunding and poor management—even in so-called industrialized nations like the U.S.—putting the world's biodiversity at grave risk. This is why the announcement this year of a $215 million nest egg for the world's largest protected area network across the Brazilian Amazon was such good news. The funds will help manage the 90-plus parks that make-up the Amazon Region Protected Areas (ARPA), which spans an area the size of Spain. In addition, the money was raised through an innovative coalition of conservation groups, private donors, international financial institutions, and the Brazilian government, a model that could conceivably be replicated for other cash-strapped protected areas worldwide. Jeremy Hance

An anaconda in the Amazon. Photo by: Brodie Ferguson.
4. New York bans fracking:
This year, New York did something big: it banned fracking. Hydraulic fracturing, or fracking as it has become known, has transformed the energy industry in the U.S. But critics say it has come with a high price: environmental damage, toxic pollution, massive water consumption, and a rise in methane emissions, the most potent of the greenhouse gases. New York's ban on the controversial practice followed a five year review that found that significant public health issues may be linked to the practice, including fears over contaminated air and water. New York is now the second state, after Vermont, to ban fracking. But it is especially notable since New York has massive oil and gas reserves in the Marcellus Shale that could be exploited by the controversial practice.
5. SOCO International pulls out of Virunga—for now:
In June the British oil company, SOCO International, said it was suspending exploratory activities in Virunga National Park after a prolonged, and bruising, campaign led by WWF. But the announcement ended up being a bit of a bait-and-switch. The company, which already received approval from the government, has left the door open to returning to Virunga depending on the results of its fossil fuel surveys. A UNESCO World Heritage site, Virunga National Park is also Africa's oldest national park and home to half the world's mountain gorillas among thousands of other species. The park's many plights—including internecine conflict and poverty—was vividly highlighted in this year's documentary Virunga, which has been nominated for Best Documentary in the Academy Awards. So, is Virunga actually safe from SOCO International's drilling plans? Only time will tell. Jeremy Hance
Related articles
Scientists reintroduce agoutis in rainforest in city of 12 million
(12/17/2014) When one thinks of Rio de Janeiro, one usually doesn't think: rainforest. However, in the heart of the city sits a massive rainforest sprung over long-gone sugar and coffee plantations. The forest—protected today as the Tijuca National Park—is home to hundreds of threatened species, but no agoutis, a common ground mammal in Latin America.
Relief for Kenya's rare coastal forest
(12/09/2014) In October this year, CAMAC Energy, an oil and gas exploration and production company, announced that they would conduct seismic surveys for oil and gas within Arabuko-Sokoke Forest, one of the last remaining fragments of coastal forests in East Africa. But following immense pressure from the environmental front, CAMAC Energy cancelled their plans to conduct surveys inside the forest.
Initiative to restore 50M acres of degraded Latin American ecosystems by 2020
(12/07/2014) A coalition of governments and organizations today pledged to restore 20 million hectares (50 million acres) of degraded forests and ecosystems across Latin America by 2020 under an initiative that aims to curb boost rural incomes, fight climate change, and increase agricultural production. The effort is backed by $365 million from five impact investors.
New survey finds surprisingly large population of endangered owl
(12/03/2014) The Anjouan scops owl—an elusive owl found only on its tiny eponymous island—was once considered among the world's most endangered owls, and even the most threatened birds. However, the first in-depth survey of the owls on the island finds that, in fact, the population is far larger than initially estimated.
Indonesia to audit licenses of palm oil companies that clear peatlands
(11/30/2014) New Indonesian president Joko Widodo has ordered the Ministry of Environment and Forestry to review licenses for companies that have converted peatlands for oil palm plantations, reports Antara. Jokowi, as the president is popularly known, announced the move after a visit last week to Sungai Tohor, a community in Riau that has been particularly affected by peatlands degradation and haze caused by fires set for land clearing.
Amazon deforestation in Brazil drops 18% in 2013/2014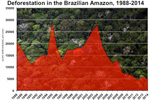 (11/26/2014) Figures published Wednesday by Brazil's National Space Research Institute (INPE) show that 4,848 square kilometers (1,871 square miles) of forest — an area about the size of the state of Rhode Island or the country of Brunei — were cleared between August 2013 and July 2014.
New calendar celebrates primates and raises money for their survival
(11/26/2014) Humans, or Homo sapiens sapiens, are really just upright apes with big brains. We may have traded actual jungles for gleaming concrete and steel ones, but we are still primates, merely one member of an order consisting of sixteen families. We may have removed ourselves from our wilder beginnings, but our extant relatives—the world's wonderful primates—serve as a gentle living reminder of those days.
Amazon deforestation moratorium extended 18 months
(11/25/2014) The Brazilian soy industry has extended its deforestation moratorium for another 18 months. The moratorium, which was established in 2006 after a high-profile Greenpeace campaign, bars conversion of forests in Brazilian Amazon for soy production. Independent analysis has shown it to be highly effective — just prior to the moratorium, soy accounted for roughly a fifth of recent deforestation, while today its share is less than one percent.