An interview with Corrin LaCombe, President of Primate Connections

Cover of the 2015 Primate Connections Calendar.
Humans, or Homo sapiens sapiens, are really just upright apes with big brains. We may have traded actual jungles for gleaming concrete and steel ones, but we are still primates, merely one member of an order consisting of sixteen families. We may have removed ourselves from our wilder beginnings, but our extant relatives—the world's wonderful primates—serve as a gentle living reminder of those days: they are our connection to our evolutionary past.
But primates are more than just this: they play a vital role in their ecosystems, particularly as a specific form of seed dispersal. Today they face threats ranging from bushmeat hunting to Ebola. Their habitats are being destroyed, and many are sold into the exotic animal trade. But Corrin LaCombe, the founder of Primate Connections and CEO of We Thrive Global, hopes to change this—one calendar at a time.
As a child, LaCombe says she played "save the gorillas from the poachers and the chimps from the astronauts" while other children played hide-and-seek. Her precocious love of animals eventually turned into a successful career in conservation. Today, she believes that a successful conservation strategy must integrate both international and local knowledge, and "work closely with local community members to co-create conservation solutions that conserve animals and plants while also facilitating human health, well-being, and sustainable development."
While getting her Master's of Science Degree in Primate Conservation Biology eight years ago, LaCombe conceived the Primate Connections Calendar Project. The calendar was originally intended as a classroom project but once she'd established a strong case for it, LaCombe could not let the idea go to waste.

Children in Bangladesh participating in an environmental education program about hoolock gibbons. There are two species of gibbon: the Eastern hoolock gibbon (Hoolock leuconedys) is listed as Vulnerable by the IUCN, and the Western hoolock gibbon (Hoolock hoolock) is listed as Endangered by the IUCN. Source: Corrin LaCombe.
She reached out to primate conservation organizations, wildlife photographers, primate conservation societies, zoos, youth organizations and churches, and proposed a partnership with Oxford Brookes University: together, they could all create a calendar to help primates. Participating organizations could use the calendar to help raise funds for conservation efforts, while half the net profit generated by calendar sales would go to primate-range country students (international students from areas such as Rwanda and the Democratic Republic of Congo) in need at Oxford Brookes. Three of LaCombe's own classmates were primate-range country students, all of whom went on to occupy important positions in international primate conservation efforts.
LaCombe understood that without money, conservation organizations could no longer continue doing their good work. Such groups never stopped working "due to a lack of passion, determination, or commitment," she told mongabay.com, it was "the act of combining environmentally-friendly economic opportunity with conservation" which spurred her to create this project, "because…if we don't find a way to make plants and animals more 'valuable' alive and intact than degraded and dead, we will never win this battle against extinction. Without a strong economic foundation (whether that be actual money currency or physical sustenance for health, well-being and education of the people) the majority of our conservation initiatives will fail."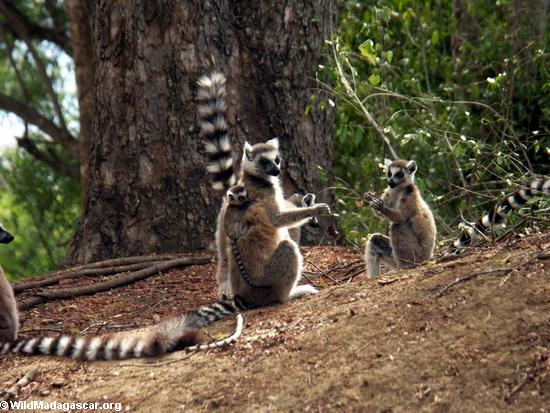 Ring-tailed lemurs in Madagascar. Photo by: Rhett A. Butler.
Today, the Primate Connections Calendar Project has partnered with over 60 primate conservation organizations and raised over $15,000 for conservation efforts. At it's core, La Combe says the calendar aims to inspire, engage and empower, and so far it's message has reached over 8,000 families.
The primates pictured in the calendar—some of which are so rare, only a few photographers have been able to capture them on film— are the focus of conservation efforts described in detail alongside the images. LaCombe hopes that the "incredible photography, information, and story telling" in the calendar will make "people…fall in love and begin to care. After all, what we care about is what we protect."
Every bit of effort counts: conservation today is no longer a realm populated by nature lovers and tree huggers. It has shifted into a powerful discipline, involving lawyers, photographers, biologists, engineers and many more. As LaCombe told mongabay.com, it now involves "political affairs, huge national and international battles accompanying the upheaval of global supply chains; it is a dynamic force, rooted in deep-seated human idiosyncrasies and a desire to protect what we believe is important"
This has led to creative collaborations to try and find innovative avenues to achieve both local and global conservation goals, and one such creative result is this calendar.
In an interview with mongabay.com, LaCombe talks about this project, the issues faced by primates, and what constitutes a successful conservation strategy.
An Interview with Corrin LaCombe

Corrin LaCombe leading a discussion group with local women in Khau Ca, Vietnam. Source: Corrin LaCombe
Mongabay: What is your background?
Corrin LaCombe: I was born in Green Bay, Wisconsin and went to high school in Biloxi, Mississippi. I have been a lover of animals since a very early age. While other kids played hide and go seek, I played save the gorillas from the poachers and the chimps from the astronauts.
| | |
| --- | --- |
| | A sun bear(Helarctos malayanus), listed as Vulnerable by the IUCN, at the Bornean Sun Bear Conservation Center. Source: Corrin LaCombe |
I think I watched Gorillas in the Mist and Project X too early. At eight years old, I dreamed of being a 'monkey doctor' and living in the jungle, like Jane Goodall. As I got older though, I got dismayed at the state of our planet: how could human beings be destroying it? We were cutting down trees and polluting our water—I just didn't understand.
My desire to figure out why this was happening led me to pursue a degree in Anthropology. I picked a program that would allow me to simultaneously study primatology, and received an undergraduate degree from University of Colorado at Boulder. I went on to receive a Master's of Science Degree in Primate Conservation Biology from Oxford Brookes University. After graduate school, I was hired by the San Diego Zoo Institute for Conservation Research to be their Conservation Education Research Coordinator.
Throughout my career I have led research and education projects in Bangladesh, Vietnam, Baja California Mexico, Borneo Malaysia, and Costa Rica working to conserve animals ranging from orangutans and sun bears to Tonkin snub-nosed monkeys, California condors, and vaquita.
I specialize in the human dimension side of conservation, working closely with local community members to co-create conservation solutions that conserve animals and plants while also facilitating human health, well-being, and sustainable development.
This is really my passion: the act of combining environmentally-friendly economic opportunity with conservation. In the end, if we don't find a way to make plants and animals more 'valuable' alive and intact than degraded and dead, we will never win this battle against extinction. Without a strong economic foundation (whether that be actual money currency or physical sustenance for health, well-being and education of the people) the majority of our conservation initiatives will fail.
Mongabay: What are some of the issues facing primates?
Corrin LaCombe: All of the great apes— including chimpanzees, bonobos, gorillas and orangutans—are endangered. The latter are threatened by the expansion palm oil industry. Other primates such as tamarins and slow loris are sold into the illegal wildlife: for every single animal that successfully makes it to an animal supplier, ten have already died. Another major issue is habitat loss—even though we successfully rehabilitate primates, we lack safe forests to return them to. Primates of today also face a whole host of other challenges ranging from mining and logging, to Ebola, the bushmeat crisis, and much, much more.
Mongabay: Why is primate conservation important?
Corrin LaCombe: Primate Conservation is important for a multitude of reasons. From a biological perspective, they are critical due to the ecological roles they play. I like to call them the "Gardeners of the Forest" because many primate species are vital seed dispersers. In fact some species of plant can't regenerate at all without having passed through the gut of a primate.
I also like to call them "Forest Guardians" because for all intents and purposes if we protect a forest well enough for primates to thrive, we effectively protect the forest for a plethora of other plants and animals. In order to truly safeguard them, we need to section off swathes of forest and ensure it remains untouched: this would effectively protect all the animals and plants in that area.

Palm Oil plantation in Costa Rica. Not only do these it affect primates, but they also contribute to deforestation. Source: Corrin LaCombe
In addition to this, and perhaps most importantly, I also believe that primates play the critical role of being the "Great Connectors." Because they are so similar to us humans, they have an uncanny ability to connect us back to nature, back to the animal kingdom, back to our biological selves, back to our roots. And in a world full of busy schedules, endless consumerism, concrete jungles, war, extreme environmental degradation, separation, and isolation this role is more necessary now than ever before.
And this is all, of course, beyond the obvious that all animals have an inherent right to survive and persist as nature intends, which is, of course, entirely different, from existing via the allow-ment of man.
Mongabay: What, in your opinion, constitutes a successful conservation strategy?
Corrin LaCombe: In my opinion, a truly successful conservation strategy understands and incorporates both local and international influences, while heeding and integrating the power and wisdom of traditional knowledge deeply into their practices and solutions sets.

Palm Oil plant in Costa Rica. This industry has led to Central American squirrel monkeys (Saimiri oerstedii) being listed as Vulnerable by the IUCN. Source: Corrin LaCombe
What I mean by this is that before we jump into any conservation strategy, we should first ask ourselves: How did things come to be this way?
Take for example the bushmeat crisis—when and how did hunting animals from the bush go from simply hunting to becoming a crisis?
Among many other things like commercialization, transition to new high powered weapons, increase in travel distance capabilities, and disease transmission, etc….. what REALLY turned hunting animals from the bush into a crisis was/is the shrinking of animal habitats and populations due to enormous mining concessions, loosely monitored logging contracts, multinational agricultural projects, urban sprawl, human overpopulation, unadulterated consumerism, etc.
The taking of one or two individuals through hunting that occurs in local villages has become a "problem," so to speak, because of these influences, not necessarily the hunting itself.
To really fix this crisis, we need to address the international consumer culture and policies that fuel the mining and logging companies that destroy so much of the habitat.
On top of all this, listening to the wisdom and knowledge of the local people who have lived close to the land and animals for generations is an invaluable gift that can grant conservationists from first world nations new eyes with which to see and understand today's environmental messes.
Mongabay: How was the Primate Connections Calendar born?
Corrin LaCombe: The Primate Connections Calendar Project was born some eight years ago when Dr. Simon Bearder (Founder of the Primate Conservation Biology Program at Oxford Brookes University) gave us an environmental education assignment to create an environmental education piece and defend why we created it. I made the calendar and in my defense explained how the project perpetuates pro-environmental knowledge, attitudes, and behaviors, and has the added bonus of being able to generate valuable conservation dollars for educators, researchers, and students. After establishing such a case for the project—I just could not let it die.

Orphaned orangutan. Photo by: Rhett A. Butler.
I was also inspired to keep the calendar going because of three of my dearest friends from graduate school at Oxford Brookes University: Felix Ndagijimana, Pedro Mendez, and Panut Hadisiswoyo. Felix is from Rwanda. Pedro is from Panama. And Panut is from Indonesia. Each were in graduate school on scholarship while I was there, and each, to me, represent hope for the 'conservation future.'
I knew that after graduate school each of them were going to return to their home countries to become some of the BEST conservation heroes in world.
And that's exactly what they did. After completing their degrees at Oxford Brookes, Felix became the first Rwandan in history to become the Director of the Karisoke Research Center, a research and management facility that looks after Rwanda's last remaining mountain gorilla populations.
Pedro went on to establish and build to tremendous capacity the Fundacion Pro-Conservacion de lost Primates Panamenos (FCPP), Panama's first and only non-governmental organization focused on the research and conservation of non-human primates.
Panut returned back to Indonesia to establish and direct the Orangutan Information Center, an organization that brings environmental films and education to village communities throughout Indonesia raising awareness about orangutans and much, much more.
The full and complete educational experience that these gentlemen experienced at Oxford Brookes propelled them forward in their remarkable conservation careers. And, to date, the impact they are having on local wildlife in their areas is nothing short of profound.
THIS is why Primate Connections started, and continues to, buy books, lab supplies, and research equipment for range country students just like Felix, Pedro, and Panut completing their degrees Oxford Brookes University.
After all, long-term sustainable conservation has the best chance of being successful when local leaders are in position, and well equipped with extensive traditional and academic knowledge. It is our intention at Primate Connections to continue to use our resources to perpetuate and empower these local conservation warriors.
To date, Primate Connections has partnered with over 60 primate conservation organizations, raised over $15,000, and informed over 8,000 families about the plight of the world's beloved primates.
Mongabay: Who is involved with this project?

Corrin LaCombe, Felix Ndagijimana, Pedro Mendez, and Panut HadisiswoyoOxford Brookes University (while studying for our Masters of Science degree in Primate Conservation Biology). We are all celebrating in the photo because our Master's degree program was just awarded the Queen's Anniversary Prize for Higher and Further Education in 2007. Source: Corrin LaCombe
Corrin LaCombe: This year we are working with 12 primate conservation organizations (see list below), four independent wildlife photographers, three primate conservation societies (International Primatological Society, American Society of Primatologists, and the Primate Society of Great Britain), Oxford Brookes University, Blank Park Zoo, half a dozen youth organizations and churches, and a small marketing and tech team.
At Primate Connections, we believe that collaboration is an essential ingredient in creating a world that thrives. We love how the Primate Connections Calendar Project facilitates this.
The 2015 Primate Connections Calendar participants include:
Mongabay: What does the Primate Connections Calendar aim to do?
Corrin LaCombe: At its essence the Primate Connections Calendar Project aims to accomplish three things: to inspire, to engage, and to empower.
We aim first to inspire people through incredible photography, information, and storytelling about the world of conservation, so people can fall in love and begin to care.
We then aim to engage. We do this through the active hands-on involvement of children and adults, organizations and individuals, as each contribute to, fundraise for, and reap the benefits of the educational, promotional, and financial components of this project.
And lastly we aim to empower. We do this through environmental tips-of-the-month and strategic allocation of conservation dollars earned.
Each year, Primate Connections donates over 50 percent of its net profits to primate range-country students in need at Oxford Brookes University, primate educators, and/or primate conservation researchers.

Proboscis monkey. Photo by: Rhett A. Butler.
Participating organizations who have pages in the calendar are also empowered as every dollar they earn through calendar sales goes 100 percent directly to them, to be used on whatever they need most.
You see, while traveling the world as a conservationist, I made an important observation. The only time that a conservation organization stops doing the good work in the world that they are meant to do is when they run out of money. It is never due to a lack of passion, determination, or commitment.
That is why Primate Connections will forever be committed to facilitating growth and prosperity to as many amazing organizations possible.
We thank everyone for their support, and look forward to continuing to grow our network with more partners, friends, family members, and fans.
And in the meantime, we encourage everyone to be creative, and to continue to develop win-win-win business models like this, that are environmentally friendly, educational, and promote pro-environmental action.
And if this sounds like something you'd like to be involved in, we encourage you to join us and purchase a 2015 Primate Connections calendar today!
Related articles
Local people are not the enemy: real conservation from the frontlines
(11/12/2014) Saving one of the world's most endangered primates means re-thinking conservation. When Noga Shanee and her colleagues first arrived in Northeastern Peru on a research trip to study the yellow-tailed woolly monkey (Oreonax flavicauda), she was shocked by what she observed.
When cute turns deadly – the story of a wildlife biologist who was bit by a venomous slow loris, and lived to tell the tale
(10/24/2014) Slow lorises are YouTube stars. A quick search on the website will greet you with several videos of these endearing little primates–from a slow loris nibbling on rice cakes and bananas, to a loris holding a tiny umbrella. Lady Gaga, too, tried to feature a slow loris in one of her music videos. But the loris nipped her hard, and she dropped her plans. This was probably for the best, because the bite of a slow loris is no joke. Being the only known venomous primate in the world, its bite can quickly turn deadly.
Coal, climate and orangutans – Indonesia's quandary
(10/21/2014) What do the climate and orangutans have in common? They are both threatened by coal – the first by burning it, and the second by mining it. At the recent United Nations Climate Summit in New York, world leaders and multinational corporations pledged a variety of actions to reduce greenhouse gas emissions and deforestation to avert a looming disaster caused by global warming.
Walking the walk: zoo kicks off campaign for orangutans and sustainable palm oil
(10/20/2014) If you see people wearing orange this October, it might not be for Halloween, but for orangutans. Chester Zoo's conservation campaign, Go Orange for Orangutans, kicks off this month for its second year. The campaign aims to raise money, and awareness, for orangutans in Borneo, which have become hugely impacted by deforestation often linked to palm oil plantations.
Did the world's only venomous primate evolve to mimic the cobra?
(09/29/2014) The bite of a slow loris can be painful, and sometimes even lethal. After all, this cute-looking YouTube sensation is the only known 'venomous' primate in the world—a trait that might have strangely evolved to mimic spectacled cobras, according to a recent paper. Mimicry in mammals is rare. But anecdotal evidence and studies in the past have noted the uncanny cobra-like defensive postures, sounds, and gait in slow lorises.
Scientists use genes, feces to study disappearing monkeys
(09/24/2014) Human pressures through tree clearing and poaching are reducing both forest and fauna in West Africa. In response to dwindling primate populations, scientists used genetics techniques to examine their makeup and outlook – demonstrating the usefulness of such methods in the study of animals that are becoming ever-fewer in number and ever-harder to find.
Why are great apes treated like second-class species by CITES?
(09/11/2014) The illegal trade in live chimpanzees, gorillas, bonobos and orangutans showed no signs of weakening in the first half of 2014—and may actually be getting worse—since the Great Apes Survival Partnership (GRASP) published the first-ever report to gauge the global black market trade in great apes in 2013.
Conservationists use social media to take on Peru's booming illegal wildlife trade
(09/04/2014) Illegal wildlife trafficking is thriving in Peru. But a Peruvian organization is now using a public campaign, via social media and press releases, to track and rescue illegally kept wildlife in the country. 'I have filed 47 complaints from 14 different states in Peru including hundreds of animals commercialized illegally in markets, kept as pets, and used as tourist attractions,' said Noga Shanee, Co-founder and project director of Neotropical Primate Conservation.
Scientists uncover five new species of 'toupee' monkeys in the Amazon
(09/02/2014) While saki monkeys may be characterized by floppy mops of hair that resemble the worst of human toupees, these acrobatic, tree-dwelling primates are essential for dispersing seeds. After long being neglected by both scientists and conservationists, a massive research effort by one intrepid researcher has revealed the full-scale of saki monkey diversity, uncovering five new species.
25 primate pictures for World Primate Day
(09/01/2014) September 1 is World Primate Day, a designation intended to raise awareness about apes, monkeys, and prosimians like lemurs, lorises, and tarsiers. Many non-human primates are threatened by habitat loss, the pet trade, and hunting.