Tchimpounga, chimpanzees, and extractive industries in the Republic of Congo
"Tchimpounga is not just a sanctuary," shouted Rebeca Atencia above the din of the outboard motor, as she pointed to our progress up the Kouilou River on her tablet, donated by Google, which included access to high-resolution satellite maps. The GPS tracking showed us as a small, blue diamond moving slowly up the murky river.
I marveled once again at 21st Century technology. Here we were, in a remote part of the Republic of Congo (RoC) in Central Africa, with thick tropical jungle on both banks and no roads inland, yet there was access to GPS tracking and cell phone service.
Atencia was giving me the history of the Tchimpounga Chimpanzee Rehabilitation Centre as we headed for three islands in the Kouilou River that were being transformed into chimpanzee preparation sites for pre-release into the wild. Here orphaned chimpanzees would learn, under supervision, how to fend for themselves.

Atencia shows the author their progress up the Kouilou River on the tablet provided by Google. Photo by Stephan Chamayou
"Jane Goodall came to Brazzaville in 1992 for a conference," Atencia continued, referring to the famed chimpanzee researcher turned ape rights campaigner. "Driving to the conference they passed an outdoor market and Jane saw a young chimpanzee tied to a post with a rope around its waist. She ordered the car to stop and went to see the poor thing. The rope had dug into the chimpanzee's skin and caused an infection."
Atencia went on to say that rescuing the chimp led to a visit to the Brazzaville Zoo, where other chimpanzees were held in barren cages in deplorable conditions, most of them orphans from the bushmeat trade – great apes are commonly eaten in Central Africa. Goodall decided she had to do something, and using her considerable skills of persuasion and fund-raising, the RoC government donated 7,000 hectares (17,300 acres) of land located about 50 kilometers (31 miles) north of Pointe-Noire near the coast to the Jane Goodall Institute (JGI).
"The place was used before as a military camp, where Cubans trained the Congolese army," said Atencia with a wry smile. "Now it's used for something better."
Since those early years, including under the dedicated and energetic leadership of Atencia and her husband Fernando Turmo since 2006, Tchimpounga has expanded to a 55,000 hectare (136,000 acres) national reserve, with protected status. It's also the home to more than 160 chimpanzees.
Tchimpounga chimps learning to go wild on an island in the Kouilou River. Photo by Daniel Stiles.
"We do research with the Max Planck Institute and Harvard, carry out conservation work, and we have a very active program to create awareness, educating people that they should stop hunting, eating and trafficking great apes," explained Atencia.
As we returned from visiting the islands in the JGI vehicle, we stopped at the barrier pole that controlled access to the national reserve.
"You see that big open area?" Atencia asked, pointing to a large cleared area next to the dirt track that looked like an abandoned parking lot. "A few months ago it was full of equipment and housing for workers."
Atencia recounted how a Chinese mining company had come last year to prospect for potash, an important base mineral for fertilizer. As they put in test core drillings, oil gushed out of one of them. The mining company left and a Chinese oil company replaced them, setting up camp just outside the Tchimpounga National Reserve.
"They received presidential permission to explore even in the reserve," said Atencia. The underground seismic blasts caused an entire population of adult chimpanzees to scale the fence of their enclosure and run away.
"The noise and trembling earth frightened the wits out them, and even now months later they refuse to return," Atencia related. "Thank goodness the oil people are gone," she added with relief. "I guess they didn't find anything."
Unfortunately, it could be a case similar to that of SOCO International in Virunga National Park in neighboring Democratic Republic of Congo. SOCO, a British oil company, finished its seismic testing and went away in July this year, but only to evaluate the data. If the test results turn out to be positive, they may well be back.
Extractive industries such as mining, oil and gas, and logging have become major threats to tropical forests and the rich biodiversity they hold. The Congo Basin forest is the second largest terrestrial carbon storage area in the world, after the Amazon. Releasing that carbon into the atmosphere, as a result of forest clearing for extractive industries, is already contributing to climate change.
In response, conservation groups, governments, financing institutions, and private companies have joined together to formulate sophisticated systems to plan, manage and offset the negative impacts of these industries. Mongabay.com has recently presented two examples of this in the RoC, one involving Forest Stewardship Council certification of logging companies and the other dealing with mining companies through the Business and Biodiversity Offsets Program, supplemented by the Equator Principles practiced by about 70 of the largest financial institutions.
The Congo Basin Forest Partnership (CBFP) is an umbrella initiative that was launched at the 2002 World Summit on Sustainable Development in Johannesburg, South Africa. It aims to protect regional biodiversity, promote good forest governance, and improve local standards of living. This is the main forum under which the planning and management systems are implemented and reviewed in Central Africa.
I attended a CBFP conference in Brazzaville in October that brought together 21 nations (plus the European Union), 14 international organizations, 29 NGOs, and 10 private sector partners that engage in the CBFP.
Looking at the partners listed in the CBFP brochure, and gazing around the vast conference hall located in the Ministry of Foreign Affairs grounds, I was struck by a glaring absence – there was not a single East Asian partner or face to be seen. Who were the Chinese mining and oil companies that had come to Tchimpounga and other places in the region answering to? Why were they not involved in efforts to control the negative impacts of extractive industries?

Henri Djombo, RoC Minister of Economic Forestry and Sustainable Development, addressing the CBFP conference, which had no participants from East Asia to hear his exhortation for sustainable forestry management. Photo by Daniel Stiles
I put these questions to Tim Resch, Environmental Advisor working for the United States Agency for International Development (USAID), at an 11 A.M. welcoming cocktail reception the opening day of the conference.
"We've tried to engage the Chinese on environmental matters," said Resch. But they say they don't have the laws that countries in the West have. The Chinese government says they have no power to compel private companies to behave in any particular way."
Some time later, I raised the issue with representatives of the U.N. Environment Program, the World Resources Institute, WWF, and the Wildlife Conservation Society, all of whom have important conservation programs and projects in Central Africa. Everyone was well aware that East Asian logging and mining companies were operating were causing significant environmental damage in the Congo Basin, and that they did not follow the same operating procedures as other companies. For example, no one had ever heard of an East Asian company preparing a proper Social and Environmental Impact Assessment (SEIA) report before opening a mine. No one knew of an East Asian logging company attempting to gain certification through the Forest Stewardship Council (FSC). But, like the weather, little could be done about it except complain.
To give one example, Brilliant Ventures Asia Limited (BVAL) is a private Hong Kong based mineral exploration company whose main area of interest is in the Republic of Congo. BVAL's holding company, Man Fai Tai Holdings, has extensive interests in the logging industry in RoC, owns a substantial amount of earth moving equipment within the country, and constructed most of the existing logging roads in the southwest region of RoC over the past 25 years of logging operations. BVAL's Chairman and sole owner of Man Fai Tai Holdings, Patrick Shu Fai To, was appointed as Hong Kong's honorary consul in 1996. This gives BVAL a distinct advantage over other exploration companies, and Patrick To has cultivated personal relationships with the highest levels of political power in the RoC.
| | |
| --- | --- |
| | Patrick To on left, owner of BVAL, with the President of the RoC, Denis Sassou-Nguesso, and Li Yu Dong on right, director of SICOFOR. Having high political connections helps doing business in the RoC. Photo courtesy of BVAL. |
Between 2009 and early 2014, BVAL funded geological and aeromagnetic surveys in several exploration permit areas in over 5,000 square kilometres (almost 2,000 square miles) of southwest RoC. The initial results showed that deposits with ore up to 62 percent iron were present. If the project goes ahead, the mine concession area could be five times greater than the nearby Zanaga mine. But, there are no indications in available literature that BVAL plans to carry out a SEIA, as required by Congolese law.
A mining project of this size with no social and environmental planning could inflict serious damage on the important biodiversity in this part of RoC, which includes western lowland gorillas, chimpanzees, and forest elephants, in addition to jeopardizing the socioeconomic situation of local communities.
"I don't know what has happened to Brilliant Ventures," John Merry, an environment and community relations officer with a mine in RoC, told mongabay.com. "They had a substantial exploration camp to the west of our project. The last I heard, they had already cleared a corridor for their pipeline from the project site to the coast. Our information was they had very low-grade ore and it was unlikely to be financially viable. As far as I am aware, they also have not completed any sort of impact assessment."
| | |
| --- | --- |
| | Map showing the location of the proposed BVAL iron ore mine. Courtesy of BVAL.. Click image to enlarge. |
A SEIA should have been in process when BVAL started exploration. Even preliminary exploration involves building access roads, clearing forest, and the construction of drilling pads, drilling, sample collection and so on.
"I don't know specifics about putting the project on hold, but it seems indeed to be the case," a former chief exploration geologist for BVAL, who wishes to remain anonymous, informed mongabay.com. He went on to say that, "…at the moment the main reason is the iron ore price. A property that is now marginal or not economic could become economic with higher prices and with higher prices there could be more investor interest."
BVAL may be in hibernation waiting for spring, or indeed dead, but Patrick To is alive and kicking.

An East Asian logging camp in the RoC. Photo by Emma Stokes, WCS
Sino Congo Forêt (SICOFOR) is one of Patrick To's logging companies in the RoC, formerly owned by Man Fai Tai Holdings. It controls five forest concessions in the southwest totalling 800,000 hectares (2 million acres), two of them overlapping with part of the proposed BVAL mine area. Patrick To is also connected with Congo Deija Wood Industry (CDWI), which owns one very large logging concession (over 635,000 hectares, or 1.5 million acres) in the northwest, bordering on Gabon.
These logging companies have fallen under the eye of Resource Extraction Monitoring (REM), a non-profit organization that operates as an independent monitor of law enforcement and governance, funded by the European Union and the UK. The watchdog group sends independent observers to inspect natural resource extraction activities and report illegalities and related governance problems. Five of their mission reports on logging concessions in the RoC since 2008 involve SICOFOR or CDWI.
All five investigations reported many irregularities in Patrick To's operations in contravention of Congolese law – no management plans, no anti-poaching units, no socio-economic infrastructure for workers, and the borders of the concessions were not well-defined or respected. They also found tree-cutting infractions, problems with record-keeping and tax calculations, over-cutting beyond allocations, inadequate payment of fines, implied bribery of departmental forestry inspectors, among other problems.
Two of To's logging concessions bordered protected areas, one that intruded deeply into Conkuati National Park in the southwest, and another that bordered on both Odzala-Kokoua National Park and the Lossi Gorilla Sanctuary in the northwest. Suspected uncontrolled illegal logging and poaching inside the parks were associated with poor management by SICOFOR and CDWI.
All of these timber exports are destined for China, where Global Timber estimates that 90 percent of RoC timber imports are illegal. A recent study on illegal logging in the RoC by Chatham House concluded that, "[the] national picture masks a wide disparity between the logging concessions in the north and south of the country. Two-thirds of log production from the concessions in the north (which export via Cameroon and are geared towards EU markets) was verified or certified in 2011, but none of the production from the southern concessions (which export via Pointe-Noire and are geared towards China) has been assessed under any scheme."


The SICOFOR forestry concessions in southwest RoC, marked with red ovals. The Cotovindo concession inside Conkuati National Park reverted on paper to the protected area in 2011, but Rebeca Atencia reported that there is still heavy bushmeat hunting in the area. Map courtesy of the World Resources Institute. Click to enlarge.
It should be mentioned that Congo Deija Wood Industry in the north exports its logs through Gabon, not Cameroon.
The Chatham House report concluded that there exists fundamentally two different timber production sources and export markets. The first follows Western methods of legal verification or certification, implementing environmental planning and management. The timber goes to "sensitive" markets (the EU, North America, Australia, and New Zealand). The second produces mostly illegal timber destined for "less sensitive" markets, mainly China.
Available information suggests that the mining and oil and gas industries may be broken down in similar fashion.

East Asian logging companies operate outside of the initiatives aimed at biodiversity conservation that fall under the umbrella of the Congo Basin Forest Partnership. Photo by Karl Ammann.
Unless the East Asian companies and the governments that support them can be brought into the various initiatives that aim to control environmental damage caused by extractive industries, Tchimpounga's chimpanzees are looking increasingly in danger.
Related articles
Coal, climate and orangutans – Indonesia's quandary
(10/21/2014) What do the climate and orangutans have in common? They are both threatened by coal – the first by burning it, and the second by mining it. At the recent United Nations Climate Summit in New York, world leaders and multinational corporations pledged a variety of actions to reduce greenhouse gas emissions and deforestation to avert a looming disaster caused by global warming.
The Zanaga iron ore mine – a test of best laid plans for preserving wildlife
(10/06/2014) One of the largest iron ore deposits in Africa is located in a strip 47 kilometers long and three kilometers wide in the Republic of the Congo (RoC), bordering Gabon. A core section of the Guineo-Congolian Forest rises above this vast mineral deposit, and provides a home to flagship endangered species like western lowland gorillas, chimpanzees, and forest elephants.
Why are great apes treated like second-class species by CITES?
(09/11/2014) The illegal trade in live chimpanzees, gorillas, bonobos and orangutans showed no signs of weakening in the first half of 2014—and may actually be getting worse—since the Great Apes Survival Partnership (GRASP) published the first-ever report to gauge the global black market trade in great apes in 2013.
How did Ebola Zaïre Get to Guinea?
(08/05/2014) The vicious Ebola outbreak that has already killed over 800 people this year was not a strain endemic to the region as initially believed. Instead the University of Edinburgh found that the strain is the same as the Ebola Zaïre found in the Democratic Republic of Congo (DRC), formerly Zaïre. Does this mean the strain could have come from illegally-trafficked great apes instead of fruit bats as widely reported?
Ndoki Forest, charmed or cursed? Conservationists admit sustainable logging wilting in naïve chimp habitat
(08/01/2014) 'You come across that crest, and … you're going from forest that has already been exploited to this kind on no-man's land… It just felt like you were going into this vast unknown wilderness' – Mike Fay from Eating Apes by Dale Peterson and Karl Ammann. Mike Fay, famed explorer and conservationist, said this of the Ndoki Forest in the Republic of the Congo.
Sold into extinction: great apes betrayed by protectors
(07/09/2014) In what appears to be corruption in high places, the international body charged with protecting endangered species has turned a blind eye to massive illegal trade of endangered Great Apes. This was my distinct impression on reading the Great Apes report prepared by the Convention on International Trade in Endangered Species (CITES) Secretariat for the 65th CITES Standing Committee meeting, which will take place in Geneva in early July this year.
Oil, wildlife, and people: competing visions of development collide in Virunga National Park
(07/07/2014) What does SOCO's withdrawal really mean for the future of Virunga National Park? – Part II. Located in the eastern DRC, Virunga is the first national park created in Africa, a World Heritage Site and home to mountain gorillas, of which fewer than 900 remain. As such, SOCO's announcement to suspend activities followed in the wake of a concerted campaign led by WWF to "draw the line" to save Virunga from devastation by prospective oil drilling.
What does SOCO's withdrawal really mean for the future of Virunga National Park?
(06/17/2014) Recent headlines have touted an agreement between SOCO International, a British oil company, and WWF, as bringing about an end to oil exploration in Virunga National Park. For example: Oil company Soco not to drill in Virunga World Heritage Site, Deal aims to ban drilling in gorilla preserve, and Soco halts oil exploration in Africa's Virunga national park. However, the same news banners flew in 2011, and oil exploration returned.
Extractive industries and apes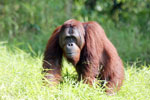 (06/13/2014) Current thinking in the private and public sectors asserts that economic development needs are in conflict with, or mutually exclusive of, the need to conserve the biosphere on which we depend. So, we are asked either to reduce development in the name of conservation or to reduce conservation in the name of development.