Orphaned Sumatran orangutan
Furthering Indonesia's renewed commitment to environmental justice, the High Court of Banda Aceh denied an appeal by PT. Kallista Alam, the oil palm company found guilty of destroying over 1,000 hectares of protected peat forest in Gunung Leuser ecosystem. The Court upheld the previous ruling, which fined the company 366 billion rupiah ($30 million) in penalties and restoration fees.
Adi Dachrowi SH, a High Court judge, said on Friday that the denial strengthens lower court's January 8 ruling which found the company guilty of violating environmental laws. He said the decision has been submitted to the District Court in Muelaboh to be forwarded to the Ministry of the Environment and PT. Kallista Alam.
A legal advisor for the company stated they have not yet received the decision, but are considering an appeal to the Supreme Court.
PT. Kallista Alam faces a 114 billion rupiah ($9.4 million) fine, and is required to pay an additional 252 billion rupiah ($20.7 million) for cleanup, restoration, and remediation of the Tripa swamp area. Further, if the company is late in their compliance, they must pay an additional 5 million rupiah ($410) a day.

Kallista Alam Director Subianto Rusyid and Kallista Alam Development Manager Khamidin Yoesoef in Meulaboh district court on July 15, 2014

In addition, several key members of the company's leadership, including its director and field manager, face individual fines and prison time.
"This decision has been made in accordance with justice," wrote Fadhila Ibra, spokesperson for Coalition for Tripa Swamp Rescue, "and we ask that the decision be executed immediately so we can return Tripa swamp to its proper function."
"Unfortunately, the damage has already occurred, and Tripa swamp is in dire need of a serious, and comprehensive restoration program to replant the forest, bring back wildlife, and restore the livelihoods of the local people. Tripa is part of the Leuser Ecosystem, the last place on earth where orangutans, rhinos, elephants and tigers live together."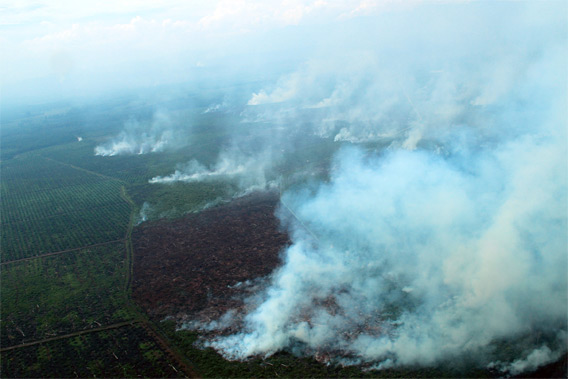 Fires in Tripa. Courtesy of the Sumatran Orangutan Conservation Programme
Peat swamp forests are rapidly disappearing throughout Indonesia and the world, largely due to logging and encroachment by plantations. Tropical peatlands store an average of 2,009 metric tons of carbon per hectare—or the greenhouse gas equivalent of one year of emissions by 1,551 US passenger vehicles.
REFERENCE: Firman Hidayat. Banding Ditolak Pengadilan Tinggi Banda Aceh, Saatnya PT. Kallista Bayar Rp366 Miliar ke Negara Mongabay-Indonesia September 28, 2014