Like Memorial Day, when we honor our nation's military veterans, World Ranger Day is a day to recognize and celebrate the thousands of rangers who put their lives on the line as they protect wildlife and natural resources around the world.
To commemorate this day, the International Ranger Federation released a Ranger Roll of Honor listing 56 rangers who lost their lives in the line of duty over the last 12 months. It includes rangers like Dexter Chilunda, who worked in Zambia's Liuwa Plains National Park and was killed by poachers last May, and Ltadamwa Lardagos, who worked as a key member of Northern Rangelands Trust's multi-ethnic team of conservancy rangers in northern Kenya and was killed by cattle raiders who'd evaded capture for days, as well as many who remain un-named.
Because not all deaths are reported, or they're reported later, the true number on the ranger honor roll is likely more likely two to three times the amount noted.
Around the world people are marking this day through various events and social media.
For example, the International Ranger Federation, in conjunction with the IUCN World Parks Congress, organized a Twitterstorm to get the topic trending on Twitter on the day itself.
Others, such as Jane Goodall and the Duke of Cambridge, have taken to the online airwaves with World Ranger Day messages. Many others, from CITES Secretary General John Scanlon to wildlife organizations like World Wildlife Fund, released written statements and posted messages of support on Facebook and Twitter.

Patrol officer with Indonesia's Rhino Protection Unit or RPU, elite wildlife rangers. Photo by: Rhett A. Butler.
In South Africa, SANParks is holding several events (such as at the Paul Kruger Gate and Garden Route National Park among others) with prayers, flag raisings, parades and speeches.
UNITE for the Environment, which operates in Uganda around Kibale National Park, posted a photo on Facebook of a young boy holding a sign saying he wants to be a ranger that took social media by storm. Thanks to the support raised by the photo, the boy received funding for his first two years of secondary school. "He is well on his way to making his dream of being a ranger come true!" UNITE commented.
In Melbourne, Australia, a five-hour-long concert, called "Greenline Grooves for World Ranger Day," will raise funds and celebrate the work of rangers through the music of more than six bands.
In Australia, Queensland National Park rangers will host several "meet and greets," such as one at Queen Street mall in Brisbane. In other places, such as Girraween National Park, they'll include a slide show on "A Day in the Life of a Girraween ranger" and also screen The Thin Green Line documentary. In other national parks, guided ranger walks will spotlight both the rangers and the resources they protect.
Still more events will bring together the rangers themselves. The Game Rangers' Association of Africa (GRAA), a non-profit organization with 1,500 members across Africa, is hosting a workshop in Johannesburg where rangers will come together to share experiences,
In addition, GRAA and South Africa's Department of Environmental Affairs will host the Rhino Conservation Awards to recognize exceptional individuals and organizations protecting Africa's rhinos. With five categories—best field ranger, best conservation practitioner, best political and judicial support, best science research & technology, and best awareness, education or funding—the awards will highlight the many dimensions required in the fight against poaching.
Yet the work continues. A routine security check of vehicles entering Kruger National Park this morning uncovered a firearm, ammunition and poaching related equipment in a vehicle. Rangers arrested the driver but two passengers who were in the vehicle fled. Investigations are underway.
Big or small, the events and messages show rangers matter. Take a moment: say thanks to the rangers.
Related articles
Tanzania should implement shoot-to-kill policy for poachers, says government minister
(10/09/2013) A government minister in Tanzania has called for a "shoot-to-kill" policy against poachers in a radical measure to curb the mass slaughter of elephants. Khamis Kagasheki's proposal for perpetrators of the illicit ivory trade to be executed 'on the spot' divided opinion, with some conservationists backing it as a necessary deterrent but others warning that it would lead to an escalation of violence.
Poachers kill 2 rangers in Thailand
(09/24/2013) Two wildlife rangers have been killed by poachers in Thailand, reports the Wildlife Conservation Society.
Obama to take on elephant and rhino poaching in Africa
(07/03/2013) Barack Obama launched a new initiative against wildlife trafficking on Monday, using his executive authority to take action against an illegal trade that is fueling rebel wars and now threatens the survival of elephants and rhinoceroses. The initiative, announced as the president visited Tanzania on the final stop of his African tour, was the second time in a week Obama has used an executive order to advance environmental policy, after announcing a sweeping new climate change plan.
On guard: protecting wildlife in a heavily hunted Brazilian forest
(06/24/2013) The Brazilian government offers tax relief to landowners who set aside areas for preservation. While this has expanded the system of private ecological reserves considerably, the Brazilian government currently lacks funding to enforce the protection of these lands from threats such as hunting, leaving the responsibility to the landowners.
Infamous elephant poacher turns cannibal in the Congo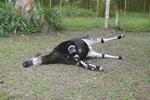 (04/03/2013) Early on a Sunday morning last summer, the villagers of Epulu awoke to the sounds of shots and screaming. In the eastern reaches of the Democratic Republic of the Congo, that can often mean another round of violence and ethnic murder is under way. In this case, however, something even more horrific was afoot.
Poachers enlisting impoverished wildlife rangers as accomplices in elephant, rhino killing
(04/01/2013) Corruption among wildlife rangers is becoming a serious impediment in the fight against poaching, fuelled by soaring levels of cash offered by criminal poacher syndicates, senior conservation chiefs have admitted. Rangers in countries as diverse as Tanzania and Cambodia are being bribed by increasingly organised poaching gangs keen to supply ivory, rhino horn and tiger parts to meet huge consumer demand in Asia.
Rhino wars: documenting the poaching crisis in South Africa
(01/16/2013) In 2012 a record 668 rhinos were slaughtered by poachers in South Africa for the horns, which are used as scientifically-debunked medicine in Asia. Rhino poaching has hit record levels worldwide over the past few years, but no where is the carnage greater than South Africa, which houses well over half of the world's rhinos. Thus it's no surprise that when student filmmaker, Anne Goodard, arrived in South Africa to film zebra behavior, she quickly became enthralled by the dark and tragic drama surrounding the country's rhinos.
'The ivory trade is like drug trafficking' (warning graphic images)
(11/05/2012) For the past five years, Spanish biologist Luis Arranz has been the director of Garamba National Park, in the Democratic Republic of Congo (DRC). Arranz and a team of nearly 240 people, 140 guards among them, work to protect a vast area of about 5,000 square kilometers (1,930 square miles) of virgin forest, home to a population of more than 2.300 elephants that are facing a new and more powerful enemy. The guards are encountering not only bigger groups of poachers, but with ever more sophisticated weapons. According to Arranz, armed groups such as the Lord's Resistance Army from Uganda are now killing elephants for their ivory.