South Sudan at risk of imminent famine
Suffering from a six month civil war, the world's youngest country could begin experiencing famine conditions in the next few weeks, according to an analysis from a group of British aid agencies.
The UN has been warning for months that South Sudan—which was only established in 2011—faces a worsening food crisis in the midst of internecine fighting, yet aid has been slow in coming. Now, the Disasters Emergency Committee—a coalition of 13 well known NGOs—along with IPC Partners have announced that 3.8 million people in the country could 'crisis' or 'emergency' food insecurity by August if more funds aren't pledged.
"We are gravely concerned that millions of people are facing an extreme food crisis in South Sudan this summer and there is a very real risk of famine in some areas," said DEC Chief Executive Saleh Saeed.
The UN estimates that give million people in the country are in need of emergency assistance and that 50,000 children could perish from malnutrition. It has asked for $1.8 billion to help stem the food crisis, yet by mid-June only around $730 million had been pledged.
| | |
| --- | --- |
| | A South Sudanese girl at independence festivities in 2011. Photo by: Jonathan Morgenstein/USAID. |
When the country split from Sudan nearly three years ago, its creation was met with much fanfare and widespread media coverage, yet the news of the country's current woes have been less publicized.
"Public awareness of the crisis in the UK remains very low, making a successful appeal extremely difficult," said Saeed.
The war started last December when President Salva Kiir accused his vice-president, Riek Machar, of an attempted coup. The allegation quickly led to warfare with both sides already accused of flagrant human rights violations. Worryingly, the conflict has increasingly split down ethnic lines. Meanwhile, the fighting has displaced around 1.5 million people, many of them farmers, meaning few crops are sown in parts of the country.
In May, Secretary General of the UN, Ban Ki-moon, visited the ailing country and noted, "If the conflict continues, half of South Sudan's 12 million people will either be displaced internally, refugees abroad, starving or dead by the year's end."
Already the situation sounds eerily familiar to the world's most recent famine. In 2011, famine killed approximately 258,000 people in Somalia, over half of whom were children under five. The famine was a result of conflict, government weakness, high food prices, failed rains, and an bungled response by the international community and aid agencies. Yet, the famine—the first of the 21st Century—went little seen by much of the world.
"The suffering played out like a drama without witnesses," said Philippe Lazzarini, UN Humanitarian Coordinator for Somalia, in 2013 at the release of seminal report on the tragedy.
"There is consensus that the humanitarian response to the famine was mostly late and insufficient, and that limited access to most of the affected population, resulting from widespread insecurity and operating restrictions imposed on several relief agencies, was a major constraint," reads the report.
Related articles
African militias trading elephant ivory for weapons
(06/05/2013) The Lord's Resistance Army (LRA) is using lucrative elephant poaching for ivory to fund its activities, according to a report published on Tuesday. Eyewitness accounts from park rangers, Lord's Resistance Army (LRA) escapees and recent senior defectors report that the fugitive warlord Joseph Kony, who is wanted by the international criminal court for war crimes and crimes against humanity, ordered African forest elephants to be killed in Garamba national park in the Democratic Republic of Congo (DRC) and the tusks sent to him.
Beautiful striped bat is the "find of a lifetime" (photos)
(04/10/2013) Scientists have uncovered a rare, brilliantly-striped bat in South Sudan that has yielded new secrets after close study. Working in Bangangai Game Reserve during July of last year, biologist DeeAnn Redeer and conservationist Adrian Garsdie with Fauna & Flora International (FFI) came across an unmissable bat, which has been dubbed by various media outlets as the "badger bat" and the "panda bat."
Forest cover falls 9% in East Africa in 9 years
(07/31/2012) Forest cover in East Africa has dropped by 9.3 percent from 2001-2009, according to a new paper published in the open-access journal PLoS ONE. Looking at 12 countries in the region, the scientists found that, worryingly, forests were particularly hard hit near protected areas. Usually thought of as a region of vast savannas, such as the Serengeti, East Africa is also home to incredibly biodiverse tropical forests, including coastal forests, rich montane forests, and the eastern portion of the Congo Rainforest.
Alarm rising over food crisis in Sahel region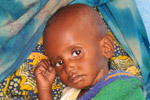 (06/13/2012) Warnings over a possible famine in Africa's Sahel region are becoming louder and more intense. Abnormal drought, locally high food prices, and regional conflict have ramped up concerns that 18 million people could suffer from malnutrition and starvation as the lean season sets in. UNICEF says it needs $238 million to save over a million children from severe malnourishment in the region, but has to date only raised $93 million.
15 million facing food shortages in Africa's Sahel region
(03/29/2012) The UN announced yesterday that food security in the Sahel region is deteriorating, putting over 15 million people at risk. Ongoing drought combined with conflict, has pushed the region into a crisis. The situation appears eerily similar to last year when Somalia was hit by a devastating famine due to drought and political instability; the famine left an estimated 30,000 children dead.
Another food crisis looming in Africa: nearly 5 million South Sudanese lacking food
(02/08/2012) The Food and Agriculture Organization (FAO) and the World Food Program (WFP) have warned that South Sudan is facing a food crisis and that immediate action is needed to stave off a disaster. Currently 4.7 million people do not have enough to eat in South Sudan, while one million of these face severe food shortages. That number, however, could double if on-going conflict in the region continues and food prices continue rising, says the UN agencies.