The famous ring-tailed lemur (Lemur catta) is now listed as Endangered, one of 90 lemur species currently considered threatened with extinction. Photo by: Rhett A. Butler.
Experts have added 817 species to the threatened categories of the IUCN Red List in the latest update. Those added include 51 mammals—mostly lemurs—and over 400 plants. The new update finds that over 90 percent of lemurs and 79 percent of temperate slipper orchids are threatened with extinction.
"What was most surprising about this assessment was the degree of threat to these orchids," said Hassan Rankou, the IUCN Species Survival Commission's (SSC) Authority for the Orchid Specialist Group, "Slipper orchids are popular in the multimillion-dollar horticultural industry. Although the industry is sustained by cultivated stock, conservation of wild species is vital for its future."
Temperate slipper orchids are found in Europe, North America and temperate Asia, but have become hugely imperiled due to habitat loss and over-collecting.
| | |
| --- | --- |
| | Found in North America, the sparrow's-egg lady slipper (Cypripedium passerinum) is listed as Vulnerable in the newest assessment. Photo by: Jason Hollinger/Creative Commons 2.0. |
As for lemurs, the new update found that a stunning 94 percent of this primate group—only found on the island of Madagascar—is at risk of extinction, making them one of the most imperiled groups on the planet. In fact, experts moved 36 species of lemur from a Data Deficient ranking (meaning there is not enough information to make a determination) to one of three threatened categories, i.e. Vulnerable, Endangered, and Critically Endangered. Another eight were moved from lower categories to threatened.
Still, experts say hope remains for the world's lemur species.
"Past successes demonstrate that collaboration between local communities, non-governmental organizations and researchers can protect imperiled primate species. We urgently invite all actors to join our efforts to ensure the continued existence of lemurs," said Christoph Schwitzer, Vice-Chair for Madagascar of the IUCN SSC Primate Specialist Group.
Lemurs are most imperiled by deforestation and habitat loss, but also face poaching for bushmeat.
In all, 22,103 species are now listed as threatened out of the 73,686 evaluated. But over 10,000 of these remain listed as Data Deficient.
This year also marks the 50th anniversary of the IUCN Red List; however, to date, the list has only managed to evaluate around four percent of the world's total described species. While some taxonomic groups—like mammals and birds—have seen all their members assessed, many have been neglected. For example, less than half of the world reptiles have been evaluated, while only 8 percent of molluscs and 0.5 percent of insects have been assessed. Perhaps, most shockingly, only one mushroom has been evaluated out of the world's 31,000-plus described species.
"Very little positive action happens without the Red List as a starting point…but so much more needs to be done" noted IUCN Director General Julia Marton-Lefèvre. "We need to continue to expand our knowledge about the world's species to better understand the challenges we face, set global conservation priorities and mobilize concrete action to halt the biodiversity crisis."
Related articles
Grenades, helicopters, and scooping out brains: poachers decimate elephant population in park
(06/15/2014) Over the last two months, poachers have killed 68 African elephants in Garamba National Park representing around four percent of the population. Poachers have used helicopters, grenades, and chainsaws to undertake their gruesome trade, and, for the first time, the park has recorded that the criminals are removing the elephant's brains in addition to tusks and genitals.
Extractive industries and apes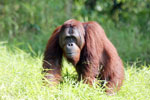 (06/13/2014) Current thinking in the private and public sectors asserts that economic development needs are in conflict with, or mutually exclusive of, the need to conserve the biosphere on which we depend. So, we are asked either to reduce development in the name of conservation or to reduce conservation in the name of development.
Despite poaching, Indian rhino population jumps by 27 percent in eight years
(06/10/2014) The world's stronghold for Indian rhinos—the state of Assam—has seen its population leap by 27 percent since 2006, despite a worsening epidemic of poaching that has also seen 156 rhinos killed during the same period. According to a new white paper, the population of Indian rhinos in Assam hit 2,544 this year.
Bears, cats, and mystery mammals: camera traps in 'paper park' prove its worth protecting
(06/09/2014) Can a single photograph change the fate of a park? A new conservation group, HabitatID, believes so, and is putting this belief into action. Setting up camera traps in Cambodia's Virachey National Park, the group hopes that photos of charismatic and endangered species will help reinvigorate protection for a park that has been abandoned by conservation groups and underfunded by the government.
Four donors pledge $80 million for big cats
(06/03/2014) Four donors from around the world have pledged $80 million to cat conservation group, Panthera. The money will fund projects working to preserve tigers, lions, jaguars, cheetahs, leopards, snow leopards, and cougars over ten years.