An image of the new species showing the lack of eyes. This specimen had its flesh cleared and researchers stained the bones to show the skeleton. Photo courtesy of: Chakrabarty et al.
In the dark caves of southern Indiana in the United States, scientists have discovered a new species of cavefish that are blind, pinkish, and have their anus behind their heads. This peculiar new cavefish is the first to be described in North America in 40 years, and researchers have named it Amblyopsis hoosieri or Hoosier cavefish, after the Indiana University's men's basketball team and a common name for any resident of Indiana.
It all began when Matthew L. Niemiller, a postdoctoral researcher at the University of Kentucky, was studying the Northern cavefish (Amblyopsis spelaea), in Indiana and Kentucky. He found that the fish on either side of the Ohio River seemed to belong to two genetically different groups – one in the north in Indiana, and one in Kentucky in the south. Could these two groups be two different species?
To find out, he teamed up with Prosanta Chakrabarty and Jacques A. Prejean from Louisiana State University. After several hours of crawling through muddy dark caves in wetsuits, they collected 30 fish specimens from Indiana and 11 from Kentucky. A detailed examination revealed that the ones from Indiana were indeed a new species of Amblyopsis, the researchers report in a new study published in Zookeys.
| | |
| --- | --- |
| | The Hoosier cavefish. Photo by: Chakrabarty et al. |
The Hoosier cavefish and the northern cavefish differ in many ways, both in appearance and in their genes. While the new species has a plump, fleshy, and wrinkly body, the northern cavefish has a thin, svelte figure with tighter skin. But what is perhaps most interesting, is the presence of its anus behind its head at the bottom of its body.
"The anus behind the head might help them get the eggs into their gill chamber, where we know they brood their young, another strange behavior," said Chakrabarty.
Adapted to the complete darkness of caves, the Hoosier cavefish has no pigmentation on its body, and no eyes, like the Northern cavefish. But despite the lack of eyes, the Hoosier cavefish has a functional rhodopsin gene (responsible for the perception of light), while the Northern cavefish does not.
"The rhodopsin gene is oddly functional in the new species although it isn't helping with vision as it does for us, because the animal lacks working eyes," said Chakrabarty. "That tells me that some of the DNA is playing catch-up with the changes in the body."
While the rather odd location of its anus has garnered the Hoosier cavefish plenty of publicity lately, this group of cavefish remains largely threatened. The Northern cavefish is listed as Vulnerable on the IUCN Red List, and Hoosier cavefish could be at greater risk of extinction, the researchers write.
Some of the threats to the caves they live in include groundwater pollution from pesticide and fertilizer use, sedimentation due to agriculture, quarrying, over-collection of specimens for scientific studies and commercial cave tours. But many of these caves are now protected.
"Several cave systems inhabited by Hoosier cavefish are located on state and federally-owned land, such as Spring Mill State Park in Lawrence Co., Indiana, and the Hoosier National Forest," said Niemiller. "Consequently, access to caves on these properties are regulated and restricted."
So what does it take to trudge through dark caves and collect tiny blind fish? The researchers tell us below.
Q & A WITH MATTHEW NIEMILLER, AND PROSANTA CHAKRABARTY

Prosanta Chakrabarty holding a blind crawfish from the caves in Alabama. Photo by: Prosanta Chakrabarty.
Mongabay: : What triggered your interest in cavefish research?
Matthew Niemiller: I saw my first cavefish in 2004 while I was working on my Master's thesis at Middle Tennessee State University. I was studying the phylogenetics and conservation of Tennessee cave salamanders at the time, and was fascinated every time I encountered a cavefish. Needless to say, I was fascinated enough to devote my Ph.D. dissertation to studying their ecology and evolution. But I didn't see my first Hoosier cavefish until 2007.
Prosanta Chakrabarty: For me it was a trip as a postdoctoral fellow at the American Museum of Natural History to Madagascar in 2008, where we went to some caves and sinkholes where no scientists had ever been before. I had never been to caves and I found them thrilling. Each one was different. Some had species no one had even seen before. The caves were all just stunningly beautiful and serene places (besides all the 20 feet Nile crocodiles) – you never knew what you would see just beyond the illumination of your headlamp.
Mongabay: : What's a typical day in a cave like?

Matthew Niemiller examining some cave fauna. Photo by: Prosanta Chakrabarty.
Matthew Niemiller: A typical cave trip to study cavefishes starts with a stop at Burger King in the morning for a ham-egg-and-cheese croissant and an orange juice. I need to get some fuel in me because I won't eat or drink much at all when I am in a cave. There isn't a worse feeling than crawling through cave streams with 55 Fahrenheit water temperatures in a wetsuit, then having the realization that you need to use the bathroom.
Every cave is different. Some are quite easy to explore and don't really require you to even to get in the water (except to catch a cavefish, of course). Other caves require wearing a full wetsuit and wading, crawling and even swimming in the cave stream. A typical trip might last from 2 to 10 hours depending on the amount of passage we are exploring. I attempt to document every species I encounter and pay particular attention that are known or thought to be rare or endangered. I record the number of individuals encountered and other life history or ecological data from some species, including body size, evidence of disease or parasites, and possible threats. Threats might include evidence that a septic system is leaking into the cave system or large amounts of trash have washed into the cave.
Prosanta Chakrabarty: Matt and I just went caving in Northern Alabama this past weekend and spent five hours in the cave. He was counting all the cave organisms that he saw, and I was focusing on the fish. But I also enjoyed seeing the many crayfish, crickets and salamanders that are also found in the darkness of the caves. We only saw three cavefish in the entire five hours, but it was worth it.
Sometimes we were crawling with our bellies on the water with our backs near the ceiling, but most often you can stand upright through the larger passages. It can be quite muddy in places and you can see the breakdowns, which are places where part of the cave has fallen apart and either a new passage is born or an opening is closed off. You can't help but think about the great amount of time that it took to form this subterranean passage.

Distribution of Amblyopsis spelaea and Amblyopsis hoosieri in the Mitchell Plain and Crawford-Mammoth Uplands of Indiana and Kentucky. Image courtesy of Chakrabarty et al.
Citations:
Chakrabarty P, Prejean JA, Niemiller ML (2014) The Hoosier cavefish, a new and endangered species (Amblyopsidae, Amblyopsis) from the caves of southern Indiana. ZooKeys 412: 41–57. doi: 10.3897/zookeys.412.7245
Related articles
Olinguito, tinkerbell, and a dragon: meet the top 10 new species of 2013
(05/22/2014) Out of around 18,000 new species described and named last year, scientists have highlighted ten in an effort to raise awareness about the imperiled biodiversity around us. Each species—from a teddy-bear-like carnivore in the Andes to a microbe that survives clean rooms where spaceships are built—stands out from the crowd for one reason or another.
Rare animal species and Buddhist monks in danger of losing their home to cement quarry
(07/22/2013) An international cement company Lafarge, winner of a Green Initiative award, is considering quarrying a cave in Malaysia which is the sole home of a critically endangered species. The proposed operations also threaten a Buddhist monastery near the cave where monks are facing eviction. Kanthan cave in Peninsular Malaysia is located in a limestone hill, already extensively quarried for the production of cement by Lafarge. The cave, just as most karst caves in Southeast Asia, harbors a unique ecosystem. One of the rare endemic organisms is the Kanthan Cave trapdoor spider (Liphistius kanthan), which was just designated as Critically Endangered by the IUCN Red List.
Two new arachnids discovered in Brazilian caves (photos)
(05/29/2013) Scientists have discovered two new species of short-tailed whipscorpions (in the order Schizomida) in limestone caves in Brazil, according to a new paper published in PLoS ONE. The new species—dubbed Rowlandius ubajara and Rowlandius potiguara—add new knowledge to a group of arachnids that is little known in South America outside of the Amazon.
Botanists discover cave-dwelling plant
(01/07/2013) The South China Karst region resembles a lost world with its stone forests and towering limestone formations that look like petrified skyscrapers. Standing at the edge of one of the region's many vine-covered gorges, you could picture an apatosaurus lifting its head above the mist that blankets the gorge floor. Of course, that would be impossible, but what botanists recently found in the region was only slightly less surprising (to botanists). Near the back of a limestone cave, pink flowers bloomed on a newly discovered nettle that could survive on just a tiny fraction of the sunlight other plants receive. As Ian Malcolm in Jurassic Park said, "life will find a way."
Velociraptor spider discovered in Oregon cave (pictures)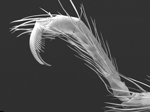 (08/17/2012) Scouring the caves of Southwest Oregon, scientists have made the incredible discovery of a fearsome apex predator with massive, sickle claws. No, it's not the Velociraptor from Jurassic Park: it's a large spider that is so unique scientists were forced to create a new taxonomic family for it. This is the first new spider family to be discovered in North America in over 130 years. 'This is something completely new,' lead author of a paper on the species, Charles Griswold with the California Academy of Sciences, told SFGate. 'It's a historic event.'
'The lion of the cave:' new predatory, swimming cricket discovered in Venezuela
(08/06/2012) Scientists have discovered what is likely a new species of cricket that is the top predator of its lightless world: a cave in a Venezuelan tepui. The fauna of cave was documented by BBC filmmakers as researchers uncovered not only a large, flesh-eating cricket but a new species of catfish.
Scientists discover world's deepest terrestrial animal
(02/22/2012) It's not the prehistoric monsters from the Jules Verne's Journey to the Center of the Earth or the human-bat hybrids of The Decsent, but it's an astonishing discovery nonetheless: intrepid scientists have discovered the world's deepest surviving terrestrial animal to date, a small wingless insect known as a springtail. Explorers discovered the new species, Plutomurus ortobalaganensis at a shocking 1.23 miles (1.98 kilometers) below the surface. The species was discovered by the Ibero-Russian CaveX Team Expedition in Krubera-Voronja Cave, the world's only known cave to go deeper than 2 kilometers.