Male Potamites erythrocularis stream lizard. Photo by Alessandro Catenazzi.
A 'new' species of lizard has been described from the cloud forests of Peru's Manu National Park, reports SERNANP, the Peruvian National Park Service.
Potamites erythrocularis, an aquatic lizard that lives in cold streams at an elevation of of 900-2000 meters, was discovered during herpetological studies in the Kosñipata Valley by Alessandro Catenazzi and German Chavez. It differs from other Potamites by its scale pattern. Males are distinguished by a red-orange patch which nearly encircles the eye.
The lizard was first revealed to the public in January in a paper documenting Manu's world-record level of reptile and amphibian biodiversity, but hadn't yet been formally described. That study documented 155 amphibian and 132 reptile species, 16 more than the previous record holder: Ecuador's Yasuní National Park.
The cold stream-dwelling behavior of Potamites is extremely unusual among lizards. The genus is widely distributed in cloud forests around tropical South America.

Potamites erythrocularis. Photo by Alessandro Catenazzi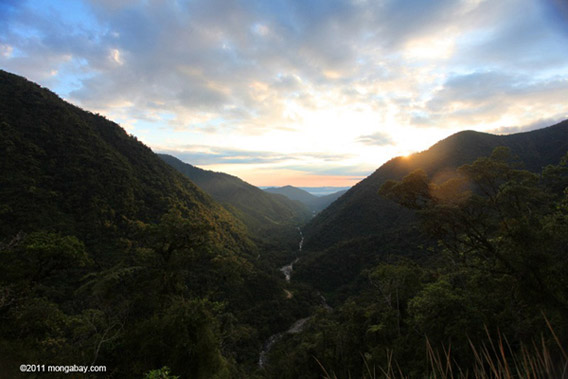 The upper Kosñipata Valley. Photo by Rhett A. Butler.