Mother Sumatran orangutan with baby in Gunung Leuser, North Sumatra..
In a precedent-setting case, an Indonesian court has found a palm oil company guilty of violating environmental laws and ordered it to pay $30 million in fines and reparations for clearing an area of protected peat forest that is a stronghold for endangered orangutans in Indonesia's Aceh Province.
In a ruling handed down Wednesday, the Meulaboh district court concluded that PT Kallista Alam illegally cleared and burned forest within the the protected Tripa peat swamp in northwestern Sumatra. Senior Judge Rahmawati SH ordered the company to pay 114.3 billion rupiah ($9.4 million) in compensation and 251.7 billion rupiah ($20.6 million) to restore damaged areas.
The case was seen as a test of Indonesia's appetite for enforcing a nationwide moratorium on new plantation and logging concessions across millions of hectares of rainforests and peatlands. Kallista Alam's activities were particularly brazen, appearing to violate the moratorium, an earlier presidential decree on conversion of deep peat areas, and the sanctity of a high conservation value area known for its orangutan population. Kallista Alam also moved forward with forest clearing without securing proper permits or sign-off from some nearby communities.
Given the circumstances, the clearing sparked international outrage with more than 1.5 million people signing various online petitions calling for greater protection of Aceh's forests, including opposing a proposal to remove large blocks of tiger and orangutan habitat from protection. Eventually, campaigns by environmental groups pushed the senior officials in the central government and the Ministry of the Environment to call for investigations, bolstering the legal proceedings.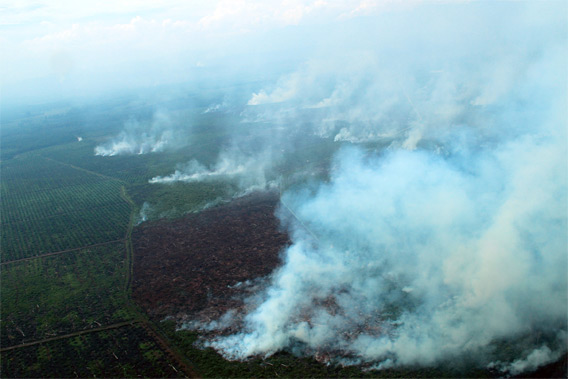 Fires in Tripa. Courtesy of the Sumatran Orangutan Conservation Programme
With the ruling, environmental campaigners now hope that the Indonesian government will step up efforts to protect forests, especially in the Leuser Ecosystem, of which Tripa is a part.
"This is a clear message to companies working in Aceh who think they can destroy protected forests and get away with it," said Muhammad Nur, Chairman of WALHI Aceh (Friends of the Earth Indonesia), which helped lead the campaign against Kallista Alam.
"The Judge's decision in this case clearly illustrates a move towards improved law enforcement against environmental offenders in the region," added Kamaruddin, a lawyer for communities in the Tripa area.
Although Kallista Alam is expected the appeal the decision, the company still faces additional civil and criminal cases. According to the Sumatran Orangutan Conservation Programme, four other palm oil companies operating in Tripa run the risk of prosecution.
"Each faces the possibility of serious financial consequences as a result of their illegal clearance, burning and drainage of Tripa's unique peat swamp ecosystem," said the group in a statement. "Some of the company Directors and senior management also face the prospect of prison terms in cases against them for their actions on the ground."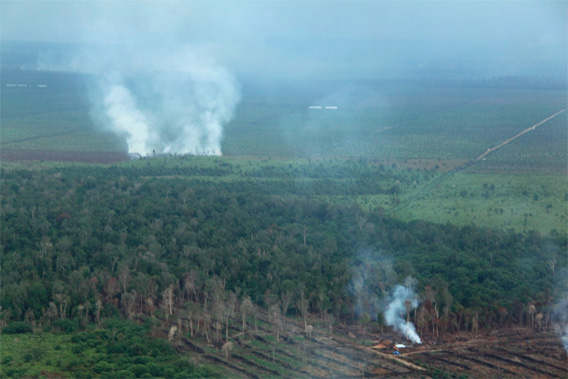 Fires in Tripa. Courtesy of the Sumatran Orangutan Conservation Programme
While the developments in Aceh are headline-grabbing, there are still questions whether the judgements will be ultimately enforced. Courts have levied tens of billions of dollars in fines against logging, pulp and paper, mining, and palm oil companies in Sumatra in recent years, but only a tiny fraction of the penalties have ever been paid. Cases may be held up for years by appeals or quietly dropped. Prosecutors are shuffled between agencies, companies change names and laws shift.
Accordingly, Graham Usher of the PanEco Foundation says it is still too early to determine whether the Tripa case is a one-off or the emergence of a broader trend of better environmental law enforcement.
"The court's decision is indeed a huge victory, and represents one significant step in the right direction," Usher said in a statement. "But I think many more such steps are needed before we will really see a change in the behavior of companies and officials."
Deforestation comparison between the Brazilian Amazon and Indonesia. Indonesia has one of the highest deforestation rates in the world.
Indonesia has among the highest deforestation rates in the world, with the country losing almost half of its forest cover since 1950. Over the past twenty years, deforestation has been increasingly driven by industrial activities, including conversion for oil palm and timber plantations, intensive logging, and mining.
Deforestation has left several of Indonesia's best-known animal species at risk of extinction, including tigers, rhinos, elephants, and orangutans, all of which live in Aceh. Forest loss has also increased social conflict in some areas, especially places with forest-dependent populations.
Related articles
Indonesian palm oil company demolishes homes and evicts villagers in week-long raid
(12/14/2013) Nearly 150 homes were reportedly destroyed in the latest incident in a long-standing conflict between indigenous Batin Sembilan residents and former Wilmar unit PT Asiatic Persada. Indonesian security forces allegedly stormed several villages inside a Sumatran palm oil plantation concession last weekend and earlier this week, accompanying company staff and hired thugs accused of destroying dozens of homes and looting residents' property.
World's biggest palm oil company makes zero deforestation commitment
(12/05/2013) Wilmar, the world's largest palm oil trader and a long-time target of environmentalists, has signed a landmark policy that commits the company to eliminate deforestation from its supply chain. The deal, if fully implemented, has the potential to transform the palm oil industry, which has emerged over the past decade as one of the world's most important drivers of tropical forest destruction.
Rent-a-mob disrupts court proceedings against Indonesian palm oil company
(11/14/2013) A mob of 150 palm oil workers has disrupted court proceedings against Kalista Alam, an Indonesian palm oil company accused of illegally converting blocks of protected peat forests for an oil palm plantation in Aceh, Sumatra. The Kalista Alam case is widely seen as a test of Indonesia's commitment to forestry sector reform.
3.5 million ha of Indonesian and Malaysian forest converted for palm oil in 20 years
(11/12/2013) Some 3.5 million hectares (8.7 million acres) of forest in Indonesia, Malaysia, and Papua New Guinea was converted for oil palm plantations between 1990 and 2010, finds a comprehensive set of assessments released by the Roundtable on Sustainable Palm Oil (RSPO). The research, conducted by an international team of scientists from a range of institutions, is presented in a series of seven academic papers that estimate change in land use and greenhouse gas emissions from oil palm expansion in the three countries, review the social and environmental impacts of palm oil production, forecast potential growth in the sector across the region, and detail methods for measuring emissions and carbon stocks of plantations establishing on peatlands.
Court rules for palm oil company in controversial deforestation case
(05/05/2013) Court orders Aceh governor to reverse decision to cancel palm oil concession in protected peatlands. An Indonesian court has ruled in favor of plantation company PT Kallista Alam in a lawsuit brought against the governor of Indonesia's Aceh province for revoking the company's license to develop palm oil plantations in a protected peat swamp forest.
Mining company working with Indonesian govt to strip forest of protected status
(04/16/2013) A Toronto-listed mining company says it is working closely with the Indonesian government to strip the protected status of some 1.2 million hectares of forest on the island of Sumatra. In a statement issued Tuesday, East Asia Minerals Corporation (TSX:EAS) claimed it is actively involved in the process of devising a new spatial plan for Aceh province, Sumatra's western-most province. The proposed changes to the spatial plan, which governs land use in the province, would re-zone large areas of protected forest in Aceh for industrial activities.
Conservation scientists: Aceh's spatial plan a risk to forests, wildlife, and people
(03/22/2013) A group of biologists and conservation scientists meeting in Sumatra warned that potential changes to Aceh's spatial plan could undermine some of the ecological services that underpin the Indonesian province's economy and well-being of its citizens. After its meeting from March 18-22 in Banda Aceh, the Asia chapter of the Association for Tropical Biology and Conservation (ATBC) issued a declaration [PDF] highlighting the importance of the region's tropical forest ecosystem, which is potentially at risk due to proposed changes to its spatial plan.
Indonesian NGO voluntarily joins lawsuit as co-defendant in palm oil deforestation case
(12/14/2012) An Indonesian environmental group has taken the unusual step of asking to be named as a co-defendant in a case brought against the Aceh government by a palm oil company over the governor's decision to cancel a controversial concession in a peat forest on the island of Sumatra.
Aceh revokes permit for controversial oil palm plantation in Sumatra
(10/01/2012) Aceh Governor Zaini Abdullah officially revoked the business permit for a company developing a controversial oil palm plantation in a peat swamp in Sumatra, concluding a case that had tested Indonesia's commitment to a moratorium on new concessions in peatlands and rainforests.
Governor of Aceh who signed palm oil permit: plantation in Tripa "morally wrong"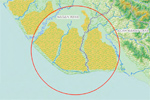 (04/05/2012) The former governor of Aceh, Irwandi Yusuf, told The Sydney Morning Herald today that an oil palm plantation he approved was "not wrong legally, but wrong morally." Irwandi, who is currently seeking re-election, signed off on the hugely controversial plantation in deep peat forest last August, but the issue came to a head this week as satellite images showed a dozen fires burning in the concession area known as Tripa. Environmental groups, which are running an online campaign, warn that the burning is imperiling an important population of Critically Endangered Sumatran orangutans (Pongo abelii).
Greening the world with palm oil?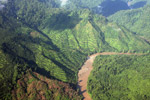 (01/26/2011) The commercial shows a typical office setting. A worker sits drearily at a desk, shredding papers and watching minutes tick by on the clock. When his break comes, he takes out a Nestle KitKat bar. As he tears into the package, the viewer, but not the office worker, notices something is amiss—what should be chocolate has been replaced by the dark hairy finger of an orangutan. With the jarring crunch of teeth breaking through bone, the worker bites into the 'bar'. Drops of blood fall on the keyboard and run down his face. His officemates stare, horrified. The advertisement cuts to a solitary tree standing amid a deforested landscape. A chainsaw whines. The message: Palm oil—an ingredient in many Nestle products—is killing orangutans by destroying their habitat, the rainforests of Borneo and Sumatra.