Palm oil giant Golden-Agri Resources (GAR) will forgo development of an oil palm plantation in an area of rainforest in Indonesian New Guinea in order to comply with its forest conservation policy.
The decision by GAR — which is the parent company for PT SMART, one of Indonesia's largest private palm oil companies — was disclosed in a report on its high carbon stock pilot project, which is a key component of the company's forest conservation policy (FCP). GAR made the commitment in 2011 after a damaging campaign by Greenpeace cost it dozens of corporate customers who were concerned about allegations of forest and peatland destruction for new oil palm plantations.
The high carbon stock assessment is being conducted by The Forest Trust, the NGO that is charged with helping GAR develop and implement the FCP. The report notes that while GAR has the legal right to develop the concession — roughly three-quarters of which is forested — it will implement the FCP and not convert high carbon stock (HCS) or high conservation value (HCV) forest.

GAR's existing plantation as well as its forest concession in Papua Province. Papua is seen as the next frontier for oil palm expansion in Indonesia.
The decision is significant because it represents one of the rare cases where an Indonesian company has voluntarily forgone development of a concession due to environmental concerns. At present it is unclear what would be the fate of that forested area that isn't converted. There is some risk that officials could claw back those areas and grant it to another company. Or that GAR could simply sell the concession.
However there is another possibility that could pay dividends for both GAR and Indonesia's forests: a land swap. According to the Indonesian government, there are some 40 million hectares of degraded land within the forest estate that could be suitable for plantation development. Companies like GAR have been pushing for a mechanism to exchange existing concessions located in forests and on peatlands for concessions in already-deforested areas. So in theory, GAR could propose trading the Papua forest concession for a concession on deforested land elsewhere. The Papua concession could then be made off-limits for conversion.
But the devil is in the details. Despite a lot of enthusiasm for the concept, to date there has been little progress on land swaps for oil palm plantations in Indonesia. The challenge is primarily bureaucratic — land swaps would require coordination between two highly territorial ministries — the Ministry of Agriculture and the Ministry of Forestry — as well as untold levels of local government. But land swaps are also held up by lack of good data on land tenure and use.
Nonetheless the potential for land swaps seems great. GAR alone has set aside some 19,000 hectares of potential HCS forest areas, while the Ministry of Forestry estimates there is some 8.5 million hectares of "good forest" in areas that could be potentially zoned for agricultural conversion (termed "APL" in Indonesia). Those 8.5 million hectares could store upwards of eight billion tons of carbon dioxide, or more than the combined annual emissions of the United States, India, and Germany.

Indonesian New Guinea is home to a wealth of wildlife, like the Sulphur-crested Cockatoo and Schoenherr's blue weevil.
CITATION: GAR and SMART. Update: The First Six Months of the High Carbon Stock Forest Conservation Pilot Project. Oct 30, 2013.
Related articles
Palm oil now biggest cause of deforestation in Indonesia
(09/03/2013) Conversion of forests for palm oil production now appears to be the single largest driver of deforestation in Indonesia, accounting for roughly a quarter of forest loss between 2009 and 2011, asserts a new Greenpeace report that accuses the sector's main certification standard of failing to stop forest destruction. The report, titled Certifying Destruction, uses satellite imagery, government concession data, field investigations, and third party analysis to conclude that several recent and current members of the Roundtable on Sustainable Palm Oil (RSPO) — the industry's chief eco-certification body — are continuing to buy or trade palm oil produced via the conversion of rainforests and carbon-dense peatlands in the Southeast Asian nation.
Palm oil licenses provide cover for logging in New Guinea
(08/14/2013) Developers are seeking palm oil concessions to as a means to circumvent restrictions on industrial logging in Papua New Guinea, finds a new study published in the journal Conservation Letters. The research, led by Paul Nelson and Jennifer Gabriel of James Cook University, is based on analysis of 36 proposed oil palm concessions covering nearly 950,000 hectares in PNG. The study assessed the likelihood of the concessions coming to fruition. It found that only five concessions, covering 181,700 ha, are likely to be developed.
Indonesian palm oil giant cutting deforestation from supply chain
(05/13/2013) Indonesian palm oil giant Golden Agri-Resources (GAR) is continuing to reduce deforestation under its 2011 forest conservation policy despite ongoing forest destruction by other palm oil producers in the sector, finds a new assessment by Greenomics, an Indonesian activist group. However the report finds GAR's operations are not completely deforestation-free.
Indonesian palm oil industry would support land swaps to protect forest, while expanding production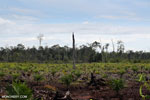 (04/19/2013) Indonesian palm oil companies would support land swaps as a means to reduce carbon emissions from deforestation while simultaneously expanding production, representatives from the country's largest association of palm oil producers told mongabay.com in an interview last month.
Indonesian palm oil giant launches conservation pilot project
(03/19/2013) Golden Agri-Resources, one of the largest palm oil producers in Indonesia, is launching a pilot program designed to protect forests within its concession areas that have high carbon stock and those most important for conservation. Greenpeace Indonesia, which has long urged the company to adopt more sustainable practices, praised the effort, and called on other palm oil companies and the Indonesian government to follow suit.
Palm oil giant moves forward on zero deforestation initiative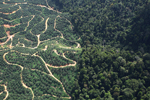 (06/05/2012) One of the world's largest palm oil companies has become the first to identify and disclose high carbon forests and peatlands in its concessions. Golden Agri-Resources Limited (GAR), the owner of Indonesia's palm oil giant PT SMART Tbk, on Monday published a carbon assessment of its holdings in Indonesian Borneo. The report is an important milestone under GAR's forest conservation policy, which prohibits conversion of land with more than 35 tons of carbon per hectare and moves the company toward a zero deforestation target.
Palm oil giant making good on forest commitment in Indonesia, finds independent analysis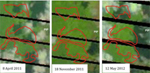 (05/29/2012) Palm oil giant PT SMART appears to be honoring its commitment to avoid conversion of high carbon forests in Indonesian Borneo, reports a new assessment published by Greenomics, an Indonesian environmental activist group. The report was issued 15 months after PT SMART — a subsidiary of Singapore-based Golden Agri Resources (GAR) and owned by Indonesia's Sinarmas Group — signed a landmark agreement with The Forest Trust (TFT) to spare forests and peatlands that have more than 35 tons of carbon per hectare. The deal came after a damaging Greenpeace campaign, which targeted PT SMART for clearing orangutan habitat in Kalimantan and cost the company millions of dollars in contracts.
Breakthrough? Controversial palm oil company signs rainforest pact
(02/09/2011) One of the world's highest profile and most controversial palm oil companies, Golden Agri-Resources Limited (GAR), has signed an agreement committing it to protect tropical forests and peatlands in Indonesia. The deal—signed with The Forest Trust, an environmental group that works with companies to improve their supply chains—could have significant ramifications for how palm oil is produced in the country, which is the world's largest producer of palm oil.
Greening the world with palm oil?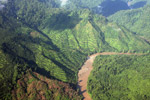 (01/26/2011) The commercial shows a typical office setting. A worker sits drearily at a desk, shredding papers and watching minutes tick by on the clock. When his break comes, he takes out a Nestle KitKat bar. As he tears into the package, the viewer, but not the office worker, notices something is amiss—what should be chocolate has been replaced by the dark hairy finger of an orangutan. With the jarring crunch of teeth breaking through bone, the worker bites into the 'bar'. Drops of blood fall on the keyboard and run down his face. His officemates stare, horrified. The advertisement cuts to a solitary tree standing amid a deforested landscape. A chainsaw whines. The message: Palm oil—an ingredient in many Nestle products—is killing orangutans by destroying their habitat, the rainforests of Borneo and Sumatra.