Hundreds of tribal people in Sarawak have started blockading a second big hydroelectric dam project being built by a government, which critics accuse of nepotism and corruption.
Late last month around 200 native Kenyah, Kayan and Penan people chased away workers and set up a blockade on a road leading to the site of the proposed 1200 megawatt Baram dam.
The dam, to be built on Sarawak's second-biggest river, would flood an area of 388 square kilometers including 32 villages that are home to an estimated 20,000 people—around half of whom live permanently in the area.
Local activists have been campaigning for several years against the dam, which they say would produce significant amounts of methane gas, seriously affect fish migration and result in a loss of biodiversity as well as the destruction of their culture and livelihoods.
The protesters say they expelled the workers and started the blockade because earthmoving equipment had been brought into the area to start construction work on the project, which has not yet been approved.

Baram dam site blockade. Photo by Peter Kallang / Save Rivers
Sarawak Energy, the state-owned company responsible for the dams, insists workers had been doing only "preliminary feasibility works" and has threatened criminal and legal action over samples and equipment it says the protesters destroyed.
Meanwhile a blockade by around 60 people of the newly completed Murum dam, which will displace 1,400 mainly Penan people from their land along tributaries of Sarawak's Rajang River, has been running for around two months.
The Murum and Baram dams are among 10 hydroelectric projects being investigated or developed by the state of Sarawak, which has surplus power for domestic needs but hopes to transform its economy by attracting energy-intensive industry with cheap hydropower.
Critics claim the Sarawak Corridor of Renewable Energy (SCORE) initiative is being driven by the corruption and vested interests of Chief Minister Taib Mahmud, who is currently under investigation by the Malaysian Anti-corruption Commission.
Companies linked to the Chief Minister have been awarded contracts worth over $400 million under the SCORE plan since 2010, according to Bruno Manser Fund, a Swiss group that campaigns to protect Sarawak's rainforest and the rights of the people who inhabit it.

A steam roller moving offsite at the blockade at Long Lama where the access road to the proposed Baram dam site joins the existing road. Photo by Peter Kallang / Save Rivers
Across southeast Asia regimes with poor governance and little accountability are working with foreign companies to build dozens of big dams. According to the NGO International Rivers, these projects will displace tens of thousands of river-dwelling people and threaten the food security of millions more.
"Right now there's a dam-building boom happening in the region," said Ame Trandem, the organization's South-East Asia program director. "A lot of hydropower dams are being built in order to generate electricity and also to generate revenue through buying and selling schemes."
"Because millions of people in the region depend on natural resources for their livelihood, these dams pose a significant threat."
Trandem says there is a lack of transparency and public participation in development of dams right across the region, and that indigenous people affected by them invariably lose out.
"A lot of the deals are made behind closed doors … They are not applying [the principle of] free, prior and informed consent for indigenous people who are being impacted, so a lot of people who live along the rivers really are not aware of the plans to build these projects, and unfortunately they're usually told at the very last minute that they're going to have to be moved … They're promised compensation packages that they usually don't receive and they're left in much poorer situations. So they're definitely not benefiting from the hydropower projects."
Sarawak Energy maintains the hydropower expansion program will improve living standards for the whole of the state's population, including indigenous communities currently living below the poverty line, and the company emphasizes its commitment to following international standards for infrastructure development.
But according to former International Rivers campaigner Kirk Herbertson, while voluntary corporate standards are important, they are intended to complement strong domestic laws, and the
limits of their effectiveness in Sarawak are obvious.
"It's like trying to put a bandage on a wound when what is really needed is surgery," Herbertson said.
Chairman of Save Sarawak Rivers campaign group Peter Kallang told mongabay.com that the Baram blockaders would "stay put and face whatever comes."
"The guys on the ground are very sure of themselves and they're not going to move out until Sarawak Energy stops what they are doing."
Related articles
Borneo tribesmen block road as controversial rainforest dam impoundment begins
(09/27/2013) Indigenous leaders have set up roadblocks in Malaysian Borneo to protest Sarawak's newest dam, report environmental activists who oppose the project.
Indigenous groups protest hydropower congress as controversy hits meeting in Malaysia
(05/22/2013) The opening of the International Hydropower Association (IHA) World Congress in the Malaysian state of Sarawak was marred today by indigenous protests and controversy after a local indigenous leader was barred from attending a pre-conference workshop. Over 300 people from local indigenous people protested the ongoing construction of around a dozen mega-dams in the state that threaten to flood traditional lands, force villages to move, and upend lives in the state. The Sarawak hydropower plans are some of the most controversial in the world—making the choice of Kuching, Sarawak for the IHA meeting an arguably ironic one—with critics contending that the dams are have been mired in political corruption, including kickbacks and bribes. IHA brings together dam builders, banks, and various related organizations worldwide every two years.
Rainforest tribe urges Norwegian king to recall energy executive
(05/13/2013) In an unusual bid to stop a series of dams that will flood their rainforest home, a group of tribesmen in Borneo are urging King Harald V of Norway to call one of his subjects home. The subject is Torstein Dale Sjøtveit, a Norwegian citizen who is the CEO of Sarawak Energy, a Malaysian firm that is building several dams in the state of Sarawak. The hydroelectric projects are controversial because they require the forced displacement of indigenous communities and will flood large tracts of rainforest.
Sarawak minister tells clean energy activists to 'stop breathing'
(11/13/2012) A top minister in the Malaysian state of Sarawak has told activists campaigning for cleaner energy to 'stop breathing', reports The Borneo Post.
Activists form network to fight Sarawak dam-building spree
(02/15/2012) Last October indigenous groups, local people, and domestic NGOs formed the Save Sarawak's Rivers Network to fight the planned construction of a dozen dams in the Malaysian state on the island of Borneo. The coalition opposes the dam-building plans, known as the Sarawak Corridor of Renewable Energy (SCORE) initiative, due to its impacts on indigenous and river communities, the destruction of pristine rainforest, and the degradation of the state's rivers.
Report: corruption in Sarawak led to widespread deforestation, violations of indigenous rights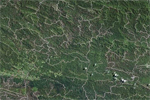 (03/10/2011) At the end of this month it will be 30 years since Abdul Taib Mahmud came to power in the Malaysian state of Sarawak. Environmentalists are using the occasion, along with new revelations, to highlight corruption and nepotism they say have characterized his regime. Chief Minister Taib and his decades-long administration are no strangers to such allegations, but a new report from the indigenous-rights group Bruno Manser Fund (BMF)—amid criticism from independent media sources, such as Sarawak Report and Radio Free Sarawak—are adding fuel to the fire. Most recently, the report describes in great detail how the tropical timber trade in Sarawak has undercut indigenous groups while toppling some of the world's greatest rainforests, all at the expense of the Sarawak people.
Power, profit, and pollution: dams and the uncertain future of Sarawak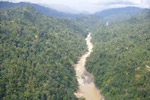 (09/03/2009) Sarawak, land of mystery, legend, and remote upriver tribes. Paradise of lush rainforest and colossal bat-filled caves. Home to unique and bizarre wildlife including flying lemurs, bearcats, orang-utans and rat-eating plants. Center of heavy industry and powerhouse of Southeast Asia. Come again? This jarring image could be the future of Sarawak, a Malaysian state on the island of Borneo, should government plans for a complex of massive hydroelectric dams comes to fruition. The plan, which calls for a network of 12 hydroelectric dams to be built across Sarawak's rainforests by 2020, is proceeding despite strong opposition from Sarawak's citizens, environmental groups, and indigenous human rights organizations. By 2037, as many as 51 dams could be constructed.