The oceans are more acidic now than they have been for at least 300m years, due to carbon dioxide emissions from burning fossil fuels, and a mass extinction of key species may already be almost inevitable as a result, leading marine scientists warned on Thursday.
An international audit of the health of the oceans has found that overfishing and pollution are also contributing to the crisis, in a deadly combination of destructive forces that are imperiling marine life, on which billions of people depend for their nutrition and livelihood.
In the starkest warning yet of the threat to ocean health, the International Programme on the State of the Ocean (IPSO) said: "This [acidification] is unprecedented in the Earth's known history. We are entering an unknown territory of marine ecosystem change, and exposing organisms to intolerable evolutionary pressure. The next mass extinction may have already begun." It published its findings in the State of the Oceans report, collated every two years from global monitoring and other research studies.

Coral reefs off the coast of Borneo. Scientists believe ocean acidification and warming could lead to a mass extinction of marine life with coral reefs among the most vulnerable. Photo by: Rhett A. Butler.
Alex Rogers, professor of biology at Oxford University, said: "The health of the ocean is spiraling downwards far more rapidly than we had thought. We are seeing greater change, happening faster, and the effects are more imminent than previously anticipated. The situation should be of the gravest concern to everyone since everyone will be affected by changes in the ability of the ocean to support life on Earth."
Coral is particularly at risk. Increased acidity dissolves the calcium carbonate skeletons that form the structure of reefs, and increasing temperatures lead to bleaching where the corals lose symbiotic algae they rely on. The report says that world governments' current pledges to curb carbon emissions would not go far enough or fast enough to save many of the world's reefs. There is a time lag of several decades between the carbon being emitted and the effects on seas, meaning that further acidification and further warming of the oceans are inevitable, even if we drastically reduce emissions very quickly. There is as yet little sign of that, with global greenhouse gas output still rising.
Corals are vital to the health of fisheries, because they act as nurseries to young fish and smaller species that provide food for bigger ones.
Carbon dioxide in the atmosphere is absorbed by the seas—at least a third of the carbon that humans have released has been dissolved in this way, according to the Intergovernmental Panel on Climate Change—and makes them more acidic. But IPSO found the situation was even more dire than that laid out by the world's top climate scientists in their landmark report last week.
In absorbing carbon and heat from the atmosphere, the world's oceans have shielded humans from the worst effects of global warming, the marine scientists said. This has slowed the rate of climate change on land, but its profound effects on marine life are only now being understood.

Purple coral off Maui. Photo by: Rhett A. Butler.
Acidification harms marine creatures that rely on calcium carbonate to build coral reefs and shells, as well as plankton, and the fish that rely on them. Jane Lubchenco, former director of the US National Oceanic and Atmospheric Administration and a marine biologist, said the effects were already being felt in some oyster fisheries, where young larvae were failing to develop properly in areas where the acid rates are higher, such as on the west coast of the US. "You can actually see this happening," she said. "It's not something a long way into the future. It is a very big problem."
But the chemical changes in the ocean go further, said Rogers. Marine animals use chemical signals to perceive their environment and locate prey and predators, and there is evidence that their ability to do so is being impaired in some species.
Trevor Manuel, a South African government minister and co-chair of the Global Ocean Commission, called the report "a deafening alarm bell on humanity's wider impacts on the global oceans".
"Unless we restore the ocean's health, we will experience the consequences on prosperity, wellbeing and development. Governments must respond as urgently as they do to national security threats—in the long run, the impacts are just as important," he said.
Current rates of carbon release into the oceans are 10 times faster than those before the last major species extinction, which was the Paleocene-Eocene Thermal Maximum extinction, about 55m years ago. The IPSO scientists can tell that the current ocean acidification is the highest for 300m years from geological records.
They called for strong action by governments to limit carbon concentrations in the atmosphere to no more than 450 parts per million of carbon dioxide equivalent. That would require urgent and deep reductions in fossil fuel use.

Scientists are already seeing that ocean acidification is impacting the reproductive capacities of oysters. Photo by: David Monniaux/Creative Commons 3.0.
No country in the world is properly tackling overfishing, the report found, and almost two thirds are failing badly. At least 70 per cent of the world's fish populations are over-exploited. Giving local communities more control over their fisheries, and favouring small-scale operators over large commercial vessels would help this, the report found. Subsidies that drive overcapacity in fishing fleets should also be eliminated, marine conservation zones set up and destructive fishing equipment should be banned. There should also be better governance of the areas of ocean beyond countries' national limits.
The IPSO report also found the oceans were being "deoxygenated"—their average oxygen content is likely to fall by as much as 7 per cent by 2100, partly because of the run-off of fertilizers and sewage into the seas, and also as a side-effect of global warming. The reduction of oxygen is a concern as areas of severe depletion become effectively dead.
Rogers said: "People are just not aware of the massive roles that the oceans play in the Earth's systems. Phytoplankton produce 40 per cent of the oxygen in the atmosphere, for example, and 90 per cent of all life is in the oceans. Because the oceans are so vast, there are still areas we have never really seen. We have a very poor grasp of some of the biochemical processes in the world's biggest ecosystem."
The five chapters of which the State of the Oceans report is a summary have been published in the Marine Pollution Bulletin, a peer-reviewed journal.
Original story: Fiona Harvey.
Ocean acidification due to carbon emissions is at highest for 300m years. The Guardian – October 2nd, 2013
Related articles
Shark overfishing hurts coral reefs
(09/20/2013) Overfishing for sharks is having detrimental effects on coral reefs, finds a new study published in the journal PLOS One.
Mesoamerican Reef needs more local support, says report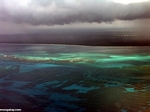 (09/13/2013) From massive hotel development through the agriculture industry, humans are destroying the second largest barrier reef in the world: the Mesoamerican Reef. Although global climate change and its effects on reefs via warming and acidification of coastal waters have made recent headlines, local human activities may destroy certain ecosystems before climate change has a chance to do it. The harmful effects of mining, agriculture, commercial development, and fishing in coastal regions have already damaged more than two-thirds of reefs across the Caribbean, in addition to worsening the negative effects of climate change.
Bad feedback: ocean acidification to worsen global warming
(08/28/2013) As if ocean acidification and climate change weren't troubling enough (both of which are caused by still-rising carbon emissions), new research published in Nature finds that ocean acidification will eventually exacerbate global warming, further raising the Earth's temperature.
Climate change scattering marine species
(08/08/2013) Rising ocean temperatures are rearranging the biological make-up of our oceans, pushing species towards the poles by 7kms every year, as they chase the climates they can survive in, according to new research. The study, conducted by a working group of scientists from 17 different institutions, gathered data from seven different countries and found the warming oceans are causing marine species to alter their breeding, feeding and migration patterns.
Plan to preserve the world's 'last ocean' killed by Russia
(07/16/2013) As the most pristine marine ecosystem on the planet, Antarctica's Ross Sea has become dubbed the world's "last ocean." Home to an abundance of penguins, whales, orcas, seals, and massive fish, the Ross Sea has so far largely avoided the degradation that has impacted much of the world's other marine waters. However, a landmark proposal to protect the Ross Sea, as well as the coastline of East Antarctica, has failed today due to opposition by Russia.
UN may downgrade Great Barrier Reef's heritage status due to Australia's inaction on threats
(06/17/2013) The federal government insists it is striving to avoid the Great Barrier Reef being listed 'in danger' ahead of a crunch UN meeting, after rejecting a Senate recommendation to block new port developments near the World Heritage ecosystem.
Ocean acidification pushing young oysters into 'death race'
(06/11/2013) Scientists have long known that ocean acidification is leading to a decline in Pacific oyster (Crassostrea gigas) in the U.S.'s Pacific Northwest region, but a new study in the American Geophysical Union shows exactly how the change is undercutting populations of these economically-important molluscs. Caused by carbon dioxide emissions, ocean acidification changes the very chemistry of marine waters by lowering pH levels; this has a number consequences including decreasing the availability of calcium carbonate, which oysters and other molluscs use to build shells.