Indonesia has finally established an agency to implement the country's Reducing Emissions from Deforestation and Degradation (REDD+) program.
The REDD+ agency, established by a decree from President Susilo Bambang Yudhoyono on Friday, is a ministry-level body that will coordinate a national REDD+ strategy between various ministries that influence and control land use policy across the sprawling archipelago. The agency will also oversee monitoring, reporting, and verifying emissions reductions as required under a billion dollar agreement signed with Norway in 2010. Norway is compensating Indonesia on a performance-basis for reducing greenhouse gas emissions from deforestation.
The pact with Norway stipulated the creation of the agency, but the process has lagged behind schedule due to disagreements between various bureaucracies. Nonetheless, REDD+ has been slowly moving forward in pilot provinces, including Central Kalimantan in Indonesian Borneo. The first REDD+ project — Rimba Raya — was approved in May.
Indonesia is also in the third year of a moratorium on granting new logging and plantation concessions in some 14 million hectares of previously unprotected rainforests and peatlands. The moratorium was also part of the Norway deal.
REDD+ has been strongly supported by President Yudhoyono under his plan to reduce emissions 26 percent relative a projected 2020 baseline. That target could rise to 41 percent with international aid. Indonesian is one of a handful of large developing countries that has set such goals.
More than 80 percent of Indonesia's greenhouse gas emissions result from land use, mostly peatlands degradation and rainforest destruction. Therefore curtailing logging and conversion of natural forests for plantations have emerged as top priorities for the country. More than half of forest loss in Indonesia is attributed to timber, pulp and paper, and palm oil production.


Indonesia has one of the highest deforestation rates in the world. Click images to enlarge.
The Indonesian government is expected to announce the REDD+ agency's head in coming weeks, according to Mongabay-Indonesia. The REDD+ Task Force, which the REDD+ agency replaces, was run by Kuntoro Mangkusubroto, a close advisor to the president.
The REDD+ agency will have 60 staff based in Jakarta.
Related articles
Indonesia should convert logging concessions to protected areas to stop deforestation for plantations, argues study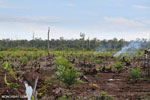 (09/05/2013) Reclassifying logging concessions as permanent forest estates and thereby barring them from conversion to industrial plantations would be an effective strategy for helping conserve Indonesia's fast-dwindling forests, argues a new study published in PLoS ONE. The study analyzed forest loss in areas zoned for different uses in Indonesian Borneo. It found that deforestation rates in timber concessions and protected areas were 'not significantly different' provided logging concessions were not reclassified as industrial plantation concessions.
Palm oil now biggest cause of deforestation in Indonesia
(09/03/2013) Conversion of forests for palm oil production now appears to be the single largest driver of deforestation in Indonesia, accounting for roughly a quarter of forest loss between 2009 and 2011, asserts a new Greenpeace report that accuses the sector's main certification standard of failing to stop forest destruction. The report, titled Certifying Destruction, uses satellite imagery, government concession data, field investigations, and third party analysis to conclude that several recent and current members of the Roundtable on Sustainable Palm Oil (RSPO) — the industry's chief eco-certification body — are continuing to buy or trade palm oil produced via the conversion of rainforests and carbon-dense peatlands in the Southeast Asian nation.
Indonesia officially extends forestry moratorium
(05/15/2013) The Indonesian government has officially extended its moratorium on new logging and plantation concessions in 65 million hectares of forests and peatlands for another two years. The move, which had been expected, was announced Wednesday by Indonesian President Susilo Bambang Yudhoyono.
Will Indonesia's big REDD rainforest deal work?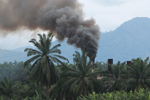 (12/28/2010) Flying in a plane over the Indonesian half of the island of New Guinea, rainforest stretches like a sea of green, broken only by rugged mountain ranges and winding rivers. The broccoli-like canopy shows little sign of human influence. But as you near Jayapura, the provincial capital of Papua, the tree cover becomes patchier—a sign of logging—and red scars from mining appear before giving way to the monotonous dark green of oil palm plantations and finally grasslands and urban areas. The scene is not unique to Indonesian New Guinea; it has been repeated across the world's largest archipelago for decades, partly a consequence of agricultural expansion by small farmers, but increasingly a product of extractive industries, especially the logging, plantation, and mining sectors. Papua, in fact, is Indonesia's last frontier and therefore represents two diverging options for the country's development path: continued deforestation and degradation of forests under a business-as-usual approach or a shift toward a fundamentally different and unproven model based on greater transparency and careful stewardship of its forest resources.