Landlocked in the navel of South America, the forests, wetlands and savannahs of Paraguay boast rich biodiversity and endemic species, yet the unique landscapes of Paraguay also face increasing threats, primarily from agricultural expansion. Controlled burns and clear cutting have become common practice as wildlands are converted for soy and cattle production. In some areas this land conversion is rapid: the Paraguayan Chaco, for instance, is being lost at a rate of 10% per year.
One organization is working to reverse this trend. Para La Tierra (PLT) is a small NGO dedicated to the conservation of threatened habitats in Paraguay. Located on the Reserva Natural Laguna Blanca, in-between two of South America's most threatened habitats: the Atlantic Forest and the vast topical savannah known as the cerrado, PLT is in a unique position to champion conservation.
Over the past four years, PLT has welcomed over 200 students and professionals to their field site, providing them with the equipment and training needed to conduct their own independent research projects. Scientists working with PLT have discovered over a dozen previously undescribed species and documented the presence of more than 40 new species for the country.
In addition to research, PLT has strong educational and outreach components. PLT staff and scientists conduct workshops both on reserves and in classrooms for young Paraguayans.
PLT is currently focusing efforts on the conservation of the white-winged nightjar (Caprimulgus candicans),a Critically Endangered bird known to breed in only three locations worldwide, including the Reserva Natural Laguna Blanca.
In 2011, PLT received partial funding from the United States Fish and Wildlife Service (USFWS), through the Wildlife Without Borders program, to train and employ two park guards to protect the reserve and to carry out a series of workshops in the local area. The park guards also created trails to improve tourist access to the forests and cerrado. In 2012, founder, Karina Atkinson, was awarded the prestigious Rolex Award for Enterprise to continue this project to further the work of Para La Tierra.
Para La Tierra founder Karina Atkinson and head of the Internship Project, Joseph Sarvary, spoke with mongabay.com about their organization and conservation in Paraguay.
AN INTERVIEW WITH KARINA ATKINSON AND JOSEPH SARVARY

Forest guards in the ceraddo. Photo by: Rolex Awards/Kirsten Holst.
Mongabay: What is your background and your current role at Para La Tierra (PLT)?
Karina Atkinson: I am originally from Scotland and, in 2007, I graduated from the University of Glasgow with a BSc in Genetics. I worked in several labs, both in the UK and in the US, but after a while I decided I needed a new adventure. I looked online for opportunities and found a volunteer project in Paraguay called EcoSara which suited me perfectly. During my time at EcoSara, I had the opportunity to travel around Paraguay which opened my eyes to the need for conservation in this amazing country. I spent most of my time on a beautiful nature reserve full of amazing biodiversity, but as soon as I exited the protected area, all I saw was cattle ranches and soy plantations. There was hardly any forest left at all! When I left to return to Scotland, I knew I would find my way back to Paraguay. Two years later, I founded a conservation organization in Paraguay called Para La Tierra (PLT) with the help of Paul Smith, an expert in Paraguayan fauna, and I was finally back. We began receiving volunteers and interns immediately and Joseph Sarvary, who is now the head of PLT's Intern Project was our first ever intern.
Joseph Sarvary: That's right. I first found out about PLT the same most of our visitors do: through online searches for volunteer opportunities overseas. I was keen to visit South America and PLT's intern project offered an appealing mix of cultural and academic experiences. As a biology student at Tufts University, the combination of gaining real fieldwork experience while spending my summer break in a neotropical paradise was perfect for me. I was encouraged by both Karina and Paul to design my own scientific project before I arrived and then received the support I needed to carry it out during my stay. I learned how to write scientific proposals, how to design and implement a project, and most of all, how to deal with the inevitable problems that arise when you do work in the field. I also had the opportunity to get involved with all of the other scientific projects PLT was conducting at the time. I learned how to handle live amphibians, reptiles, birds and mammals, I learned how to mark small mammals with PIT tags; I learned preparation techniques and conservation strategies. But more than anything else, I learned that I loved fieldwork. After I graduated from Tufts, Karina invited me back to help run the intern project that I had once been a part of. I didn't hesitate for a second. PLT's intern program kindled in me a passion for conservation and field research, and I felt honored to be invited back to help other young scientists find their passion too.
Mongabay: What are the biggest conservation threats in Paraguay at the moment?

Karina Atkinson. Photo by: Rolex Awards/Kirsten Holst.
Karina Atkinson: What I saw in 2008 while traveling through Paraguay made me realize how dire the conservation status in Paraguay is. The biggest threats to Paraguay's forests, wetlands and savannahs are cattle ranching and soy farming. Low land prices attract large international corporations to buy up huge tracts of pristine habitat to convert to agricultural land. The Brazilian government has recently instated a number of regulations making this kind of land-conversion expensive, which has led to many Brazilian companies moving into Paraguay. The Paraguayan Chaco is currently being lost at a rate of 10% per year; clear cutting and controlled burns are a common sight when driving through Paraguay. I still get angry when I see the huge pillars of black smoke rise on the horizon, an indication that another huge fragment of Atlantic Forest is being burnt to make room for more agriculture.
Mongabay: Can you tell me a bit about the history of Para La Tierra?
Karina Atkinson: Para La Tierra was founded with a singular goal in mind: to conserve the fragile habitats of this country though scientific research and community outreach. We are based at Reserva Natural Laguna Blanca, a small nature reserve in Eastern Paraguay. Our organization is designed to contribute to the conservation of the environment on as many levels as possible. We conduct our own research projects that produce new discoveries that promote the profile of our small reserve. Starting off, we focused mainly on faunal inventories, but we are beginning to see results from longer lasting ecological studies as well. We welcome young students to learn field techniques contributing to the education of the next generation of conservation biologists. In just over three years we've welcomed hundreds of visitors from over 20 different countries to work and volunteer with us. We also reach out to the local communities in an attempt to create a grassroots movement of conservation with the people that depend most on the health of the habitats. There's no silver bullet solution to habitat destruction, so we are fighting it on every level we can.
Mongabay: Where in Paraguay are you located and where do your staff, interns and volunteers work?
| | |
| --- | --- |
| | Joseph Sarvary. Photo by: Rolex Awards/Kirsten Holst. |
Joseph Sarvary: Reserva Natural Laguna Blanca is a beautiful nature reserve centered on an artesian lake located in the San Pedro Department. The reserve itself contains two of South America's most threatened habitats: the Cerrado and the Atlantic Forest. All our staff, interns and volunteers work on site. Paraguay is an amazing place to do scientific research because nearly no work has been done here before. All of our projects are novel and exciting – even the most basic inventories have turned up incredible discoveries.
Since 2010, we have recorded over 50 species that have never been registered before in Paraguay. The reserve is small (just over 800 hectares) but due to our thorough inventory work, we have compiled species lists comparable to reserves fifty times our size! We have been in the same place for 3 years but we are still finding new and interesting animals right under our noses. We are hoping to expand to open a new station in the next 12 months which will undoubtedly lead to similarly amazing discoveries.
Mongabay: Can you tell me more about your Volunteer and Intern Programs?
Karina Atkinson: At PLT, we do our best to get involved in as many different activities as possible. We have multiple community-outreach programs, we do environmental workshops with three different schools, we even enter a team in the local soccer tournaments. But the truth is that at our core, PLT's main focus is our Volunteer and Intern Program. The program is designed to be customizable to each and every visitor. No matter your experience or the area of your focus, if you like wildlife then you will be a perfect fit for PLT. Volunteers that have had zero experience in fieldwork are still given the opportunity to join us habituating the resident troop of Capuchin monkeys or go frogging at nightfall along the lakeside or help out with any of the other on-going projects happening at the time. We have staff members eager to teach the simplest techniques to novices so that anyone can get a hands-on experience with the biodiversity on site.
Joseph Sarvary: Our intern program demands a bit more experience. We welcome undergraduate and graduate students to PLT to conduct 3-5 month intensive study projects with us. Most come either to gain school credit or work experience but others come simply because they love it. They design their own research project before they arrive and then spend their time with on-site conducting the fieldwork. They learn the official field techniques to carry out their project and finish their stay analyzing their data and preparing it for presentation or publication. I know from experience that the PLT Intern Program inspires young scientists to become passionate about protecting habitats from destruction, after all it was time as an intern that inspired me. Each of our past interns has gone on to continue their careers in an area of conservation biology, either working at zoos and rehabilitation centers or continuing their education. We are proud of each and every one of them and I am confident that they will all make their own contribution to the fight against habitat destruction.
Mongabay: What type of community outreach does your organization do?

Fire near the reserve. Photo by: Rolex Awards/Kirsten Holst.
Joseph Sarvary: PLT believes that sustainable conservation needs to begin with local support. After all, it is the people who live near the reserve that are most affected by its destruction. We have a number of different outreach initiatives but our most developed program is the Rolex-funded Woman-Empowerment Project. The project provides three communities surrounding the reserve with everything they need to create an economically sustainable chicken coop including an electric grinder to prepare food, an incubator for hatching eggs, and a small coop to raise the chicks in. Each community elected a council of women to be in charge of the project and they work collaboratively to manage the coop. The project provides the women with meat to feed their families and a small monthly income. The goal of this project is to provide members of the local communities, who used to enter the reserve to hunt and fish, with an alternative access to a protein source while strengthening PLT's bond with those who live closest to us. We also do smaller scale projects and workshops with high school and primary school students.
Mongabay: What types of workshops do you hold for young Paraguayans?
Karina Atkinson: This is something that Joseph and I work very closely on. The workshops we host are always conservation or biology focused but each lesson is catered to the level of student that we have with us. We have done short afternoon workshops with young children (ages 8-12) that have involved the reading of an environmental fable or the coloring of various animals. We have done full day workshops with high school students, teaching them basic biological concepts, the history of conservation in Paraguay, and what PLT does to protect the environment.
Joseph Sarvary: Karina and I agree that environmental education is one of the most rewarding aspects of our jobs. The delight in teaching children about our passion for conservation and wildlife is indescribable and we hope that through the sharing of this passion we are creating future Paraguayan conservationists who will fight to protect this country's amazing biodiversity. There have been many examples in which the students we have taught have visited the reserve in order to help in our other projects. One student came to the reserve with an armadillo that had gotten trapped in his mother's kitchen to release it into the reserve where it could live out its life in a protected habitat.
Mongabay: What are some of the most notable studies conducted through PLT over the past few years?

Researcher working in the field. Photo by: John Smit.
Karina Atkinson: At Reserva Natural Laguna Blanca, there are always new animals and plants waiting to be discovered. Some of our most exciting results have come from routine trap checking, only to find that something different has been caught. It's been three years since we made the first discoveries and we aren't showing any signs of slowing down. One morning in 2008, one of our researchers woke up to find a species moth on the windshield of his car, which was thought to have been extinct since 1930! In 2011, Joseph and I were walking through the Cerrado and came across an armadillo shell from a species that had never been seen in Paraguay before. In this past month alone, we have discovered two species of frog which were previously unrecorded in Paraguay! You can see all of the publications which have arisen from our work on our website www.paralatierra.org/publications
Mongabay: In 2011 and 2012 PLT received funding to train and employ local Park Guards to look after the reserve, as well as teach workshops in the area. How have these guards benefited your program? Have there been unexpected benefits?
Joseph Sarvary: Thanks to funding provided by US Fish and Wildlife Service, PLT was able to train two members of the local community in the skills and strategies they needed to be effective park guards. They were trained by the Park Guards at Reserva Natural Bosque Mbaracayu (RNMB), which is administered by Fundacíon Moíses Bertoni. We selected two local men, Jorge Ayala and Concepcíon Gomez, who were already familiar with the local flora and fauna and excited to take part in conservation. They spent one month working alongside the RNBM guards and learned strategies for combating extractive activities such as hunting and logging, techniques for observing and tracking wildlife, as well as the basics of plant identification. When they returned to us at Laguna Blanca, they were full of ideas of how they could better protect the reserve and the wildlife within, and also incredibly ambitious to do as much as they could to make it happen.
Karina Atkinson: The forest guards also contribute a huge amount to our outreach programs. As members of the surrounding community themselves, the guards are able to communicate with the local population in the indigenous language and understand the culture of the area, helping PLT to be more sensitive to its specific needs. They are also instrumental in our environmental education workshops as translators and assistant teachers – they are both quite shy but they agree that it's important to relay our message to the next generation of Paraguayans. PLT truly owes USFWS and Moises Bertoni a lot of gratitude for not only training our two forest guards, but also for inspiring them to do everything they can do to help protect the environment.
Mongabay: What does PLT hope to accomplish in the coming years?

Researcher with bird. Photo by: Derek Olney.
Karina Atkinson: PLT is a small organization but we are dreaming big. Our goal for 2013 is to open a second field site in the incredibly threatened Paraguayan Chaco. The aim is to create a model conservation organization that can be transplanted into other reserves in Paraguay in order to help protect more endangered habitats. We plan to establish more formal relationships with universities in the United States and United Kingdom as well as within Paraguay. We hope to host biology field courses for graduate and undergraduate students, providing the opportunity to conduct fieldwork and learn trapping techniques to thousands more young scientists while they contribute directly to the conservation of this fantastically diverse and beautiful country. We don't know what the future holds for Para La Tierra, but we do believe that our organization has the potential to reverse the trend of habitat destruction that is terrorizing Paraguay and the rest of South America.

Atlantic Forest in Paraguay. The Atlantic Forest is one of the most imperiled forests on Earth. Photo by: Rolex Awards/Kirsten Holst.

View over Laguna Blanca. Photo by: Rolex Awards/Kirsten Holst.
Related articles
Dry forests disappearing faster than rainforests in Latin America
(08/21/2012) Countries across Latin America lost 78,000 square kilometers of subtropical and tropical dry broadleaf forests between 2001 and 2010, according to a new satellite-based assessment published in the journal Biotropica.
Satellite evidence of deforestation in uncontacted tribe's territory sparks legal action
(04/12/2011) The destruction of 3,600 hectares (8,900 acres) of the Gran Chaco forest in Paraguay by large Brazilian cattle ranching companies has led to a legal complaint filed by a local indigenous-rights organization, since the land in question was one of the last refuges of a group of uncontacted indigenous people in the Ayoreo-Totobiegosode tribe. The loss of the forest was revealed in part by satellite images of the remote area.
How to save the Pantanal and increase profits for the cattle industry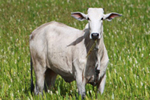 (03/28/2011) The Pantanal spanning Brazil, Bolivia, and Paraguay is the world's largest wetland—the size of Florida—and home to a wide-variety of charismatic species, such as jaguars, capybaras, and giant anteaters. However, the great wetland is threatened by expansion in big agriculture and an increasingly intensive cattle industry. Yet there is hope: a new study by Wildlife Conservation Society of Brazil (WCS-Brazil) researchers has found that cattle and the ecosystem can exist harmoniously. By replacing current practices with rotational grazing, cattle ranchers gain a healthier herd and more profits while safeguarding the ecological integrity and wildlife of the world's largest wetland system. The study published in mongabay.com's open access journal Tropical Conservation Science is a rare instance of a win-win situation.
Chaco biodiversity expedition suspended
(11/15/2010) A joint expedition by the Natural History Museum (NHM), London and the Natural History Museum, Asuncion to the dwindling dry forest of the Gran Chaco in Paraguay to record biodiversity, and hopefully uncover 'hundreds' of new species, has been suspended by the Paraguayan government. The suspension comes after a local organization voiced concern that the expedition would threaten uncontacted member of the Ayoreo tribe in the forest.
Chaco expedition working to "minimize the risk" of running into uncontacted natives
(11/11/2010) A joint expedition by the Natural History Museum (NHM), London and the Natural History Museum, Asuncion to study the biodiversity of the dwindling dry forests of Chaco in Paraguay have responded to recent concerns that they risk encountering uncontacted natives, which could potentially threaten the natives' lives as well as their own.
Spotted uncontacted native flees, leaving dinner and dish behind
(07/07/2010) The man had set up camp and was preparing to cook live turtles for a meal when he was seen by people he did not know. He hid behind a tree and then fled from the camp into the forest, abandoning his uncooked turtles and a clay pot behind.
Forest-bulldozing ranchers win 'Greenwashing Award' for claiming they are creating a 'nature reserve'
(01/20/2010) Indigenous rights organization, Survival International, has awarded Brazilian cattle company, Yaguarete Porá S.A., its 'Greenwashing Award 2010′ for destroying indigenous peoples' forest—including uncontacted natives—and calling it conservation.
Cattle company bulldozing UNESCO site, threatening uncontacted natives

(12/09/2009) A Brazilian ranching company is bulldozing land within UNESCO Chaco Biosphere Reserve in Paraguay, home to the only uncontacted natives outside of the Amazon in South America. While the UNESCO status provides no legal protections to the area, it is meant as an international marker to protect the tribe of the Ayoreo-Totobiegosode and the forest they inhabit.
Last uncontacted tribe in Paraguay rapidly losing homeland
(11/19/2008) An indigenous rights' group has sounded the alarm over a new threat to an uncontacted tribe in Paraguay.
Paraguay extends zero deforestation law
(10/10/2008) Paraguay announced it will implement a policy to cut net carbon emissions from land use change to zero by 2020, reports WWF.