You can now visit up-close and personal some of the world's most imperiled ecosystems on Google Earth: coral reefs. The Google team is working with scientists to provide 360 degree panoramas, similar to Google street-view, to give armchair ecologists a chance to experience the most biodiverse ecosystems under the waves.
"Only 1% of humanity has ever dived on a coral reef and by making the experience easily accessible the survey will help alert millions of people around the world to the plight of coral reefs," says Ove Hoegh-Guldberg with the University of Queensland. Hoegh-Guldberg heads the Catlin Seaview Survey which brings cameras mounted to a manned vehicle to photograph the reefs. Last year the team did around 30 surveys in the Great Barrier Reef region, while this year they have expanded to the Caribbean.
But the technology has other potential beyond education and appreciation. Researchers hope to employ citizen scientists to identify marine species via images, helping to catalogue biodiversity on embattled reefs.
Coral reefs are threatened by pollution, coastal development, on-land deforestation, and overfishing. However the largest threat to coral reefs is burning fossil fuels, which is pushing marine temperatures up and causing to ocean acidification.
"Our results show that even under the most moderate climate change projections from the Intergovernmental Panel on Climate Change, most corals will struggle to survive and reefs will rapidly decalcify," says Hoegh-Guldberg, who is running a longterm project in Australia that measures how corals respond to rising temperatures and acidification in controlled conditions.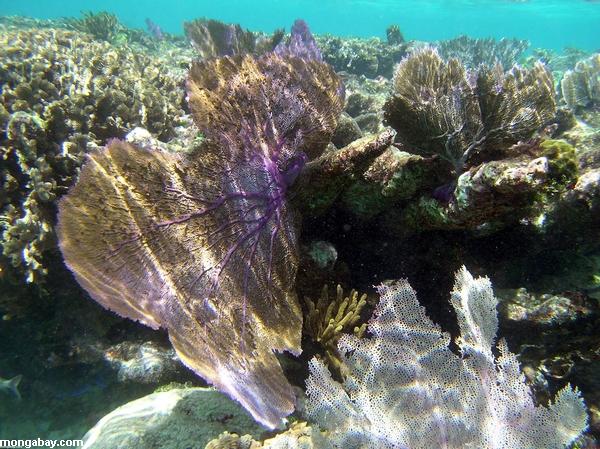 Sea fans on a coral reef off the coast of Mexico. Photo by: Rhett A. Butler.
Related articles
U.S. bombs Great Barrier Reef, promises 'rapid recovery' of armaments
(07/23/2013) Four unarmed bombs dropped by the US military into the Great Barrier Reef Marine Park pose a low risk to wildlife and a joint mission will aim for their "rapid recovery", according to the government agency in charge of the reef. The Great Barrier Reef Marine Park Authority said two of the bombs are inert, containing concrete, while the other two were not armed, making the chance of detonation "extremely low".
UN may downgrade Great Barrier Reef's heritage status due to Australia's inaction on threats
(06/17/2013) The federal government insists it is striving to avoid the Great Barrier Reef being listed 'in danger' ahead of a crunch UN meeting, after rejecting a Senate recommendation to block new port developments near the World Heritage ecosystem.
Threatened Galapagos coral may predict the future of reefs worldwide
(11/07/2012) The Galapagos Islands have been famous for a century and a half, but
even Charles Darwin thought the archipelago's list of living wonders
didn't include coral reefs. It took until the 1970s before scientists
realized the islands did in fact have coral, but in 1983, the year the
first major report on Galapagos reef formation was published, they
were almost obliterated by El Niño. This summer, a major coral survey
found that some of the islands' coral communities are showing
promising signs of recovery. Their struggle to survive may tell us
what is in store for the rest of the world, where almost
three-quarters of corals are predicted to suffer long-term damage by
2030.
Great Barrier Reef loses half its coral in less than 30 years
(10/01/2012) The Great Barrier Reef has lost half of its coral cover in the last 27 years, according to a new study released today in the Proceedings of the National Academy of Sciences (PNAS). Based on over 2,000 surveys from 1985 to this year the study links the alarming loss to three impacts: tropical cyclone damage, outbreaks crown-of-thorns starfish that devour corals, and coral bleaching.
Coral diversity off Madagascar among the world's highest
(09/24/2012) The western Indian Ocean, especially the waters between Madagascar and mainland Africa, may be among the world's most biodiverse for coral species, according to a new study in PLOS ONE. Conducting dive surveys in the region for nearly a decade, David Obura with the Coastal Oceans Research and Development in the Indian Ocean (CORDIO) identified 369 coral species in the western Indian Ocean and predicts there may be nearly another 100 unidentified. If so, this would make the region as biodiverse as the Great Barrier Reef, but still behind the Coral Triangle which has over 600 species.
Coral reefs in Caribbean on life support
(09/11/2012) Only 8 percent of the Caribbean's reefs today retain coral, according to a new report by the International Union for Conservation of Nature (IUCN). With input and data from 36 scientists, the report paints a bleak picture of coral decline across the region, threatening fisheries, tourism, and marine life in general.
Deforestation is killing Madagascar's coral reefs
(09/05/2012) Sediment carried by rivers draining deforested areas in Madagascar is smothering local coral reefs, increasing the incidence of disease and suppressing growth, report new studies.
Coral calcification rates fall 44% on Australia's Great Barrier Reef
(09/04/2012) Calcification rates by reef-building coral communities on Australia's Great Barrier Reef have slowed by nearly half over the past 40 years, a sign that the world's coral reefs are facing a grave range of threats, reports a new study published in the Journal of Geophysical Research – Biogeosciences.