A new report lays out key leverage points for shifting Indonesia's palm oil industry toward a greener development path.
The report, authored by Daemeter Consulting and The Nature Conservancy (TNC), provides context on Indonesia's palm oil industry, including its local development benefits and environmental impacts, and identifies what agencies and actors are involved in various decisions that shape its expansion. The intent of the document is to "highlight opportunities to align decision-making more closely with Indonesia's Green Growth objectives."
For example, the report suggests developing and implementing a transparent online licensing registration system for oil palm plantations. This would require involvement of both Indonesian's Ministry of Agriculture as well as local governments, but would have "high impact" on decisions that determine where oil palm licenses are issued, according to the authors. As a sweetener, increased transparency could help stem corruption.

Oil palm plantation and rainforest. Photo taken July 1, 2013 by Rhett Butler.
Another "high impact" opportunity is in land swaps. Indonesia's Ministry of Forestry controls more than 90 million hectares of land, large blocks of which have been completely stripped of vegetation. The report argues that instead of pretending that these areas are still forested or will be reforested, the Indonesian government should simplify the process of re-zoning them for agriculture. In exchange, forested lands outside the Forest Estate could be made off-limits to agricultural conversion. The effect of these land swaps could be to boost palm oil production while simultaneously protecting more forest and wildlife. It might also help improve Indonesia's forest accounting — right now forest clearing outside the Forest Estate does not even show up as "deforestation" by the Ministry of Forestry's reckoning. Finally, it may make it easier for plantation companies to "do the right thing" by enabling them to get permits to develop non-forested land. Right now, plantation companies often target forests and peatlands outside the Forest Estate simply because it is easier to get concessions than seeking relinquishment from the Ministry of Forestry.
Along these lines, various agencies within the Indonesian government could help reduce the environmental impacts of palm oil plantations by creating financial incentives for companies to maintain forest areas within their concessions. At present if a palm oil company has a block of forest within its concession it is faced with a stark choice: either convert the area for oil palm or leave it be and risk having the government claw it back and grant it to another company. It's little wonder why more palm oil companies in Indonesia don't conserve forests within their concessions.
The report, which was funded by USAID under its green development program for Indonesia, goes on to list a series of other opportunities for making the country's palm oil sector greener and more socially equitable at a time when the industry is still expanding rapidly.

Oil palm plantation.
CTIATION: Gary D. Paoli , Piers Gillespie, Philip L. Wells , Lex Hovani, Aisyah Sileuw, Neil Franklin, and James Schweithelm. OIL PALM IN INDONESIA: Summary for Policy Makers & Practitioners. The Nature Conservancy Indonesia Program, Jakarta. June 2013.
Related articles
Indonesian palm oil industry would support land swaps to protect forest, while expanding production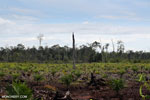 (04/19/2013) Indonesian palm oil companies would support land swaps as a means to reduce carbon emissions from deforestation while simultaneously expanding production, representatives from the country's largest association of palm oil producers told mongabay.com in an interview last month.
Cutting through the rhetoric on palm oil production
(12/14/2012) Palm oil is widely acknowledged as one of the most important drivers of deforestation and forest diminishment in Southeast Asia. Conversion of forests and peatlands for oil palm plantations is both a substantial source of greenhouse gas emissions and a major threat to biodiversity — one study called palm oil the 'single most immediate threat to the greatest number of species'.
Is Indonesia losing its most valuable assets?
(05/16/2011) Deep in the rainforests of Malaysian Borneo in the late 1980s, researchers made an incredible discovery: the bark of a species of peat swamp tree yielded an extract with potent anti-HIV activity. An anti-HIV drug made from the compound is now nearing clinical trials. It could be worth hundreds of millions of dollars a year and help improve the lives of millions of people. This story is significant for Indonesia because its forests house a similar species. In fact, Indonesia's forests probably contain many other potentially valuable species, although our understanding of these is poor. Given Indonesia's biological richness — Indonesia has the highest number of plant and animal species of any country on the planet — shouldn't policymakers and businesses be giving priority to protecting and understanding rainforests, peatlands, mountains, coral reefs, and mangrove ecosystems, rather than destroying them for commodities?
Greening the world with palm oil?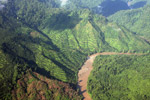 (01/26/2011) The commercial shows a typical office setting. A worker sits drearily at a desk, shredding papers and watching minutes tick by on the clock. When his break comes, he takes out a Nestle KitKat bar. As he tears into the package, the viewer, but not the office worker, notices something is amiss—what should be chocolate has been replaced by the dark hairy finger of an orangutan. With the jarring crunch of teeth breaking through bone, the worker bites into the "bar." Drops of blood fall on the keyboard and run down his face. His officemates stare, horrified. The advertisement cuts to a solitary tree standing amid a deforested landscape. A chainsaw whines. The message: Palm oil—an ingredient in many Nestle products—is killing orangutans by destroying their habitat, the rainforests of Borneo and Sumatra.
Palm oil both a leading threat to orangutans and a key source of jobs in Sumatra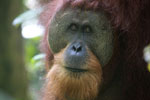 (09/24/2009) Of the world's two species of orangutan, a great ape that shares 96 percent of man's genetic makeup, the Sumatran orangutan is considerably more endangered than its cousin in Borneo. Today there are believed to be fewer than 7,000 Sumatran orangutans in the wild, a consequence of the wildlife trade, hunting, and accelerating destruction of their native forest habitat by loggers, small-scale farmers, and agribusiness. Gunung Leuser National Park in North Sumatra is one of the last strongholds for the species, serving as a refuge among paper pulp concessions and rubber and oil palm plantations. While orangutans are relatively well protected in areas around tourist centers, they are affected by poorly regulated interactions with tourists, which have increased the risk of disease and resulted in high mortality rates among infants near tourist centers like Bukit Lawang. Further, orangutans that range outside the park or live in remote areas or on its margins face conflicts with developers, including loggers, who may or may not know about the existence of the park, and plantation workers, who may kill any orangutans they encounter in the fields. Working to improve the fate of orangutans that find their way into plantations and unprotected community areas is the Orangutan Information Center (OIC), a local NGO that collaborates with the Sumatran Orangutan Society (SOS).