The Brazilian state of Pará has launched a new compensation scheme to incentivize further cuts in deforestation.
Using a stipulation that allows Brazilian states to determine how a quarter of taxes on sales of goods and services are distributed, last week Pará established the Green Value Added Tax (ICMS). The system will provide payments to counties for landowners' compliance with the country's forest code, which governs how much forest a forest a private landholder must maintain.
A statement from the Environmental Defense Fund (EDF) explains the program:
Counties will also receive compensation for parks and reserves (25% of the re-directed VAT), but the lions' share (50%) will go to counties where property owners register with the Rural Environmental Registry (CAR), a major step toward compliance with the new Forest Code. According to the Forest Code, all 5.4 million rural private properties in the country will have to submit a satellite map of their property to register with CAR and have a minimum percentage of native vegetation (varying from 20% to 80% of the property, including forest buffers along rivers and streams). Those not in compliance must submit a restoration plan. Compliance is monitored by satellite.

Some 330,000 km² of Pará's 1.2 million km² (double the size of France) are already registered in the CAR and on their way to compliance in a state satellite monitored system. That corresponds to 58% of the area eligible for CAR registry.
The program expects to redistribute 35 million reais ($16 million) this year, according to Justiniano Netto, the coordinator of Pará's Green Municipalities program. That amount will rise to 140 million reais ($64 million) by 2016.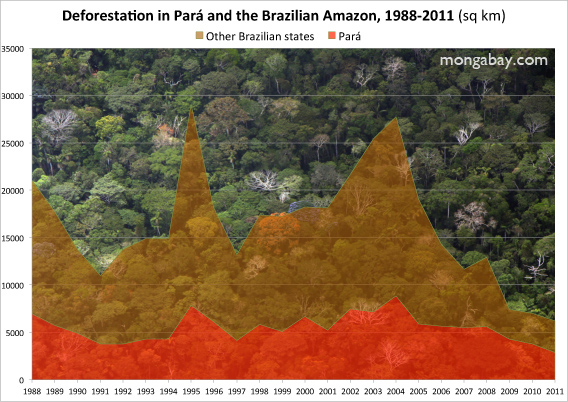 The move is significant for Pará, which has lost more Amazon forest than any state in the region. Pará includes a large block of the "Arc of Deforestation", the frontier area where new forest clearing is concentrated.
"This is a pioneering tax incentive program for combatting deforestation", said José Colares, Pará's State Environmental Secretary, in a press release.
"This is the first state level policy to create fiscal incentives for reducing deforestation," added Governor Simão Jatene.
EDF says the program may offer a way forward for the stalled Reducing Emissions from Deforestation and Forest Degradation (REDD+) mechanism, which proposes paying tropical countries for protecting forests but as of yet lacks a source of finance.
"Pará's public policies with Green VAT may pave the way to pay for avoided deforestation with public funding," said the group in a statement.
Brazil's deforestation rate for the Amazon has fallen by 80 percent since 2004. The drop has been attributed to several factors, including satellite-based monitoring, increased law enforcement, new indigenous territories and protected areas, pressure from civil society and commodity buyers, lending policies, and macroeconomic trends. However Brazil has seen an uptick in deforestation since last year when it passed a revised version of its Forest Code. Some environmentalists complain the new Forest Code relaxes some regulations, but the government says stricter enforcement will help Brazil meet its 2018 deforestation reduction target.
Related articles
Deforestation in the Brazilian Amazon pacing 88% higher than last year's rate
(05/18/2013) Satellite analysis by a Brazil-based NGO indicates that deforestation in the Brazilian Amazon continues to pace well ahead of last year, when the government passed a weakened version of its law governing use of forest lands.
Brazil's satellite monitoring reduced Amazon deforestation by 60,000 sq km in 5 years
(05/08/2013) Brazil's advanced satellite monitoring system, coupled with increased law enforcement, was responsible for nearly 60 percent of the 101,000 square kilometer-drop in deforestation observed between 2007 and 2011, argues a new study published an international think tank.
President Rousseff vetoes some controversial changes to Brazil's Forest Code
(05/29/2012) Brazilian President Dilma Rousseff on Monday revealed the details of her line-item veto to proposed changes to the country's Forest Code, which governs how much forest landowners are required to preserve. Rousseff vetoed a dozen clauses of the revised Forest Code and modified several others. The bill now goes back to the Chamber of Deputies, followed by the Senate and House, before returning again to Rousseff. A final decision isn't expected until after the Rio+20 UN Conference on Sustainable Development.
Brazil can eliminate deforestation by 2020, says governor of giant Amazon state
(04/05/2012) Brazil can reduce Amazon deforestation to zero by 2020 while boosting rural livelihoods and maintaining healthy economic growth, the governor of Pará told mongabay.com on the sidelines of the Skoll World Forum, a major conference on social entrepreneurship, last week. Governor Simao Jatene is hopeful that a revolution in land management and governance can turn the tide in Pará, a state that is three times the size of California and has lost more Amazon forest — 90,000 sq km of Amazon forest since 1996 — over the past decade-and-a-half than any other in Brazil.