Expansion of the palm oil industry in Malaysia is destroying key habitat for endangered frogs, putting them at greater risk, finds a new study published in the journal Conservation Biology.
Over a two-year period, Aisyah Faruk of the Zoological Society of London and colleagues documented the impact of oil palm plantations on the peat swamp frog (Limnonectes malesianus), an amphibian that inhabits streams and swamps in lowland forest areas in Peninsular Malaysia. According to the researchers, the peat swamp frog is absent from areas that have been converted for oil palm plantations. It is replaced by common, less endangered frog species.
"The impact we observed is different from that observed previously for mammals and birds," Faruk said in a statement. "Instead of reducing the number of species, oil palm affects amphibian communities by replacing habitat suitable for threatened species with habitat used by amphibian species that are not important for conservation. This more subtle effect is still equally devastating for the conservation of biodiversity in Malaysia."
Microhyla heymonsi daicus. (Credit: Image courtesy of Zoological Society of London)
Oil palm plantations have rapidly expanded across Malaysia and Indonesia over the past thirty years, consuming millions of hectares of native forests. Due to Southeast Asia's high number of endemic plants and animals, biologists have called oil palm expansion "the single most immediate threat to the greatest number of species" globally. Other research has shown that conversion of forests — even forests heavily degraded by industrial logging — experience sharp declines in wildlife once they are converted for palm plantations.
Clearing for oil palm plantations in Borneo. Photo by Rhett A. Butler
To get a better understanding of the effects of conversion and how to mitigate biodiversity loss in oil palm plantations, a group of scientists led by Imperial College London ecologist Rob Ewers are in the midst of a decade-long study on quantifying the impact of palm oil. The Stability of Altered Forest Ecosystems project — launched in 2011 — is monitor ecological changes—including biodiversity, erosion, soil quality, carbon dioxide emissions, and water pollution—in roughly 7,000 hectares of forest in the Maliau Basin of Sabah (Malaysian Borneo) as it is logged and planted with oil palms.
Amphibians are among the most threatened groups of animals.

Click image to enlarge
CITATION: Aisyah Faruk, Daicus Belabut, Norhayati Ahmad, Robert J. Knell, Trenton W. J. Garner. Effects of Oil-Palm Plantations on Diversity of Tropical Anurans. Conservation Biology, 2013; 27 (3): 615 DOI: 10.1111/cobi.12062
Related articles
Greening the world with palm oil?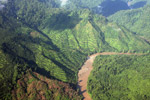 (01/26/2011) The commercial shows a typical office setting. A worker sits drearily at a desk, shredding papers and watching minutes tick by on the clock. When his break comes, he takes out a Nestle KitKat bar. As he tears into the package, the viewer, but not the office worker, notices something is amiss—what should be chocolate has been replaced by the dark hairy finger of an orangutan. With the jarring crunch of teeth breaking through bone, the worker bites into the "bar." Drops of blood fall on the keyboard and run down his face. His officemates stare, horrified. The advertisement cuts to a solitary tree standing amid a deforested landscape. A chainsaw whines. The message: Palm oil—an ingredient in many Nestle products—is killing orangutans by destroying their habitat, the rainforests of Borneo and Sumatra.
Oil palm plantations support fewer ant species than rainforest
(03/02/2010) Oil palm plantations support substantially less biodiversity than natural forests when it comes to ant species, reports new research published in Basic and Applied Ecology. Tom Fayle, a University of Cambridge biologist, and colleagues sampled ant populations in Danum Valley Conservation Area, a rainforest, and nearby oil palm plantations in Sabah, a state Malaysian Borneo. The researchers counted 16,000 worker ants from 309 species in the natural forest but only in 110 species at the oil palm plantation.
Orangutans vs palm oil in Malaysia: setting the record straight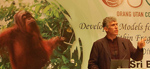 (01/16/2010) The Malaysian palm oil industry has been broadly accused of contributing to the dramatic decline in orangutan populations in Sabah, a state in northern Borneo, over the past 30 years. The industry has staunchly denied these charges and responded with marketing campaigns claiming the opposite: that oil palm plantations can support and nourish the great red apes. The issue came to a head last October at the Orangutan Colloquium held in Kota Kinabalu. There, confronted by orangutan biologists, the palm oil industry pledged to support restoring forest corridors along rivers in order to help facilitate movement of orangutans between remaining forest reserves across seas of oil palm plantations. Attending NGOs agreed that they would need to work with industry to find a balance that would allow the ongoing survival of orangutans in the wild. Nevertheless the conference was still marked by much of the same rhetoric that has characterized most of these meetings — chief palm oil industry officials again made dubious claims about the environmental stewardship of the industry. However this time there was at least acknowledgment that palm oil needs to play an active role in conservation.
Palm oil may be single most immediate threat to the greatest number of species
(01/26/2009) Efforts to slow the rapid expansion of oil palm plantations at the expense of natural forests across Southeast Asia are being hindered by industry-sponsored disinformation campaigns, argue scientists writing in the journal Trends in Ecology and Evolution. The authors, Lian Pin Koh and David S. Wilcove, say that palm oil may constitute the "single most immediate threat to the greatest number of species" by driving the conversion of biologically rich ecosystems — including lowland rainforests and peatlands.
Biodiversity of rainforests should not be compared with oil palm plantations says palm oil council chief
(11/11/2008)
Scientists should compare the biodiversity oil palm plantations to other industrial monocultures, not the rainforests they replace, said Dr. Yusof Basiron, CEO of the Malaysian Palm Oil Council (MPOC), in a post on his blog. Basiron's comments are noteworthy because until now he has maintained that oil palm plantations are "planted forests" rather than an industrial crop.
Rainforest conversion to oil palm causes 83% of wildlife to disappear
(09/15/2008)
Conversion of primary rainforest to an oil palm plantation results in a loss of more than 80 percent of species, reports a new comprehensive review of the impacts of growing palm oil production. The research is published in the journal Trends in Ecology and Evolution.
Half of oil palm expansion in Malaysia, Indonesia occurs at expense of forests
(05/20/2008)
More than half of the oil palm expansion between 1990 and 2005 Malaysia and Indonesia occurred at expense of forests, reports a new analysis published in the journal conservation Letters. Analyzing data from the United Nations Food and Agriculture Organization, Lian Pin Koh and David S. Wilcove of Princeton University found that 55-59 percent of oil palm expansion in Malaysia and at least 56 percent of that in Indonesia occurred at the expense of forests. Given that oil palm plantations are biologically impoverished relative to primary and secondary forests, the researchers recommend restricting future expansion to pre-existing cropland and degraded habitats.