The Cameroonian government has lifted the suspension on controversial palm oil project in the northwestern part of the Central African nation, reports the AFP.
The project, run by U.S.-based Herakles Farms, was suspended by the company last month pending a government review of its permits. But according to the AFP, Cameroon's Minister of Forestry and Wildlife has now lifted the injunction, potentially granting the go-ahead on the project, which aims to convert some 65,000 hectares of rainforest for oil palm.
The project has been fiercely opposed by environmental groups and some locals, who say it will undermine local livelihoods and put endangered species at greater risk. Herakles has been criticized for its decision not to seek eco-certification under the Roundtable on Sustainable Palm Oil (RSPO) for the project. RSPO criteria would limit the company's ability to convert forest for plantations.
"This project should be cancelled permanently, as it would have devastating social and environmental consequences for the region " said Irène Wabiwa of Greenpeace Africa, which is in the midst of a campaign against the company. "In addition, it seems increasingly clear that the company is facing serious cash flow issues. The company is not a viable long-term development partner for the Cameroonian government nor local communities, and the government would be well advised to conduct financial due diligence on Herakles Farms."
Herakles maintains the project will bring much-needed cash to the region.
Related articles
Controversial palm oil project halted in Cameroon
(05/24/2013) An American company has halted work on a controversial palm oil project in Cameroon due to opposition from local communities and environmentalists, reports Reuters.
Controversial palm oil project concession in Cameroon is 89 percent 'dense natural forest'

(02/21/2013) Satellite mapping and aerial surveys have revealed that a controversial palm oil concession in Cameroon is almost entirely covered by "dense natural forest," according to a new report by Greenpeace. The activist group alleges that the concession, owned by Herakles Farms, is under 89 percent forest cover. The U.S.-based corporation intends to build a 70,000 hectare palm oil plantation in a region surrounded by four protected areas, including Korup National Park, but has faced stiff criticism from numerous environmental groups as well as conflict with locals.
Photos reveal destruction of Cameroon rainforest for palm oil

(11/26/2012) Newly released photos by Greenpeace show the dramatic destruction of tropical forest in Cameroon for an oil palm plantation operated by SG Sustainable Oils Cameroon (SGSOC), a subsidiary of the U.S. company Herakles Farm. The agriculture company is planning to convert 73,000 hectares to palm oil plantations on the edge of several protected areas, but has faced considerable opposition from environmentalists and some local communities. In addition to the aerial photos, Greenpeace alleges that ongoing forest clearing by Herakles is illegal since the companies 99-year lease has yet to be fully approved by the Cameroonian government.
Palm oil, poverty, and conservation collide in Cameroon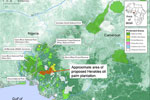 (09/13/2011) Industrial palm oil production is coming to Africa, its ancestral home. And like other places where expansion has occurred rapidly, the crop is spurring hope for economic development while generating controversy over its potential impacts. The world's most productive oil seed has been a boon to southeast Asian economies, but the looming arrival of industrial plantations in Africa is raising fears that some of the same detriments that have plagued leading producers Malaysia and Indonesia—deforestation, greenhouse gas emissions, biodiversity loss, conflicts with local people, social displacement, and poor working conditions—could befall one of the world's most destitute regions. While there is no question that oil palm is a highly lucrative crop that can contribute to economic development, there is also little doubt that conversion of native forests for plantations exacts a heavy toll on the environment. The apparent conflict seems to pit agroindustrial goliaths against greens, with communities falling somewhere in between. But Herakles, a New York-based investment firm planning to construct a 60,000-hectare plantation in the Central African country of Cameroon, says its approach will bridge this gap between economic development and the environment. Social and environmental campaigners are skeptical.