Indonesia's Ministry of Forestry on Friday denied a claim by an NGO that it lost or misappropriated 7.1 trillion rupiah ($731 million) in 2012, reports the Jakarta Globe.
Earlier in the week, the Indonesian Forum for Budget Transparency (Fitra) said the ministry had incurred massive losses for the state. Its conclusion was based on figures from the Supreme Audit Agency (BPK), an anti-corruption ministry.
The claim implied that the Ministry of Forestry accounted for 86 percent of the 8.3 trillion rupiah in state losses nationwide during 2012.
Uchok Sky Khadafi, Fitra's director for investigations and advocacy, said the massive losses illustrated the problem with granting top-level ministry positions to political constituents.
"Party-affiliated ministers are incredibly lousy in their financial management, as can be seen in these indications of state losses," Uchok was quoted as saying. "It just goes to prove that they're neither serious nor competent when it comes to managing state funds."
However the Ministry of Forestry refuted the report, arguing that both the figures and the characterization of the "losses" were inaccurate. Forestry Minister Zulkifli Hasan said the actual figure was 6.2 trillion rupiah and represented non-tax revenue that the ministry has been unable to collect since 2002.
"We're continuing to collect on those payments, both at the regional level and at the central level, and to date we've whittled down the outstanding amount to just Rp 2.1 trillion," Zulkifli told the Jakarta Globe.
Communications Minister Tifatul Sembiring, whose ministry was charged with losing 174 billion rupiah, said the audit data didn't represent what Fitra asserted.
"You can't draw a conclusion like that from the BPK audit," he was quoted as saying. "These audits are conducted every year, but it doesn't mean that losses are occurring all the time. For instance, in 2011 the figure was even larger, but we managed to explain it to the BPK and everything was duly resolved."
Indonesia's Ministry of Forestry has long been criticized for its financial management. A 2010 study found that Indonesia's Reforestation Fund squandered billions of dollars between the late 1980's and late 2000's. Money that was set aside to replant logged areas was instead used to prop up a failed car project.
In 2011, an official at Indonesia's Corruption Eradication Commission (KPK), called the forestry sector in Indonesia "a source of unlimited corruption."
Related articles
To win concessions in Aceh, mining company hires official being investigated for graft
(04/18/2013) A Toronto Stock Exchange-listed mining company has hired an official being investigated for corruption under its effort to convince the Aceh provincial government to re-zone protected forest areas for a gold mine on Indonesia's Sumatra island, according to an alliance of Indonesian environmentalists. The official, former Golkar Deputy Chairman Fadel Muhammad, has been retained by East Asia Minerals to help it win a carve-out for its Miwah project, a 30,000-hectare concession atop a forested mountain in Aceh.
Bureaucratic reform plays a part in reducing deforestation in Indonesia
(01/17/2013) Reforming Indonesia's bloated and underperforming bureaucracy will play an important part in reducing the country's high rate of deforestation and forest degradation, the head of the country's Ministry of Administrative Reform told mongabay.com in an exclusive interview. Administrative Reform Minister Azwar Abubakar said that a smaller and more meritocratic bureaucracy will help cut corruption while more effectively governing the sprawling archipelago.
Indonesia's forestry sector failed to pay $18.8 billion for deforestation, alleges anti-corruption group
(10/09/2011) The plantation and forestry sectors in Indonesia failed to pay as much as $18.8 billion (169.8 trillion rupiah) for timber exploitation between 2004-2007, alleges Indonesian Corruption Watch, an anti-grant activist group, which urged the country's Corruption Eradication Commission (KPK) and Ministry of Forestry to conduct a full investigation.
Norway: rainforest protection efforts must work through corruption challenge
(04/29/2011) Corruption in poor countries shouldn't deter developed countries from supporting initial efforts to save the world's tropical forests, Norway's environment minister told Reuters.
Losses from deforestation top $36 billion in Indonesian Borneo
(04/29/2011) Illegal forest conversion by mining and plantation companies in Indonesian Borneo has cost the state $36 billion according to a Forest Ministry official.
Former REDD+ negotiator for Indonesia sentenced to 3 years for corruption
(04/22/2011) Wandojo Siswanto, one of the negotiators for Indonesia's delegation at last year's climate talks in Copenhagen and a key architect of its Reduced Emissions from Deforestation and Degradation (REDD) partnership with Norway, has been sentenced to three years in prison for accepting bribes.
Will Indonesia's big REDD rainforest deal work?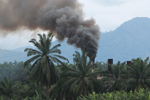 (12/28/2010) Flying in a plane over the Indonesian half of the island of New Guinea, rainforest stretches like a sea of green, broken only by rugged mountain ranges and winding rivers. The broccoli-like canopy shows little sign of human influence. But as you near Jayapura, the provincial capital of Papua, the tree cover becomes patchier—a sign of logging—and red scars from mining appear before giving way to the monotonous dark green of oil palm plantations and finally grasslands and urban areas. The scene is not unique to Indonesian New Guinea; it has been repeated across the world's largest archipelago for decades, partly a consequence of agricultural expansion by small farmers, but increasingly a product of extractive industries, especially the logging, plantation, and mining sectors. Papua, in fact, is Indonesia's last frontier and therefore represents two diverging options for the country's development path: continued deforestation and degradation of forests under a business-as-usual approach or a shift toward a fundamentally different and unproven model based on greater transparency and careful stewardship of its forest resources.
Norway's billion dollar contribution to Indonesian forests excludes national reforestation scheme
(06/01/2010) Norway's billion dollar contribution to forest and peatlands conservation in Indonesia will not fund reforestation of deforested areas, a government minister told The Jakarta Post.
Illegal loggers hit community reforestation project in Indonesia, spurring questions about REDD
(02/22/2010) Illegal loggers are targeting community-managed forests in South Sumatra, renewing questions over forestry governance and law enforcement as the Indonesia prepares to capitalize on payments for conservation and reforestation under a proposed climate change mitigation mechanism known as REDD, reports the Jakarta Press.
REDD must address corruption to save rainforests in Indonesia, says report
(01/13/2010) The Indonesian government squandered billions of dollars in funds set aside for reforestation through corruption and mismanagement in the 1990s, raising important questions as the country prepares for the influx of money from a proposed climate change mitigation scheme known as REDD+ (reduced emissions from deforestation and degradation), warns a new report released Tuesday by the Center for International Forestry Research (CIFOR), a forest policy research group.