The Canadian government has nearly doubled its advertising spending to promote the Alberta tar sands in an aggressive new lobbying push ahead of Thursday's visit to New York by the prime minister, Stephen Harper.
The Harper government has increased its advertising spending on the Alberta tar sands to $16.5m from $9m a year ago.
The Canadian Press news agency, which first reported on the increase in advertising spending by the Department of Natural Resources, said the television advertising was just one part of a broad promotion for tar sands.
It said the Canadian government was planning another big advertising buy in America aimed at winning White House approval for the Keystone XL pipeline project and promoting exports of crude oil from the Alberta tar sands.
Those high-profile ad buys included sponsoring Politico's Playbook, an influential site that is well-read by administration officials. The Canadian government has also been dispatching a series of officials to US and European cities.
On Thursday, it will be the prime minister's turn. Harper was due to start his day with a question and answer session at the Council on Foreign Relations before heading off to meetings with American business leaders.
The announcement on the prime minister's website put the tar sands pipeline project squarely on Harper's agenda.
"I look forward to engaging with council members on pressing issues including the global economy, trade liberalization, energy and security, as well as issues of importance to Canada and the US such as the Keystone XL pipeline," a statement said.
Canadian embassy officials in Washington, when asked for details of the visit, provided the link to the same six-day-old press release.
Barack Obama is due to make a decision on the pipeline later this year.
With the fate of the project in the balance, Canadian officials increasingly are going on the offensive to try to beat back opposition to the project and push ahead with development of the tar sands.
"Canada will keep developing its natural resources for export to the United States in a way that ensures the environment is protected," the natural resources minister, Joe Oliver said. "It is important to present these key facts on our strong environment record and long-standing energy relationship to American decision makers and opinion leaders."
In addition to winning approval for the pipeline across the American heartland, Canadian officials are fighting off moves in the European Union to set a separate category for tar sands crude because of its higher greenhouse gas emissions. Oliver has said such moves are unfair.
"It's discriminatory, it's not based on science and it would potentially hurt Canada's ability to access markets for its resources," Oliver told CBC radio.
The project will pump up to 830,000 barrels a day of crude oil to the refineries on the Texas Gulf Coast, opening up an important outlet for the tar sands.
The decision has been cast by both sides as a defining moment for his presidency. The Canadian government, industry and some trades union argue the pipeline will create jobs and help restore the economy.
Climate scientists, environmental campaigners—and some of Obama's biggest supporters among Democratic fundraisers—say the pipeline will unlock a vast store of buried carbon and put the world on course of catastrophic climate change.

Partial view of Canada's tar sands from satellite in 2009. Photo by: NASA.
Original Post: Canadian government doubles advertising spend on tar sands
Related articles
Citizen group finds 30 toxic chemicals in air following tar sands oil spill in Arkansas
(04/30/2013) Independent air samples by locals have yielded "a soup of toxic chemicals" in Mayflower, Arkansas where an Exxon Mobil pipeline burst on March 29th spilling some 5,000 barrels of tar sands oil, known as bitumen. Chemicals detected included several linked to cancer, reproductive problems, and neurological impacts such as benzene and ethylbenzene. Air samples were taken by community leader and University of Central Arkansas student April Lane a day after the spill. However, the Environment Protection Agency (EPA)'s and Exxon Mobil's air samples have yielded chemical levels below harm except in the direct clean-up area, according to the Arkansas Department of Health (ADH).
Tar sands oil spill: ruptured pipe pours 200,000 gallons of oil into suburban neighborhood (photos)
(04/04/2013) Last Saturday, an oil pipeline carrying tar sands oil from Canada ruptured in Mayflower, Arkansas spilling between 3,500-5,000 barrels of crude (at most 210,000 gallons) into neighborhood streets and lawns. Families from 22 homes have been evacuated while clean-up crews have scrambled to contain the spill. ExxonMobil, which runs the 65-year-old Pegasus pipeline, has stated it will pay for any damage, however critics say the oil spill is more evidence that the Obama Administration should turn down the Keystone XL tar sands pipeline.
Over 35,000 march on Washington demanding climate action and rejection of Canada's 'carbon bomb'
(02/18/2013) Yesterday over 35,000 people rallied in Washington D.C. for urgent action on climate change, which, according to organizers, was the largest climate march in U.S. history. Activists called on the Obama Administration to do much more to tackle climate change, including rejecting the Keystone XL Pipeline, which would bring carbon-heavy tar sands oil from Canada through the U.S. to a world market.
Climate activists march on White House again to oppose Keystone XL pipeline
(11/19/2012) Yesterday, climate activists marched around the White House in opposition against the Keystone XL pipeline, which if built will carry tar sands from Canada to the Gulf of Mexico and an international market. The protest, which included over 3,000 people according to organizing groups, is an opening salvo in activists' battle to convince the Obama Administration to turn down the pipeline for good.
Day after Obama re-elected, group plans massive march over Keystone Pipeline and climate change
(11/07/2012) Hours after President Obama's historic re-election, climate group 350.org announced a massive rally to apply pressure on the administration to reject the Keystone Pipeline, which would bring tar sands from Alberta to an international market. In 2011 the group and its partners carried out massive civil disobedience action, resulting in over 1,000 arrests, and a rally 12,000-strong that literally encircled the White House. The pressure, which was also brought to Obama campaign offices around the country, helped spur the Obama Administration to suspend the pipeline.
Thousands of scientists hold mock funeral in Canada to highlight nation's "death of evidence"
(07/11/2012) Carrying signs that said 'Stop Harper's War on Knowledge' and 'Scientists Shouldn't Wear a Muzzle,' Canada's scientists were unusually theatrical yesterday at a rally against the Canadian government's cuts for basic science funding and environmental protections. Scientists, dressed in white coats, carried a coffin to represent "the death of evidence" in Canada, while a costumed grim-reaper led the way. According to police, around 2,000 joined in the protest.
Featured Video: the true cost of the tar sands
(03/15/2012) What's the big deal about the tar sands? Canadian photographer Garth Lenz presents the local environmental and social concerns presented by the tar sands in a concise, impassioned speech in a TEDx talk in Victoria, Canada.
Tar sands emit more carbon than previously estimated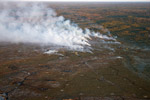 (03/12/2012) Environmentalists have targeted the oil-producing tar sands in Canada in part because its crude comes with heftier carbon emissions than conventional sources. Now, a new study in the Proceedings of the National Academy of Sciences (PNAS) has found an additional source of carbon that has been unaccounted for: peatlands. Mining the oil in the tar sands, dubbed "oil sands" by the industry, will require the wholesale destruction of nearly 30,000 hectares of peatlands, emitting between 11.4 and 47.3 million metric tons of additional carbon.
TransCanada to build southern half of Keystone to avoid State Department approval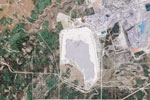 (02/29/2012) Keystone XL is becoming the project that refuses to die: TransCanada, the company behind the pipeline, has said it plans to build the southern half of the pipeline while it waits to determine a new route for the northern section. The company does not need approval from the State Department, which turned down the entire pipeline in January, to build the southern half from Texas to Oklahoma. However, the Obama Administration has embraced the idea. Carrying carbon-intensive tar sands oil down from Canada to a global market, the proposed pipeline galvanized environmental and climate activists last year, resulting in several large protests and civil disobedience actions.