WWF urges Central Africa Republic government to act.
Local researchers and wildlife guards say 17 armed elephant poachers have gained access to Dzanga Bai, a famous large clearing and waterfole where up to 200 forest elephants visit daily in the Central African Republic (CAR)'s Dzanga-Ndoki National Park. WWF, which works in the region but has recently evacuated due to rising violence, is calling on the CAR government to rapidly mobilize its military to stop another elephant bloodbath in central Africa. Elephants are being killed across their range for their ivory, which is mostly smuggled to East Asia.
According to WWF, two local researchers encountered three armed poachers in the forest looking for Dzanga Bai, known locally as "village of elephants." In addition, wildlife guards report that they saw poachers on a viewing platform in Dzanga Bai firing at elephants.
Poachers appear to be taking advantage of government instability in the CAR. Long-time president, François Bozize, was overthrown by rebels in the country in late-March. According to the Associated Press, current elephant poachers may be linked to rebels.
"Unless swift and decisive action is taken, it appears highly likely that poachers will take advantage of the chaos and instability of the country to slaughter the elephants living in this unique World Heritage Site," Jim Leape, WWF International Director General, said in a statement. "Wildlife crime is not only a consequence of instability, but a cause. It fuels violence in the region, in a vicious circle that undermines the stability of these countries and their economic development."
But the CAR is not alone, elephants are being decimated across Africa for the illegal ivory trade. Estimates currently predict that around 30,000 elephants are killed annually. Sixty two percent of forest elephants, those found in Central and West African forests, have been lost in the last decade alone.
"Central African Republic has to immediately follow through on its promise of two weeks ago to mobilize troops to end poaching in the region," Leape adds. "WWF also calls on the international community to immediately provide assistance to Central African Republic in restoring peace and order in the country, and to preserve its unique natural heritage."

Elephants in Dzanga Bai: forest elephant displaying rounded ears and straight trunk in an intimidating gesture towards another elephant in Dzanga Bai, a forest clearing in Dzanga Sangha Protected Area, CAR. Photo by: © Carlos Drew/WWF.

Forest elephant spraying water. Dzanga-Sangha Special Reserve. Central African Republic. Photo by: Photo by: © R. Isotti, A. Cambone – Homo Ambiens/WWF.
Related articles
Emergency: large number of elephants being poached in the Central African Republic (warning: graphic image)
(04/25/2013) WWF and the Wildlife Conversation Society (WCS) are issuing an immediate call for action as they report that poachers are killing sizable numbers of forest elephants near the Dzanga-Sangha protected areas in the Central African Republic (CAR). The two large conservation groups have evacuated their staff from the area after a government coup, but local rangers are still trying to determine the scale of the killing while defending remaining elephants. In total the conservation groups believe the parks are home to over 3,000 elephants.
A Tale of Two Elephants: celebrating the lives and mourning the deaths of Cirrocumulus and Ngampit
(05/07/2013) On March 21st, the organization Save the Elephants posted on their Facebook page that two African elephants had been poached inside a nearby reserve: "Sad news from the north of Kenya. Usually the national reserves are safe havens for elephants, and they know it. But in the last two weeks two of our study animals have been shot inside the Buffalo Springs reserve. First an 18 year-old bull called Ngampit and then, yesterday, 23 year-old female called Cirrocumulus (from the Clouds family)."
Infamous elephant poacher turns cannibal in the Congo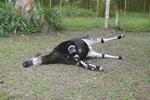 (04/03/2013) Early on a Sunday morning last summer, the villagers of Epulu awoke to the sounds of shots and screaming. In the eastern reaches of the Democratic Republic of the Congo, that can often mean another round of violence and ethnic murder is under way. In this case, however, something even more horrific was afoot.
Poachers enlisting impoverished wildlife rangers as accomplices in elephant, rhino killing
(04/01/2013) Corruption among wildlife rangers is becoming a serious impediment in the fight against poaching, fuelled by soaring levels of cash offered by criminal poacher syndicates, senior conservation chiefs have admitted. Rangers in countries as diverse as Tanzania and Cambodia are being bribed by increasingly organised poaching gangs keen to supply ivory, rhino horn and tiger parts to meet huge consumer demand in Asia.
A thousand soldiers sent after marauding elephant poachers [warning: graphic photos]
(03/26/2013) Eight Central African nations have announced they will send a thousand soldiers after poachers responsible for slaughtering 89 elephants, including over 30 pregnant mothers, in Chad earlier this month. The mobilization of soldiers and law enforcement officers could be a sign that Central African countries are beginning to take elephant poaching, which has decimated populations across Africa, more seriously.
Poachers slaughter 89 elephants in Chad, including over 30 pregnant mothers [warning: graphic photos]
(03/19/2013) In what is being called the worst elephant massacre in Africa this year, poachers have recently killed as many as 89 elephants in Chad. Stephanie Vergniault, the Chairman of SOS Elephants in Chad, says the elephants were slaughtered in a two-day period late last week near Tikem, on the southwest border of Chad and Cameroon. At least 30 of the elephants were pregnant. Images from a television news report show what appear to be an elephant still connected to its umbilical cord on the ground. Separately, 12 calves were also slaughtered.
Elephant woes: conservationists mixed on elephant actions at CITES
(03/14/2013) Conservationists couldn't agree if the glass was half-full or half-empty on action to protect elephants at the Convention on International Trade in Endangered Species (CITES) in Bangkok, Thailand. Elephants, especially in Africa, have faced a massive rise in poaching over the last decade with tens-of-thousands shot dead every year. Forests elephants in central Africa have been especially targeted: new research estimates that an astounding 60 percent of the world's forest elephants have been slaughtered for their tusks in the last ten years alone. While conservationists had hopes that CITES would move aggressively against elephant poaching, the results were a decidedly mixed-bag.
Prayers for dying elephants: Buddhists hold prayer ceremony for elephants decimated by poachers
(03/11/2013) Buddhist leaders prayed for slaughtered African elephants in Bangkok, Thailand last week, reports WWF. During a special merit-making ceremony, often reserved for the recently deceased, Buddhist monks, abbots, and leaders prayed for the tens-of-thousands of elephants that have been killed for their ivory tusks. Bangkok is currently hosting an international meeting of the Convention on International Trade in Endangered Species (CITES), where the elephant crisis is being discussed.
Seeing the forest through the elephants: slaughtered elephants taking rainforest trees with them
(03/11/2013) Elephants are vanishing. The booming illegal ivory trade is decimating the world's largest land animal, but no place has been harder hit than the Congo basin and its forest elephants (Loxodonta cyclotis). The numbers are staggering: a single park in Gabon, Minkebe National Park, has seen 11,100 forest elephants killed in the last eight years; Okapi Faunal Reserve in the Democratic Republic of the Congo has lost 75 percent of its elephants in fifteen years; and a new study in PLoS ONE estimates that in total 60 percent of the world's forest elephants have been killed in the last decade alone. But what does that mean for the Congo forest?