In 2007, the increased human population, increased prices in fuel and transportation costs, and an increased demand for a diversity of food products prompted a Global Food Crisis. Agricultural producers and government leaders world-wide struggled to procure stable food sources for their countries. But the crisis had impacts beyond 2007: it was also the impetus for what we now know as the global land-grabbing phenomenon.
"Land grabbing" involves capital-rich countries investing in land and subsequent agricultural operations in foreign countries. These countries tend to be developing nations, mostly in Africa and Asia, which are rich in natural resources, but poor in capital and eager for opportunities to generate economic stimulation.
In addition to providing new land areas for countries with a limited amount of arable land, land grabbing also diversifies and strengthens a country's agricultural production. It's a foreign insurance policy against pests, natural disasters, drought, and unpredictable events. In some instances, countries invest in foreign lands because the cost of agricultural production is high in their own countries, for example inflated fuel prices and water scarcity limit many in-country markets. In addition, private investors are also grabbing land to outsource food production for profit by producing cash crops and biofuels for export.
According to a recent paper in the Proceedings of the National Academy of Sciences (PNAS) by Maria Cristina Rulli with the Polytechnic University of Milan and colleagues, there are an estimated 62 'grabbed countries' and 41 'grabbers,' with the Middle East, South America, Europe, and Southeast Asia acting as the biggest grabbers. Estimates of the total amount of grabbed land are variable, but it is clear that numbers are steadily on the rise.

Children in Madagascar. Although Madagascar suffers high poverty and malnutrition rates, controversial foreign land deals have occurred here in recent years. Photo by: Rhett A. Butler.
Ironically, grabbed countries with hefty foreign agricultural investments often suffer from food shortages themselves. Many denizens of grabbed nations suffer from malnutrition. These nations lack the organization, capital, and infrastructure to conduct their own agricultural operations and thus outsource their food production. So while grabbers acquire land to supply food for their increasing populations, grabbed countries' increase their dependency on foreign-supplied food, leading to deeper economic problems and often social unrest.
Countries that do not have enough water to sustain their own agricultural operations are considered as "virtual water dependent," according to the recent paper. Without land acquisitions from abroad, these countries may not be able to sustain their populations without importing most of their food. In fact, the scientists postulate that as early as 2030 we could be seeing declines in foreign populations due to a lack of water and subsequent agricultural products.
According to available records, more than a thousand land deals have occurred since 2000, redistributing ownership of land and natural resource rights of well over 200 million of acres of land. The amount of grabbed water is projected at 454 billion cubic meters of water per year, which amounts to around 5% of the annual global usage of water. That said land grabbing data are somewhat unreliable because many such records not publicly available.
"The estimates are as accurate as they can be if we consider the nature of the land (and water) grabbing process and the lack of transparency affecting many of these land deals," co-author Paolo D'Odorico, of the University of Virginia, told mongabay.com.
The actual amount of land grabbed is likely even greater than estimated.
Land deals are negotiated in the upper tiers of society and government with little or no input from the communities who are impacted by the sale and conversion of land. Often times native farmers do not have formal property rights to the land they farm, and even though it has been passed down through generations, these land rights have no legal recognition. And while land deals vary from country to country, the general trend is that locals affected by land deals are not informed of plans in advance or made aware of their rights to oppose deals or even negotiate terms.

Oil palm plantations, seen here in Malaysia, are a common crop grown on 'grabbed' lands. Many of these deals have become controversial. Photo by: Rhett A. Butler.
Foreign investment in land and agricultural operations can provide jobs, infrastructure, new technologies, and a demand for local products. If crops are properly exported and taxed, this could bode well for local economies. Often times, however, these benefits do not trickle down.
"To solve both [land grabbing and food security] we need a win-win strategy for both target and investor countries, something that will guarantee food security in each country," lead author Maria Cristina Rulli says.
It's important to understand that countries that buy land on foreign soils are not just buying property, and not just influencing the microcosm of land within the boundaries of their parcels—they are also buying rights to water and other natural resources. Much of grabbed land is not agricultural land to begin with. The conversion of these lands to farmland entails deforestation, land clearing, and land use alterations that greatly modify local ecosystems, often resulting in carbon emissions, biodiversity loss, and local people losing access to natural resources. Altered distribution of water resources, changes in land use, soil degradation, and the use of fertilizers and pesticides, among other factors, affect the local environment and compromise the ecological sustainability of the environment.
Large-scale agriculture draws heavily on water resources from rivers, lakes, and groundwater; these water resources extend beyond the boundaries of purchased land parcels. Irrigated agricultural operations often channel water from areas outside the purchased landholdings, reducing water supplies for neighboring landowners, and on a greater scale, affecting global distribution of water and rights to water.
The amount of land that a country acquires is not directly proportional to the amount of water it draws from that land. Grabbed countries experience a diversity of climates, so the water garnered from land acquisitions for agricultural production varies. Grabbed land in tropical countries with heavy rainfall (like Indonesia) acquires much of its agricultural water from rainfall, while more arid countries (like Sudan) rely on bodies of water and groundwater supplies.
Land grabbing influences water distribution at both the local and global levels. When water is diverted for irrigation, local communities are drained of access to drinking water. Researchers predict that 86% of human-utilized freshwater is used in agricultural production.
Rulli and colleagues developed a complex hydrological model to parse out the details of water redistribution due to land grabbing. They estimate that 60% of the water grabbed in transnational property acquisitions is appropriated by only a handful of countries: the United States, United Arab Emirates, India, the United Kingdom, Egypt, China, and Israel. Countries like the UAE, Israel, and Egypt are water-limited, so acquiring land with abundant water resources provides an external supply for their in-country demand.

Children stand next to sweet potato plot in Indonesian Papua. Land grabbing often severs people from their traditional lands. Photo by: Rhett A. Butler.
Organizations like GRAIN, an international NGO supporting small farmers and social movements, publicize the humanitarian issues associated with land grabbing. But Rulli tells mongabay.com that, "not much is being done on the ethical front—it's hard to highlight the ethical, food security, and environmental problems associated to foreign lands appropriation."
She hopes that governments will adopt regulations to address and rectify these issues.
D'Oricio warns that, "If countries or communities with relatively rich soil and water resources lose control on their land and water, their current future generations lose control on their livelihoods."
So far, negotiations in land grabbing have been mostly diplomatic. This, however, may not be the case in the future. As demand for land and water rights increases and global water resources dwindle, future negotiations may be less congenial.
CITATION: M. C. Rulli, A. Saviori, P. D'Odorico. Global land and water grabbing. Proceedings of the National Academy of Sciences, 2013; 110 (3): 892 DOI: 10.1073/pnas.1213163110.
Related articles
Activists warn of industrial palm oil expansion in Congo rainforest
(02/21/2013) Industrial oil palm plantations are spreading from Malaysia and Indonesia to the Congo raising fears about deforestation and social conflict. A new report by The Rainforest Foundation UK (RFUK), dramatically entitled The Seeds of Destruction, announces that new palm oil plantations in the Congo rainforest will soon increase fivefold to half a million hectares, an area nearly the size of Delaware. But conservationists warn that by ignoring the lessons of palm oil in Southeast Asia, this trend could be disastrous for the region's forests, wildlife, and people.
Controversial palm oil project concession in Cameroon is 89 percent 'dense natural forest'
(02/21/2013) Satellite mapping and aerial surveys have revealed that a controversial palm oil concession in Cameroon is almost entirely covered by "dense natural forest," according to a new report by Greenpeace. The activist group alleges that the concession, owned by Herakles Farms, is under 89 percent forest cover. The U.S.-based corporation intends to build a 70,000 hectare palm oil plantation in a region surrounded by four protected areas, including Korup National Park, but has faced stiff criticism from numerous environmental groups as well as conflict with locals.
Investors beware: global land grabbing ends in 'financial damage' and human rights violations
(02/07/2013) Investing in companies that flout local community rights in developing countries often leads to severe economic losses, according to a new report from the Rights and Resources Initiative (RRI). A rising trend in "land grabbing" from Africa to South America by corporations and even foreign governments results in social instability, which can lead to large-scale protests, violence, and even murder, delaying and sometimes derailing projects. Such instability poses massive risk to any investor, not to mention supporting corporate entities that are accused of ignoring human rights.
Cambodia's largest lowland rainforest spared from new land concessions
(08/06/2012) Four economic land concessions have been cancelled in Cambodia's Prey Lang forest, known as the largest intact lowland forest in Southeast Asia, reports the Phnom Penh Post. The economic land concessions, totaling over 40,000 hectares, would have been used for rubber plantations.
'National scandal:' foreign companies stripped Papua New Guinea of community-owned forests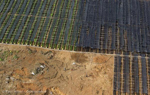 (07/30/2012) Eleven percent of Papua New Guinea's land area has been handed over to foreign corporations and companies lacking community representation, according to a new report by Greenpeace. The land has been granted under controversial government agreements known as Special Agricultural and Business Leases (SABLs), which scientists have long warned has undercut traditional landholding rights in the country and decimated many of Papua New Guinea's biodiverse rainforests. To date, 72 SABLs have been granted—mostly to logging companies—covering an area totaling 5.1 million hectares or the size of Costa Rica.
Flouting moratorium, Cambodia approves four land concessions in protected areas
(06/27/2012) A month-and-a-half after Cambodian Prime Minister, Hun Sen, declared a moratorium on on new economic land concessions, the government has announced four new concessions, each located in protected areas. Economic land concessions have come under the microscope in Cambodia after large-scale protests by local people and the recent murder of forest activist Chut Wutty. Critics say the concessions, which last year totaled two million hectares (4.9 million acres) sold off to foreign corporations, have resulted in local land conflict and environmental degradation.
Agricultural area larger than Texas has been 'land-grabbed'
(06/26/2012) Compiling over 1,000 foreign land deals from 2000-2010, a new report finds that 702,000 square kilometers (271,043 square miles) of agricultural land worldwide has been sold-off to foreign governments or international corporations, an area larger than Texas. The report by the Worldwatch Institute finds that such land deals, often referred to as "land grabbing," have declined since a peak in 2009, but still remain high.
Over 700 people killed defending forest and land rights in past ten years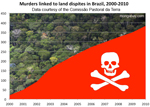 (06/19/2012) On May 24th, 2011, forest activist José Cláudio Ribeiro da Silva and his wife, Maria do Espírito Santo da Silva, were gunned down in an ambush in the Brazilian state of Pará. A longtime activist, José Cláudio Ribeiro da Silva had made a name for himself for openly criticizing illegal logging in the state which is rife with deforestation. The killers even cut off the ears of the da Silvas, a common practice of assassins in Brazil to prove to their employers that they had committed the deed. Less than a year before he was murdered, da Silva warned in a TEDx Talk, "I could get a bullet in my head at any moment…because I denounce the loggers and charcoal producers."
Indigenous rights rising in tropical forests, but big gaps remain
(05/31/2012) In the last twenty years, rights for indigenous forest dwellers have expanded significantly, according to a new report by the Rights and Resources Initiative (RRI). Covering nearly thirty tropical forest countries, the report finds that indigenous people now hold rights to 31 percent of the forest land in these countries, rising from 21 percent in 1992. However, landmark land rights for indigenous people remain imperiled by lack of enforcement, land-grabbing, government ambivalence, and industrial development. The report comes less than a month before the Rio+20 Summit on Sustainable Development, a meeting of global leaders that marks two decades since the Rio Earth Summit.
Indigenous group paid $0.65/ha for forest worth $5,000/ha in Indonesia
(05/23/2012) A palm oil company has paid indigenous Moi landowners in Indonesian Papua a paltry $0.65 per hectare for land that will be worth $5,000 a hectare once cultivated, according to a new report by the Environmental Investigation Agency (EIA) and Indonesian NGO, Telepak. The report outlines similar disadvantageous deals in timber with the same companies breaking their promises of bringing education and infrastructure.
Cambodia suspends economic land concessions
(05/07/2012) Cambodian Prime Minister Hun Sen announced today that Cambodia would be temporarily suspending new economic land concessions and would revoke any concessions from companies involved in illegal logging, the evictions of locals or land-grabbing. The announcement comes two week after the high-profile death of local forest activist, Chut Wutty, who was shot and killed by military police while investigating illegal logging with two journalists.
Police hired by loggers in Papua New Guinea lock locals in shipping containers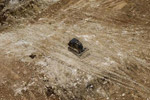 (04/16/2012) Locals protesting the destruction of their forest in Papua New Guinea for two palm oil plantations say police have been sent in for a second time to crack-down on their activities, even as a Commission of Inquiry (COI) investigates the legality of the concession. Traditional landowners in Pomio District on the island East New Britain say police bankrolled by Malaysian logging giant Rimbunan Hijau (RH) have terrorized the population, including locking people in shipping containers for three consecutive nights. The palm oil concessions belongs to a company known as Gilford Limited, which locals say is a front group for RH.