After facilitating large-scale logging and conversion of extensive areas of rainforest habitat, the government of Sarawak says it will protect a population of up to 200 of the world's rarest Bornean orangutans recently identified during field surveys by conservationists, reports the Wildlife Conservation Society (WCS).
The population lives in an area of about 14,000 hectares near Sarawak's Batang Ai National Park, a protected area that together with Lanjak-Entimau Wildlife Sanctuary accounts for about 2,000 of the 3,000-4,500 Pongo pygmaeus pygmaeus orangutans estimated to survive in the wild. Pongo pygmaeus pygmaeus is considered the rarest sub-species of Bornean orangutan.
The population, which was well-known to local Iban communities, was identified during field surveys conducted in February by the Sarawak Forest Department, Sarawak Forestry Corporation, the Wildlife Conservation Society and Borneo Adventure. The four organizations plan to conduct a follow-up study on potential action plans for the area. According to WCS, "The Sarawak government intends to hold a dialogue with local communities and the other key stakeholders to discuss options and to involve them in any conservation effort in the area."

Adult female with baby. ©Daniel Kong
The announcement was a rare bit of good news for conservationists working in Sarawak, which has protected less than 5 percent of its land mass while logging more than 90 percent of its forests and converting large areas to oil palm plantations. Activists have linked Sarawak's long-ruling chief minister and his family to dozens of companies involved in the destruction of the state's forests.
Related articles
An insidious threat to tropical forests: over-hunting endangers tree species in Asia and Africa
(04/04/2013) A fruit falls to the floor in a rainforest. It waits. And waits. Inside the fruit is a seed, and like most seeds in tropical forests, this one needs an animal—a good-sized animal—to move it to a new place where it can germinate and grow. But it may be waiting in vain. Hunting and poaching has decimated many mammal and bird populations across the tropics, and according to two new studies the loss of these important seed-disperser are imperiling the very nature of rainforests.
Controversial chief minister of Sarawak asked to step down until corruption allegations resolved
(03/22/2013) Following the release of video footage apparently linking Sarawak Chief Minister Taib Mahmud to kickbacks for forestry concessions, anti-corruption watchdog Transparency International is calling for the Malaysian leader to immediately resign from his post.
Video uncovers top level corruption in Sarawak over indigenous forests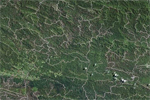 (03/20/2013) Tax evasion, kick-backs, bribery, and corruption all make appearances in a shocking new undercover video by Global Witness that shows how top individuals in the Sarawak government may be robbing the state of revenue for their own personal gain. Anti-corruption groups have believed that corruption has been rife in the Malaysian state of Sarawak for decades, but Global Witness says their investigation offers undeniable proof.
Malaysian candidate pledges to drop controversial dam in Sarawak if elected
(01/14/2013) Malaysia's current opposition leader, Anwar Ibrahim, has pledged to cancel the controversial Baram Dam in Sarawak if upcoming general elections sweep him into the office of Prime Minister. Ibrahim made the announcement while visiting the state of Sarawak, located on the island of Borneo, over the weekend, according to the indigenous rights NGO, Bruno Manser Fund.
Penan suspend dam blockade, give government one month to respond to demands
(11/15/2012) Members of the Penan tribe have suspended their month long blockade of the Murum dam in the Malaysian state of Sarawak, reports Survival International. However, according to the indigenous group the fight is not over: the departing Penan said the Sarawak government had one month to respond to demands for sufficient compensation for the dam's impact or face another blockade. Over 300 Penan people participated in the blockade, which stopped traffic leading to the construction site.
Borneo may lose half its orangutans to deforestation, hunting, and plantations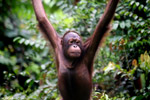 (11/13/2012) Borneo will likely lose half of its orangutans if current deforestation and forest conversion trends continue, warns a comprehensive new assessment by an international team of researchers. The study, published in the journal PLoS ONE, overlays orangutan distribution with land use regulations in Malaysian and Indonesian Borneo. Borneo has suffered high rates of deforestation, logging, and forest conversion for industrial plantations in recent decades, endangering the world's largest surviving populations of orangutans.
Sarawak minister tells clean energy activists to 'stop breathing'
(11/13/2012) A top minister in the Malaysian state of Sarawak has told activists campaigning for cleaner energy to 'stop breathing', reports The Borneo Post.
NGO: Malaysian leader worth $15 billion despite civil-servant salary; timber corruption suspected
(09/19/2012) Abdul Taib Mahmud, who has headed the Malaysian state of Sarawak for over 30 years, is worth $15 billion according to a new report by the Bruno Manser Fund. The report, The Taib Timber Mafia, alleges that Taib has used his position as head-of-state to build up incredible amounts of wealth by employing his family or political nominees to run the state's logging, agriculture, and construction businesses. Some environmental groups claim that Sarawak has lost 90 percent of its primary forests to logging, while indigenous tribes in the state have faced the destruction of their forests, harassment, and eviction.