World Resources Institute (WRI) today previewed a long-awaited tool that could revolutionize global forest monitoring, reports the UN Forum on Forests, which is meeting this week in Istanbul, Turkey.



Global Forest Watch 2.0 is a platform that combines near-real time satellite data, forestry data, and user-submitted information to provide the most complete picture of the world's forests ever assembled. The system has been developed over the last several years as a collaborative effort between WRI and other partners, including Google, the University of Maryland and the UN Environment Programme (UNEP).



Although Global Forest Watch 2.0 isn't slated to launch publicly until late this year, WRI demonstrated the system at the meeting to provide a sneak peak of a tool that could soon help governments, NGOs, local communities and companies fight deforestation.



"[It] could not come at a more critical moment," Under-Secretary-General for Economic and Social Affairs Wu Hongbo said in a statement. "In achieving sustainable forest management, reliable, up-to-date and easily accessible data and information are essential to monitoring, assessment and effective interventions."








Global Forest Watch 2.0 will enable users to track deforestation over time, including forest clearing that has occurred within the past 30 days. It will also allow users to submit georeferenced photographic evidence of forest destruction, supporting efforts by journalists and concerned citizens to report on deforestation.



Nigel Sizer, WRI's Director of its Global Forests Initiative, said that increased transparency offered by the tool lead to lower deforestation rates, if recent developments in Brazil are any indication.



"Deforestation rates in the Brazilian Amazon have dropped by 80 per cent since 2004," Sizer said. "According to senior Brazilian officials, this is in part due to their efforts to improve the quality and availability of information about what is happening to those forests and to make it rapidly available to those who can take action."
Related articles



Conservation gets boost from new Landsat satellite

(04/03/2013) Efforts to monitor the world's forests and other ecosystems got a big boost in February with the launch of Landsat 8, NASA's newest earth observation satellite, which augments the crippled Landsat 7 currently orbiting Earth (technically Landsat 8 is still named the Landsat Data Continuity Mission (LDCM) and will remain so until May when the USGS turns control of the satellite over to NASA). Landsat 8/LDCM is the most advanced Earth observation satellite to date. It is the eighth Landsat since the initial launch in 1972.
Global deforestation alert tool developed from NASA satellite imagery launches

(05/30/2012) Mongabay.com is pleased to announce the beta version of a global forest disturbance alert system (GloF-DAS) developed in partnership with Cal State Monterey Bay and NASA Ames Research Center. The tool offers the potential to pinpoint areas that are being deforested on a quarterly basis.
Breakthrough technology enables 3D mapping of rainforests, tree by tree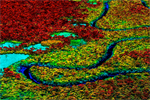 (10/24/2011) High above the Amazon rainforest in Peru, a team of scientists and technicians is conducting an ambitious experiment: a biological survey of a never-before-explored tract of remote and inaccessible cloud forest. They are doing so using an advanced system that enables them to map the three-dimensional physical structure of the forest as well as its chemical and optical properties. The scientists hope to determine not only what species may lie below but also how the ecosystem is responding to last year's drought—the worst ever recorded in the Amazon—as well as help Peru develop a better mechanism for monitoring deforestation and degradation.
How satellites are used in conservation



(04/13/2009) In October 2008 scientists with the Royal Botanical Garden at Kew discovered a host of previously unknown species in a remote highland forest in Mozambique. The find was no accident: three years earlier, conservationist Julian Bayliss identified the site—Mount Mabu—using Google Earth, a tool that's rapidly becoming a critical part of conservation efforts around the world. As the discovery in Mozambique suggests, remote sensing is being used for a bewildering array of applications, from monitoring sea ice to detecting deforestation to tracking wildlife. The number of uses grows as the technology matures and becomes more widely available. Google Earth may represent a critical point, bringing the power of remote sensing to the masses and allowing anyone with an Internet connection to attach data to a geographic representation of Earth.