Aleta Baun, an activist who led a movement to block a destructive mine in a remote part of Indonesia, was today awarded the prestigious Goldman Prize, the top honor for grassroots environmental campaigners.
Aleta, who's known locally as "Mama Aleta", is an indigenous Mollo from Timor, an island in Eastern Indonesia (the eastern half of the island is the independent nation of Timor-Leste or East Timor). Raised among small farmers, Aleta's activism emerged as a response to marble mining in the mountains above her community's fields. Deforestation and mining by the companies resulted in landslides, soil erosion, and water pollution.
Aleta organized three other women to travel from one village to another warning of damages caused by mining. The movement grew and Aleta became a target — local authorities even put a price on her head. After an assassination attempt which left her with a scar on her left leg, Mama Aleta went into hiding in the forest with her children. Meanwhile several of her supporters were beaten. But Aleta wasn't deterred, eventually growing the movement to include hundreds of villagers who staged a year-long weaving "sit-in" at a mine site. Those efforts culminated in the companies abandoning mining at the four sites within the Mollo territories.

Courtesy of the Goldman Prize
Emboldened, Aleta is now working with communities across West Timor to map their traditional forests as a way to gain recognition of their customary land rights and thereby block destructive mining, energy development, and industrial agriculture projects that would otherwise be established on their territories. At the same time, villagers have embraced traditional weaving and sustainable farming as an alternative source of income.
Her efforts have become an inspiration for other communities working across Indonesia to oppose expansion by mining companies into traditional forest lands. Today among some environmentalists she is known as the "Indonesian Avatar", after the film that portrayed an alien indigenous culture battling invasion by foreign miners.
| | |
| --- | --- |
| | Courtesy of the Goldman Prize. |
Aleta was one of six environmentalists recognized by the Goldman Prize for their activism. Other winners include Jonathan Deal, a South African who led a successful campaign against fracking in the Karoo region; Azzam Alwash, an Iraqi ex-patriot who returned to his native country to help restore marshlands destroyed during Saddam Hussein's rule; Rossano Ercolini, an Italian teacher who led a campaign against incinerators that turned into a national Zero Waste movement; Kimberly Wasserman, an American who led an effort to shut down two of the country's oldest and dirtiest power plants; and Nohra Padilla, a Colombian who helped transform waste management in the South American country by organizing marginalized waste pickers.
The Goldman Environmental Prize was established in 1989 by the late San Francisco-based philanthropists Richard and Rhoda Goldman. The prize includes an individual cash prize of $150,000, making it the largest award for grassroots environmental activism. Each year an environmentalists from each of the world's six inhabited continental regions is honored with the prize.
Related articles
Conservation scientists: Aceh's spatial plan a risk to forests, wildlife, and people
(03/22/2013) A group of biologists and conservation scientists meeting in Sumatra warned that potential changes to Aceh's spatial plan could undermine some of the ecological services that underpin the Indonesian province's economy and well-being of its citizens. After its meeting from March 18-22 in Banda Aceh, the Asia chapter of the Association for Tropical Biology and Conservation (ATBC) issued a declaration [PDF] highlighting the importance of the region's tropical forest ecosystem, which is potentially at risk due to proposed changes to its spatial plan.
Large blocks of Sumatra's endangered rainforest may be put up for mining, logging
(01/28/2013) The Indonesian province of Aceh on the western tip of the island of Sumatra may be preparing to lift the protected status of key areas of lowland rainforest potentially ending its bid to earn carbon credits from forest conservation and putting several endangered species at increased risk, according to reports.
115 mining companies operating illegally in forest areas in Indonesia
(05/03/2012) More than 100 mining companies are operating without licenses in forest areas across 471,000 hectares in Indonesia, reports The Jakarta Post.
David vs. Goliath: Goldman Environmental Prize winners highlight development projects gone awry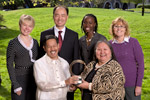 (04/16/2012) A controversial dam, a massive mine, poisonous pesticides, a devastating road, and criminal polluters: many of this year's Goldman Environmental Prize winners point to the dangers of poorly-planned, and ultimately destructive, development initiatives. The annual prize, which has been dubbed the Green Nobel Prize is awarded to six grassroots environmental heroes from around the world and includes a financial award of $150,000 for each winner.
Indonesia's moratorium allows mining in protected forests
(05/23/2011) Indonesia's mining industry expects the just implemented moratorium on new forestry concessions in primary forests and peatlands to open up protected areas to underground coal and gold mining, reports the Jakarta Globe.
Cambodia approves titanium mine in world's 'most threatened forest'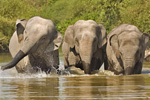 (02/15/2011) The Cambodian government has approved a mine that environmentalists and locals fear will harm wildlife, pollute rivers, and put an end to a burgeoning ecotourism in one of the last pristine areas of what Conservation International (CI) recently dubbed 'the world's most threatened forest'. Prime Minister, Hun Sen, approved the mine concession to the United Khmer Group, granting them 20,400 hectares for strip mining in Cambodia's Cardamom Mountains. The biodiverse, relatively intact forests of the Cardamom Mountains are a part of the Indo-Burma forest hotspot of Southeast Asia, which CI put at the top of their list of the world's most threatened forests. With only 5% of habitat remaining, the forest was found to be more imperiled than the Amazon, the Congo, and even the forests of Indonesia and Malaysia.
India blocks 'Avatar' mining project that threatened tribe
(08/24/2010) A controversial plan to construct a bauxite mine on indigenous lands in the Indian state of Orissa has been canceled by the country's environment ministry. The scheme had been opposed by a wide range of human rights and environmental groups, which likened the mine to India's Avatar for its potential damage. An earlier mine, run by the same company — Vedanta — caused pollution, adversely affected crops, and caused social upheaval.
Real-life Avatar: court blocks destruction of indigenous community in Borneo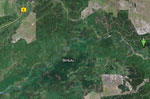 (01/27/2010) A court in the Malaysian state of Sarawak has issued an injunction to block the continued destruction of the Iban village of Sungai Sekabai, reports the Bruno Manser Fund (BMF), an indigenous rights groups. Last week Sarawak state police demolished 39 Iban homes in a dramatic escalation of land dispute between the community and a state-backed palm oil developer.
The real Avatar story: indigenous people fight to save their forest homes from corporate exploitation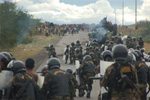 (12/22/2009) In James Cameron's newest film Avatar an alien tribe on a distant planet fights to save their forest home from human invaders bent on mining the planet. The mining company has brought in ex-marines for 'security' and will stop at nothing, not even genocide, to secure profits for its shareholders. While Cameron's film takes place on a planet sporting six-legged rhinos and massive flying lizards, the struggle between corporations and indigenous people is hardly science fiction.