Energy efficiency gains are failing to keep pace with the Internet's rapid rate of expansion, meaning that global web use is consuming an increasing share energy, warns a new perspective published in the journal Science.
Noting that the world's data centers already consume 270 terawatt hours and Internet traffic volume is doubling every three years, Diego Reforgiato Recupero of the University of Catania argues for prioritizing energy efficiency in the design of devices, networks, data centers, and software development.
"As the Internet evolves, it is apparent that energy efficiency needs to be addressed," he writes.
Recupero highlights two approaches for improving efficiency: smart standby and dynamic frequency scaling or CPU throttling.
"The former will allow
unused parts of a network
device to be put into very
low power states, where only
very basic functionalities
are performed. This method
is key for reducing energy
consumption because it will
allow switching some portion of the network to a sleep
mode in a smart and effective way."

Dynamic frequency scal-
ing allows us to trade off the
energy consumption and processing capacity of internal
blocks while satisfying the
current traffic load and quality of service constraints.
This ensures that when the system is under partial load, parts of it can be
throttled to decrease the power consumption
without a reduction of overall performance.



Packet service times and power consumption
when no green technologies are applied, with only smart standby,
with only dynamic frequency scaling, and with both smart standby and
dynamic frequency scaling. Caption and image courtesy of Recupero 2013.
The Italian computer scientist says the next generation of network devices will be "smarter" and "greener", synchronizing their energy-aware capabilities and better controlling high temperatures that drive up the need for energy intensive cooling systems. He adds that engineers are increasingly using green indicators in designing networks.
Recupero concludes by noting that more efficient design pays dividends beyond environmental gains.
"The fundamental problem of greening the
Internet is to strike a fine balance between the
demands of performance and the limitations
of energy usage," he writes. "New research initiatives in
energy optimization have revealed several
aspects of the Internet that can be streamlined. Addressing the issues of energy efficiency will allow us to draw deeper conclusions on how new network systems can be
smarter and more effective."
CITATION: Diego Reforgiato Recupero. Toward a Green Internet. Science Mar 28, 2013. 10.1126/science.1235623
Related articles
Frogs radio-tracked for first time in Madagascar
(03/01/2013) Researchers have radio-tracked frogs for the first time in Madagascar. Attaching tiny radio transmitters weighing 0.3-0.35 grams (1/100 of an ounce) to 36 rainbow frogs (Scaphiophryne gottlebei), the research team tracked the movement of the colorful frogs through rugged canyons in Madagascar's Isalo Massif. They found that the frogs have a short breeding period that occurs after the first intense rainfall at the start of the rainy season.
Good news about climate change? Evolving technology could make cleaning the air more profitable than fouling it
(02/26/2013) In the wake of the hottest and driest summer in memory throughout much of North America, and Super-storm Sandy that flooded cities and ravaged large swaths of the Mid-Atlantic coast, many now recognize that the climate change isn't just real, but that it is already at our doorstep. As this realization continues to sink in, the political will may ripen to take more aggressive action to put a brake CO2 emissions. Already, President Obama, who had remained mostly silent on the issue during his reelection campaign, has made it clear that tackling climate change will be among his top second-term priorities. But the fact remains that even if the entire world switched magically to 100 percent solar and other non-polluting power sources tomorrow, it's too late to roll back some of the impacts of climate change.
Illegally logged trees to start calling for help
(01/24/2013) Illegal loggers beware: trees will soon be calling—literally—for backup. The Brazilian government has begun fixing trees with a wireless device, known as Invisible Tracck, which will allow trees to contact authorities after being felled and moved.
How a text message could save an elephant or a rhino from a poacher
(01/15/2013) Soon a text message may save an elephant's or rhino's life. The Kenya Wildlife Service (KWS) is implementing a new alarm system in some protected areas that will alert rangers of intruders via a text message, reports the Guardian. Elephants and rhinos have been killed in record numbers across Africa as demand for illegal rhino horns and ivory in Asia has skyrocketed.
Google puts $5M toward anti-poaching drone technology
(12/18/2012) Google.org, Google Corp's philanthropic arm, earlier this month pledged $5 million toward efforts combat wildlife poaching.
Could marine cloud machines cool the planet?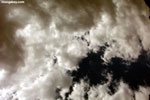 (11/26/2012) In 1990, British cloud physicist John Latham published a paper arguing he could cool global climate by brightening clouds over the ocean. Most colleagues ignored the paper, titled 'Control global warming?'—probably because this thing called global warming was not yet a hot topic. Now, more than two decades later, Latham continues to develop what has become one of the most promising and controversial ideas in climate control. 'Marine cloud brightening' might sound benign, but hairs rise when it's called 'geoengineering.'
Cell phones help decipher malaria transmission in Kenya
(11/19/2012) Malaria parasites can stow away silently in a person's bloodstream. Without any symptoms to betray them, their human host can unwittingly transport the parasites hundreds or thousands of miles. Tracking them has been nearly impossible, especially in poor countries. Now, researchers have harnessed a new tool: the burgeoning number of cell phone users in Africa, which help trace how malaria spreads.
Will we need to pull carbon out of the atmosphere to save ourselves?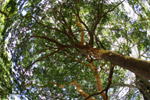 (10/17/2012) This year saw the Arctic sea ice extent fall to a new and shocking low, while the U.S. experienced it warmest month ever on record (July), beating even Dust Bowl temperatures. Meanwhile, a flood of new research has convincingly connected a rise in extreme weather events, especially droughts and heatwaves, to global climate change, and a recent report by the DARA Group and Climate Vulnerability Forum finds that climate change contributes to around 400,000 deaths a year and costs the world 1.6 percent of its GDP, or $1.2 trillion. All this and global temperatures have only risen about 0.8 degrees Celsius (1.44 degrees Fahrenheit) since the early Twentieth Century. Scientists predict that temperatures could rise between 1.1 degrees Celsius (2 degrees Fahrenheit) to a staggering 6.4 degrees Celsius (11.5 degrees Fahrenheit) by the end of the century.
Printed petri-meat gets boost from Internet billionaire
(08/17/2012) A company attempting a new approach to in-vitro meat production received up to $350,000 from The Thiel Foundation, a philanthropy started by Internet billionaire Peter Thiel, reports CNET.
Apple reverses course, rejoins green tech registry
(07/14/2012) Facing criticism from customers and potential loss of government contracts, computer giant Apple rejoined a green product registry it abandoned earlier this month.
Apple reverses course, rejoins green tech registry
(07/14/2012) Facing criticism from customers and potential loss of government contracts, computer giant Apple rejoined a green product registry it abandoned earlier this month.
Model airplane used to monitor rainforests – conservation drones take flight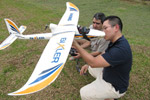 (02/23/2012) Conservationists have converted a remote-controlled plane into a potent tool for conservation. Using seed funding from the National Geographic Society, The Orangutan Conservancy, and the Denver Zoo, Lian Pin Koh, an ecologist at the ETH Zürich, and Serge Wich, a biologist at the University of Zürich and PanEco, have developed a conservation drone equipped with cameras, sensors and GPS. So far they have used the remote-controlled aircraft to map deforestation, count orangutans and other endangered species, and get a bird's eye view of hard-to-access forest areas in North Sumatra, Indonesia.
The camera trap revolution: how a simple device is shaping research and conservation worldwide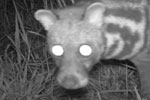 (02/14/2012) I must confess to a recent addiction: camera trap photos. When the Smithsonian released 202,000 camera trap photos to the public online, I couldn't help but spend hours transfixed by the private world of animals. There was the golden snub-monkey (Rhinopithecus roxellana), with its unmistakably blue face staring straight at you, captured on a trail in the mountains of China. Or a southern tamandua (Tamandua tetradactyla), a tree anteater that resembles a living Muppet, poking its nose in the leaf litter as sunlight plays on its head in the Peruvian Amazon. Or the dim body of a spotted hyena (Crocuta crocuta) led by jewel-like eyes in the Tanzanian night. Or the less exotic red fox (Vulpes vulpes) which admittedly appears much more exotic when shot in China in the midst of a snowstorm. Even the giant panda (Ailuropoda melanoleuca), an animal I too often connect with cartoons and stuffed animals, looks wholly real and wild when captured by camera trap: no longer a symbol or even a pudgy bear at the zoo, but a true animal with its own inner, mysterious life.
Breakthrough technology enables 3D mapping of rainforests, tree by tree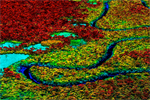 (10/24/2011) High above the Amazon rainforest in Peru, a team of scientists and technicians is conducting an ambitious experiment: a biological survey of a never-before-explored tract of remote and inaccessible cloud forest. They are doing so using an advanced system that enables them to map the three-dimensional physical structure of the forest as well as its chemical and optical properties. The scientists hope to determine not only what species may lie below but also how the ecosystem is responding to last year's drought—the worst ever recorded in the Amazon—as well as help Peru develop a better mechanism for monitoring deforestation and degradation.