Oil palm plantation in Borneo, with rainforest in the background
Doughnut and coffeehouse giant Dunkin' Donuts has agreed to source 100 percent of its palm oil under the Roundtable on Sustainable Palm Oil (RSPO), though the company has yet to set a date for the move, reports the New York State Comptroller's office.
The fast-food chain has been the target of environmental campaigners who have linked palm oil production to the destruction of tropical rainforests and other environmental ills in Malaysia and Indonesia. The move came after New York State Comptroller Thomas P. DiNapoli filed a shareholder resolution asking Dunkin' Donuts to address the social and environmental concerns associated with palm oil.
DiNapoli welcomed the company's decision to switch to RSPO-certified palm oil. The RSPO sets social and environmental criteria to help reduce the impact of palm oil production.
"Dunkin' Brands should be commended for taking the necessary steps to use only sustainably harvested palm oil in its products," DiNapoli said in a statement. "Consumers may not realize that many of the foods and cosmetics they eat and use contain palm oil that has been harvested in ways that are severely detrimental to the environment. Shareholder value is enhanced when companies take steps to address the risks associated with environmental practices that promote climate change."
Dunkin' Donuts has not actually committed to a date for its sourcing policy to go into effect. Nor is it clear whether the policy will apply to overseas operations. Dunkin' Donuts brand has a large presence in Indonesia where palm oil is widely used as a cooking oil.
The move comes less than two weeks after Starbucks announced it would use only RSPO-certified palm oil by 2015 across its global operations. In recent years 2015 has become the standard target for large Western retailers and manufacturers to adopt RSPO-certified palm oil.
While the RSPO has become the certification standard of choice for big companies, some environmentalists complain that it doesn't go far enough to mitigate environmental costs of palm oil production. The RSPO is now evaluating greenhouse gas accounting criteria to make the standard more robust.
Related articles
Guide for filing complaints on rule-breaking by palm oil companies published
(02/28/2013) Over the past 25 years palm oil production has emerged as one of the biggest drivers of deforestation and peatlands degradation in Southeast Asia. And there are fears that expansion in West and Central Africa could soon make palm oil a major cause of forest conversion on that continent.
Palm oil sustainability initiative must rule out deforestation, says group
(01/18/2013) The Roundtable on Sustainable Palm Oil (RSPO) must implement standards that protect forests and account for greenhouse gas emissions to remain credible, said an environmental group ahead of a that will determine the body's 'Principles and Criteria' for the next five years.
Greening the world with palm oil?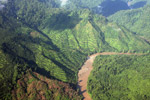 (01/26/2011) The commercial shows a typical office setting. A worker sits drearily at a desk, shredding papers and watching minutes tick by on the clock. When his break comes, he takes out a Nestle KitKat bar. As he tears into the package, the viewer, but not the office worker, notices something is amiss—what should be chocolate has been replaced by the dark hairy finger of an orangutan. With the jarring crunch of teeth breaking through bone, the worker bites into the "bar." Drops of blood fall on the keyboard and run down his face. His officemates stare, horrified. The advertisement cuts to a solitary tree standing amid a deforested landscape. A chainsaw whines. The message: Palm oil—an ingredient in many Nestle products—is killing orangutans by destroying their habitat, the rainforests of Borneo and Sumatra.
Nestle's palm oil debacle highlights current limitations of certification scheme
(03/26/2010) Last week Nestle, the world's largest food processor, was caught in a firestorm when it attempted to censor a Greenpeace campaign that targeted its use of palm oil sourced from a supplier accused of environmentally-damaging practices. The incident brought the increasingly raucous debate over palm oil into the spotlight and renewed questions over an industry-backed certification scheme that aims to improve the crop's environmental performance.