Brazil's National Space Research Agency INPE today confirmed an apparent rise in Amazon forest clearing for the four-month period ending February 28, 2013.
According to INPE's near real-time deforestation tracking system known at DETER, Amazon deforestation is pacing about 15 percent ahead of last year's rate, when overall forest clearing reached its lowest level since annual record-keeping began in the late 1980s. DETER indicates that at least 615 square kilometers of rainforest was cleared in the Brazilian Amazon between November 2012 and February 2013. 536 sq km was cut down in the year earlier period.

Monthly DETER data
But observers shouldn't read too much into the numbers. Deforestation detection this time of year is particularly difficult due to cloud cover in the Amazon. Furthermore, DETER uses low resolution satellite data that is meant more for alerting authorities about deforestation rather than measuring the actual extent of clearing. Annual deforestation estimates are based on a different system, which compares change during the height of the dry season when cloud cover is at a minimum.
However INPE's report is consistent with what has been reported by IMAZON, an NGO that has its own system for tracking deforestation. IMAZON's data shows forest loss pacing well ahead of the 2011-2012 rate.
Deforestation in the Brazilian Amazon has slowed dramatically in recent due to policy measures, better law enforcement, and macroeconomic trends. Last year's loss of 4,656 sq km was 83 percent below the 27,772 sq km cleared in 2004, putting the government ahead of its target for reducing deforestation 80 percent by 2018. Other Amazon countries have failed to keep pace with Brazil, with Bolivia, Peru, Guyana, Suriname, and French Guiana experiencing sharp increases in forest loss over the same period, according to Tim Killeen of WWF.

Deforestation in Amazon countries outside Brazil
Nonetheless there are concerns that Brazil's progress in reducing deforestation could stagnate due to last year's revision of its Forest Code, which governs how much forest private landowners are required to preserve, and new infrastructure projects. The weakening Brazilian real could also increase incentives for forest clearing by making agricultural exports more competitive in overseas markets.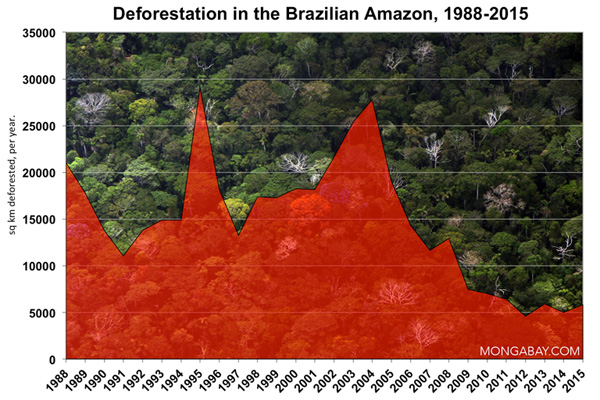 Annual Deforestation in the Brazilian Amazon since 1988
Related articles