A fence keeps locals from their traditional lands in Liberia, where Sime Darby has planted a contested palm oil plantation. Photo courtesy of the Rights and Resources Initiative (RRI).
Investing in companies that flout local community rights in developing countries often leads to severe economic losses, according to a new report from the Rights and Resources Initiative (RRI). A rising trend in "land grabbing" from Africa to South America by corporations and even foreign governments results in social instability, which can lead to large-scale protests, violence, and even murder, delaying and sometimes derailing projects. Such instability poses massive risk to any investor, not to mention supporting corporate entities that are accused of ignoring human rights.
"When we looked at companies involved in international land acquisitions, we found that they experience an astonishing amount of financial damage, ranging from massively increased operating costs—as much as 29 times above a normal baseline scenario—to outright abandonment of functional operations when they ignore pre-existing or customary local land rights," explained Lou Munden, Chief Executive of The Munden Project, which produced the report for the RRI.
The study points to a number of real-world occurrences in which companies have undercut their own performance by ignoring local land rights, including mining giant Vedanta in India, SN Power in Chile, SEKAB biofuels company in Tanzania, and palm oil producer Sime Darby in Liberia. In each case, corporations failed to properly consult locals and often overlooked environmental impacts while local governments rubber-stamped the controversial projects.
"It is unfortunate to see national governments still embracing failed development models, especially when the evidence is so overwhelming. In this equation, political stability, democracy and long-term economic gain is often sacrificed for short-term cash," Andy White, coordinator of RRI, said adding that "it's even more astounding given that investors often fail to prosper as well."
A second report by RRI warns that history looks set to repeat itself in Myanmar, which recently opened its doors a little wider to the global community. However, land conflict is rife in the northern state of Kachin where locals are vociferously opposing mining, logging, and hydropower projects on their traditional lands.
"The conflict in the north of Myanmar, like so many around the world, has its roots in land and resource rights—including community forest rights," explains Maung Maung Than, project coordinator for RECOFTC-The Center for People and Forests. "The leadership of previous governments guiding Myanmar started a race to sell off our natural resources, and our livelihoods have become collateral damage in the process. As our country opens up to the outside world, we need to stay focused on reducing poverty, not increasing it."
Investing in such projects may not just result in financial losses, but also in supporting human rights violations, even assassinations. Activists who speak out against land-grabbing face not just imprisonment and harassment, but even death in some countries.
Just last year, Cambodian activist, Chut Wutty, was shot dead by military police while escorting journalists to logging sites in the country. A journalist, who had covered illegal logging, was also found dead in the trunk of his car in Cambodia. Other high-profile murders of activists occurred in the Philippines, Brazil, Mexico, and Laos just last year.
Such conflicts are continuing worldwide. A massive palm oil plantation in Cameroon run by U.S.-based Herakles Farms has recently faced community backlash and protests, leading to the arrest of protest leaders. The construction of the mega-dam Belo Monte in Brazil has been halted numerous times by indigenous occupations, who have been fighting the proposed dam for decades.
"When community land rights are violated, everyone involved assumes a high degree of risk, from the local and national government to the private enterprises and even their supply chain," said Jeffrey Hatcher, director of global programs for RRI. "Respecting and securing local land rights minimizes risks. It is a sound proposition for governments and businesses alike."
Related articles
Photos reveal destruction of Cameroon rainforest for palm oil
(11/26/2012) Newly released photos by Greenpeace show the dramatic destruction of tropical forest in Cameroon for an oil palm plantation operated by SG Sustainable Oils Cameroon (SGSOC), a subsidiary of the U.S. company Herakles Farm. The agriculture company is planning to convert 73,000 hectares to palm oil plantations on the edge of several protected areas, but has faced considerable opposition from environmentalists and some local communities. In addition to the aerial photos, Greenpeace alleges that ongoing forest clearing by Herakles is illegal since the companies 99-year lease has yet to be fully approved by the Cameroonian government.
Environmental journalist investigating illegal logging murdered in Cambodia
(09/13/2012) Less than five months after high-profile forest activist, Chut Wutty, was killed in Cambodia, an environmental journalist, Hang Serei Oudom, has been found slain in the trunk of his car, possibly murdered with an ax, reports the AFP. Oudum, who worked at the local paper Vorakchun Khmer Daily, was known for writing stories on epidemic of illegal logging in Cambodia, often linking the crime to business people and politicians. The car and body were found in a cashew nut plantation in Ratanakiri province, an area rife with logging.
Cambodia's largest lowland rainforest spared from new land concessions
(08/06/2012) Four economic land concessions have been cancelled in Cambodia's Prey Lang forest, known as the largest intact lowland forest in Southeast Asia, reports the Phnom Penh Post. The economic land concessions, totaling over 40,000 hectares, would have been used for rubber plantations.
'National scandal:' foreign companies stripped Papua New Guinea of community-owned forests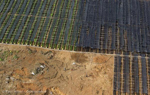 (07/30/2012) Eleven percent of Papua New Guinea's land area has been handed over to foreign corporations and companies lacking community representation, according to a new report by Greenpeace. The land has been granted under controversial government agreements known as Special Agricultural and Business Leases (SABLs), which scientists have long warned has undercut traditional landholding rights in the country and decimated many of Papua New Guinea's biodiverse rainforests. To date, 72 SABLs have been granted—mostly to logging companies—covering an area totaling 5.1 million hectares or the size of Costa Rica.
Flouting moratorium, Cambodia approves four land concessions in protected areas
(06/27/2012) A month-and-a-half after Cambodian Prime Minister, Hun Sen, declared a moratorium on on new economic land concessions, the government has announced four new concessions, each located in protected areas. Economic land concessions have come under the microscope in Cambodia after large-scale protests by local people and the recent murder of forest activist Chut Wutty. Critics say the concessions, which last year totaled two million hectares (4.9 million acres) sold off to foreign corporations, have resulted in local land conflict and environmental degradation.
Agricultural area larger than Texas has been 'land-grabbed'
(06/26/2012) Compiling over 1,000 foreign land deals from 2000-2010, a new report finds that 702,000 square kilometers (271,043 square miles) of agricultural land worldwide has been sold-off to foreign governments or international corporations, an area larger than Texas. The report by the Worldwatch Institute finds that such land deals, often referred to as "land grabbing," have declined since a peak in 2009, but still remain high.
Over 700 people killed defending forest and land rights in past ten years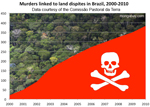 (06/19/2012) On May 24th, 2011, forest activist José Cláudio Ribeiro da Silva and his wife, Maria do Espírito Santo da Silva, were gunned down in an ambush in the Brazilian state of Pará. A longtime activist, José Cláudio Ribeiro da Silva had made a name for himself for openly criticizing illegal logging in the state which is rife with deforestation. The killers even cut off the ears of the da Silvas, a common practice of assassins in Brazil to prove to their employers that they had committed the deed. Less than a year before he was murdered, da Silva warned in a TEDx Talk, "I could get a bullet in my head at any moment…because I denounce the loggers and charcoal producers."