Rainforest in Sabah, Malaysia on the island of Borneo. Photo by: Rhett A. Butler.
A new video highlights the work and drive of renewable energy proponents at the inaugural meeting of Southeast Asia Renewable Energy People's Assembly (SEAREPA) in the Malaysian state of Sabah. Held last year, the meeting brought together 80 organizations from 12 countries to discuss the potential and challenges of green energy in the region. The idea of SEAREPA came about after activists in Sabah successfully defeated plans for a coal-fired power plant to be built adjacent to old-growth rainforest and one of the world's most biodiverse coral reefs.
"SEAREPA possesses all the qualities that can allow it to evolve into a very useful space for renewable energy practitioners. With wide representation across communities, private and public sectors across 11 countries, SEAREPA has the ability to support advocacy initiatives, making the peoples' voices heard by governments and intergovernmental organizations like ASEAN," explains coordinator Gabriel S. Wynn. What makes SEAREPA unique is its focus on smallscale, local renewable energy as well as being an open platform for activists, scientists, government officials, and business people to discuss energy in the region.
"Renewable energy forums exist, but they are typically focused on the production, distribution and transmission of energy. These forums tend to overlook a lot of the actual needs of end users, and those that energy projects eventually impact," explains Wyn. "Energy affects everyone, and everyone can and should have the ability to affect the way that energy is developed and managed."
The meeting ended with 12 initiatives and plans to meet again this year.
Related articles
Micro-hydro and decentralized green energy goals set in Borneo
(11/04/2012) The first ever meeting of the Southeast Asia Renewable Energy People's Assembly (SEAREPA) ended with agreement on 12 future projects, including developing community micro-hydro power and pushing for new policies on decentralized renewable energy in the region. Held in Malaysian state of Sabah on the island, the meeting brought together 130 people from some 80 different groups.
After defeating coal plant, Borneo hosts renewable energy meeting
(10/31/2012) Last year, a coalition of environmentalists and locals won a David-versus-Goliath battle against a massive coal plant in the Malaysian state of Sabah on Borneo. After facing a protracted campaign—including expert analysis of green energy options for Sabah—the state government announced it was scuttling plans to build the coal plant on a beach overlooking the Coral Triangle. Now, victorious grassroots campaigners are hosting the inaugural meeting of the Southeast Asia Renewable Energy People's Assembly (SEAREPA), bringing 80 organizations together to discuss green energy options across southeast Asia.
Wind can power the world, says two new studies
(09/10/2012) Wind power is up to the challenge of providing more-than-enough energy for global society, according to two new and unrelated studies. Both studies, one published in Nature Climate Change and the other in the Proceedings of the National Academy of Sciences (PNAS), found that wind power from surface winds alone could produce hundreds of terrawatts (TW) meanwhile current global society uses around 18 TW.
Tigers vs. coal in India: when big energy meets vanishing cats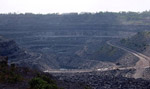 (08/01/2012) Burning coal fuels climate change, causes acid rain, and spreads toxic pollutants into the environment, but now a new Greenpeace report warns that coal may also imperil the world's biggest feline: the tiger. Home to world's largest population of tigers—in this case the Bengal subspecies (Panthera tigris tigris)—India is also the world's third largest coal producer. The country's rapacious pursuit of coal—it has nearly doubled production since 2007—has pushed the industry into tiger territory, threatening to destroy forests and fragment the tiger's already threatened population.