Peat drainage canal and stacks of MTH harvested from forest clearance by APRIL wood supplier PT. RAPP in Kampar peninsula. Some CITES-protected ramin trees were "saved" and left standing. Photo taken by Eyes on the Forest at N°17'52.36" E102°43'22.29" on 10 February 2012.

After Indonesian paper giant Asia Pulp & Paper's announcement last week that it will no longer source fiber produced from destruction of tropical rainforests, environmental groups are now urging Indonesia's other major paper company to make a similar commitment.
On Tuesday, WWF echoed Greenpeace's call for Asia Pacific Resources International Limited (APRIL) to eliminate deforestation from its supply chain. Like APP, APRIL has been linked to large-scale conversion of Sumatra's endangered rainforests for industrial tree plantations to produce pulp and paper. These plantations have taken a heavy toll on rare wildlife, including orangutans, tigers, elephants, and rhinos, while generating substantial greenhouse gas emissions from deforestation and draining of the island's carbon-dense peatlands.
"APRIL is now the single largest converter of natural forest among Indonesia's pulp producers," said Nazir Foead, Conservation Director of WWF-Indonesia, in a statement. "We urge the company to immediately change their unsustainable business model and stop draining our peat soils and converting our forests".
"WWF calls on APRIL to stop pulping tropical forests, solve social conflicts and restore the forests and peatlands it has destroyed," added Aditya Bayunanda, pulp and paper manager for WWF-Indonesia.
Analysis by Eyes on the Forest (EoF), a coalition of Sumatran environmental groups include WWF-Indonesia, shows that APRIL cleared at least 140,000 hectares (346,000) acres of tropical forest between 2008 and 2011, accounting for one-third of all forest loss in Riau Province during the period. WWF-Indonesia says that two-thirds of the concessions that supply APRIL in Riau are located on peatlands.

APRIL suppliers' concessions in Kampar Peninsula. Concessions of APRIL's subsidiary PT. RAPP are shown with orange boundary (including one block in Padang island just off the peninsula); concessions of ten affiliated suppliers who obtained licenses from two jailed bupatis (District heads) are shown with red boundary; an additional concession of an affiliated supplier is shown with a yellow boundary. Courtesy of EoF.

WWF's statement comes less than a week after similar demands from Greenpeace and the Rainforest Action Network (RAN), activist groups that helped lead the campaign to pressure APP to stop clearing native forests.
Greenpeace sent a letter to Sukanto Tanoto, the chairman of Royal Golden Eagle International, the conglomerate that owns APRIL, putting the company on notice that it would soon be targeted by campaigners if it doesn't clean up its operations. Meanwhile RAN, which has been running a campaign against APRIL since 2009, launched a new email protest via its web site.
APRIL "continues to destroy Indonesia's precious forests and peatlands, wreak havoc on local communities' rights—and currently has no plans to stop," wrote RAN forest campaigner Lafcadio Cortesi in a blog post announcing the appeal. "It's time for APRIL to meet or beat APP's commitments to protect forests and human rights."
| | |
| --- | --- |
| | Sumatran orangutan. Photo by Rhett A. Butler |
APP's new forest conservation policy is potentially far-reaching, applying to all fiber that enters its supply chain, whether it comes from APP-owned concessions, affiliates, or independent suppliers. The commitment prohibits conversion of high carbon stock and high conservation value forest, the definition of which will be determined by outside auditors. APP has also pledged to address social conflicts the plague several of its concessions as well as embrace the concept of "Free, Prior Informed Consent" in engaging with communities on new plantation development. The policy could cost APP tens of millions of dollars in unwinding supplier contracts and forgoing conversion of forest already under concession. However the potential upside is also substantial. Pressure from environmental campaigners have cost APP tens of millions of dollars in lost business at a time when it is looking to raise significant amounts of capital to meet debt obligations and finance expansion. A similar agreement signed in 2011 by APP's sister company, Golden Agri Resources (GAR), enabled the palm oil giant to raise $400 million via a bond offering. Just two years earlier GAR had been facing widespread customer defections over its links to deforestation and peatlands destruction.
Still while APP's announcement has been widely lauded, not everyone is convinced the paper giant will follow through on the commitment. APP has failed to abide by prior pledges to phase out conversion of wildlife-rich forests. Nonetheless, for now Greenpeace has agreed to suspend its campaign against APP in hopes that its forest policy could lead others in the Indonesian forestry sector — most notably APRIL — to move toward greener practices. Such a shift in the private sector could create new momentum within Indonesian ministries to develop and implement policies that support law carbon development, including accelerating the process of setting aside conservation areas and offering incentives for plantation development on non-forested lands.
Related articles
The beginning of the end of deforestation in Indonesia?
(02/05/2013) Asia Pulp & Paper, a forestry giant that has been widely criticized for its role in driving deforestation and contributing to social conflict in Indonesia, today announced a zero deforestation policy that could have a dramatic impact on efforts to slow the Southeast Asian nation's high rate of deforestation. The policy, which went into effect February 1, is ambitious enough that one of APP's most vocal critics and agitators, Greenpeace, will suspend its highly-damaging campaign against the paper giant. The campaign against APP has cost the paper giant tens of millions of dollars in lost business since 2009. The new policy targets several of the major criticisms against APP, including deforestation, degradation of high carbon peatlands, conservation of critical wildlife habitat, and social conflict with local communities.
HarperCollins establishes policy barring paper sourced from rainforest destruction
(01/29/2013) HarperCollins has established a policy that excludes paper sourced from destruction of tropical rainforests and old growth forests. The revised policy, posted on its web site earlier this month, is a response to a campaign by the Rainforest Action Network (RAN), an activist group that is targeting companies linked to clearing of Indonesian rainforests and peatlands for pulp and paper production:
Paper giant breaks pledge to end rainforest logging in Sumatra, says group
(12/26/2012) Pulp and paper giant Asia Pacific Resources International Limited (APRIL) continues to destroy large areas of rainforests and peatlands despite a commitment to end natural forest logging by 2009, says a new report issued by a coalition of Indonesian environmental groups. The Eyes on the Forest report finds that APRIL and its suppliers cleared at least 140,000 hectares (346,000 acres) of natural forest between 2008 and 2011 in Riau, accounting for 27 percent of all forest loss in the province during the period. Some of the area cleared by APRIL and its subsidiaries consisted of deep peat swamp forest, which stores massive amount of carbon.
Disney drops paper suppliers linked to deforestation
(10/12/2012) Disney this week announced sweeping changes to its paper-sourcing policy that will exclude fiber produced via the destruction of tropical rainforests.
Indonesia's pulp and paper targets incompatible with green growth goals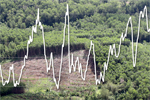 (08/10/2012) Indonesia's pulp and paper targets incompatible with green growth goals Indonesia's ambitious targets for boosting pulp and paper production to make it the world's lowest-cost producer are at odds with its push for green economic growth should expansion proceed on its current business-as-usual path, said a forestry expert presenting at the annual meeting of the Association for Tropical Biology and Conservation (ATBC) in Bonito, Brazil.
Pulp and paper firms urged to save 1.2M ha of forest slated for clearing in Indonesia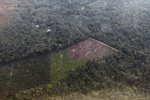 (03/17/2011) Indonesian environmental groups launched a urgent plea urging the country's two largest pulp and paper companies not to clear 800,000 hectares of forest and peatland in their concessions in Sumatra. Eyes on the Forest, a coalition of Indonesian NGOs, released maps showing that Asia Pulp and Paper (APP) and Asia Pacific Resources International Limited (APRIL) control blocks of land representing 31 percent of the remaining forest in the province of Riau, one of Sumatra's most forested provinces. Much of the forest lies on deep peat, which releases large of amount of carbon when drained and cleared for timber plantations.
Does chopping down rainforests for pulp and paper help alleviate poverty in Indonesia?
(01/13/2011) Over the past several years, Asia Pulp & Paper has engaged in a marketing campaign to represent its operations in Sumatra as socially and environmentally sustainable. APP and its agents maintain that industrial pulp and paper production — as practiced in Sumatra — does not result in deforestation, is carbon neutral, helps protect wildlife, and alleviates poverty. While a series of analyses and reports have shown most of these assertions to be false, the final claim has largely not been contested. But is conversion of lowland rainforests for pulp and paper really in Indonesia's best economic interest?
Pulp plantations destroying Sumatra's rainforests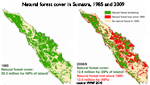 (11/30/2010) Indonesia's push to become the world's largest supplier of palm oil and a major pulp and paper exporter has taken a heavy toll on the rainforests and peatlands of Sumatra, reveals a new assessment of the island's forest cover by WWF. The assessment, based on analysis of satellite imagery, shows Sumatra has lost nearly half of its natural forest cover since 1985. The island's forests were cleared and converted at a rate of 542,000 hectares, or 2.1 percent, per year. More than 80 percent of forest loss occurred in lowland areas, where the most biodiverse and carbon-dense ecosystems are found.