Logging in Borneo. All photos by Rhett A. Butler
Two environmental activist groups blasted the World Bank over its reported decision to block a probe into its support of industrial-scale rainforest logging.
Greenpeace and Global Witness issued a statement condemning last Friday's decision by The World Bank Board of Directors not to pursue a review of its lending to industrial logging companies. The review was recommended by an independent audit committee that has been conducting an evaluation of the effectiveness of a decade's worth of World Bank forestry investments.
"The very survival of tropical forests and the way of life of people who live in them is under threat, and the World Bank is in denial about its contribution to the problem," said Rick Jacobsen of Global Witness in a statement. "As a public institution tasked with reducing poverty, the World Bank should take very seriously its own evaluators' finding that its approach is not helping vulnerable forest communities. It's time for the Bank to stop defending destructive logging practices in the name of development benefits that never materialize."
The report, developed by the Independent Evaluation Group (IEG) which is comprised of bank staff and outside consultants, is highly critical of the bank's investments in 345 forestry projects between July 2001 and July 2011. It says that while the bank's $4.1 billion investments helped protect 24 million hectares of forest and set aside 45 million hectares for indigenous people, it largely failed to achieve its social and environmental targets.
The report criticized the bank for continuing to fund industrial logging, failing to involve communities in decision-making, and supporting approaches where benefits accrued to the wealthy at the expense of the poor. According to IEG, the World Bank mostly ignored the informal sector, which is an important source of income for many forest-dependent people. Conservation projects often forced local people to move against their will.
The bank accepted seven of the recommendations, including the need to support direct forest management by forest-dependent communities, but said it "disagreed with IEG's recommendation regarding timber concession reform in tropical moist forest countries" and "was not in favor of undertaking a parallel review" on the issue.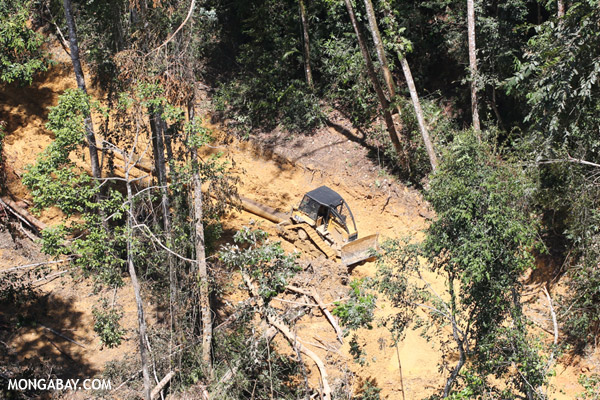 Greenpeace International said it was disappointed with the decision, especially in light of continuing problems in the Congo Basin, where logging has been linked to corruption, conflict, and environmental degradation.
"After 10 years of World Bank-led reforms in the Democratic Republic of Congo (DRC), roughly 150,000 km2 of rainforest remain in the hands of poorly regulated international logging companies, while communities are once again being left behind," said Susanne Breitkopf of Greenpeace International in a statement.
Greenpeace added that "The reform process in the DRC has been marred with irregularities and widely criticized; meanwhile, a law that would support community management of forests has been stalled for years, and the Bank is financing a forest zoning process that is likely to earmark huge areas of rainforest for industrial logging."
Rainforest logging remains a controversial issue. Supporters argue that well-managed industrial logging operations can generate revenue and employment for local people without substantially degrading the resource base. Opponents maintain that logging, even when conducted selectively, leaves forests more vulnerable to fire, drought, illegal encroachment and hunting, and outright deforestation. They add that industrial logging generates few benefits for forest-dependent people. While certification schemes like the Forest Stewardship Council (FSC) aim to mitigate the impacts of logging, critics say that many of the same issues still apply, especially when logging is carried out in ecologically-rich old-growth forests.
The World Bank has long been a target of environmentalists for its involvement in destructive forest projects, ranging from dams to oil palm plantations to logging. In response to these criticisms, in 2002 the bank launched a new forestry strategy that put greater emphasis on conservation and more sustainable use of forests. Implementation of that strategy over its first ten years was the focus of IEG evaluation.
Related articles
Scientists point to research flaw that has likely exaggerated the impact of logging in tropical forests
(01/23/2013) The impact of logging on tropical forest species has likely been exaggerated by statistical problems, according to a new study in Conservation Biology. Reviewing 77 studies on how logging affects tropical biodiversity, scientists found that 67 percent were flawed by a technical problem known as 'pseudoreplication.' The debate over logging in tropical forests has garnered significant attention recently as some scientists argue that well-managed logging areas can actually retain impressive numbers of species, while others say logging does irreparable harm to the ecosystem's ecology.
Greenpeace says U.S. logging company has broken landmark boreal forest agreement
(12/06/2012) When a long-fought peace was reached between nine environmental groups and 20 logging companies in 2010 for the vast Canadian boreal forest, it was dubbed the "world's largest conservation agreement." However, now that agreement is being shaken. A dispute between Greenpeace and U.S. logging company, Resolute Forest Products, over alleged logging in critical caribou habitat has resulted in the activist group abandoning the agreement.
Global decline of big trees in old-growth forests worrying, argue scientists
(12/06/2012) The decline of large trees is putting biodiversity and forest health at risk globally, warn researchers writing in the journal Science.
Experts: sustainable logging in rainforests impossible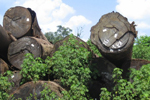 (07/19/2012) Industrial logging in primary tropical forests that is both sustainable and profitable is impossible, argues a new study in Bioscience, which finds that the ecology of tropical hardwoods makes logging with truly sustainable practices not only impractical, but completely unprofitable. Given this, the researchers recommend industrial logging subsidies be dropped from the UN's Reducing Emissions from Deforestation and Forest Degradation (REDD+) program. The study, which adds to the growing debate about the role of logging in tropical forests, counters recent research making the case that well-managed logging in old-growth rainforests could provide a "middle way" between conservation and outright conversion of forests to monocultures or pasture.
Industrial logging leaves a poor legacy in Borneo's rainforests
(07/17/2012) For most people "Borneo" conjures up an image of a wild and distant land of rainforests, exotic beasts, and nomadic tribes. But that place increasingly exists only in one's imagination, for the forests of world's third largest island have been rapidly and relentlessly logged, burned, and bulldozed in recent decades, leaving only a sliver of its once magnificent forests intact. Flying over Sabah, a Malaysian state that covers about 10 percent of Borneo, the damage is clear. Oil palm plantations have metastasized across the landscape. Where forest remains, it is usually degraded. Rivers flow brown with mud.
Greenpeace calls for global REDD standards to reduce negative impacts of forest carbon projects
(06/26/2012) Greenpeace has launched a consultation process to establish global standards for Reducing Emissions from Deforestation and Degradation (REDD+) projects.
Big trees, like the old-growth forests they inhabit, are declining globally
(01/26/2012) Already on the decline worldwide, big trees face a dire future due to habitat fragmentation, selective harvesting by loggers, exotic invaders, and the effects of climate change, warns an article published this week in New Scientist magazine. Reviewing research from forests around the world, William F. Laurance, an ecologist at James Cook University in Cairns, Australia, provides evidence of decline among the world's 'biggest and most magnificent' trees and details the range of threats they face. He says their demise will have substantial impacts on biodiversity and forest ecology, while worsening climate change.
Logging of primary rainforests not ecologically sustainable, argue scientists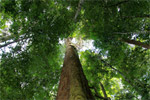 (01/25/2012) Tropical countries may face a risk of 'peak timber' as continued logging of rainforests exceeds the capacity of forests to regenerate timber stocks and substantially increases the risk of outright clearing for agricultural and industrial plantations, argues a trio of scientists writing in the journal Biological Conservation. The implications for climate, biodiversity, and local economies are substantial.
FSC mulls controversial motion to certify plantations responsible for recent deforestation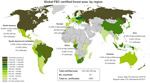 (06/24/2011) Members of the Forest Stewardship Council (FSC), meeting in Malaysia this week for its General Assembly, will consider various changes to the organization, including a vote on a controversial motion that would open the door—slightly at first—to sustainable-certification of companies that have been involved in recent forest destruction for pulp and paper plantations. Known as Motion 18, the change is especially focusing on forestry in places where recent deforestation has been rampant, such as Indonesia and Malaysia.
Locals clash with 'sustainable' FSC logging company in the Congo
(05/22/2011) Two separate protests against logging companies by local communities have turned violent in the Democratic Republic of Congo (DRC), leaving at least one dead. According to Greenpeace, one of the companies involved in the violence, Sodefor, is sustainably certified by the Forest Stewardship Council (FSC). Given that the industry in DRC is rife with social conflict and corruption, Greenpeace is advocating that FSC place a moratorium on certifying new industrial-style logging concessions in the central African nation.
Fighting illegal logging in Indonesia by giving communities a stake in forest management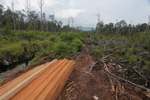 (03/10/2011) Over the past twenty years Indonesia lost more than 24 million hectares of forest, an area larger than the U.K. Much of the deforestation was driven by logging for overseas markets. According to the World Bank, a substantial proportion of this logging was illegal. Curtailing illegal logging may seem relatively simple, but at the root of the problem of illegal logging is something bigger: Indonesia's land policy. Can the tide be turned? There are signs it can. Indonesia is beginning to see a shift back toward traditional models of forest management in some areas. Where it is happening, forests are recovering. Telapak understands the issue well. It is pushing community logging as the 'new' forest management regime in Indonesia. Telapak sees community forest management as a way to combat illegal logging while creating sustainable livelihoods.
Timber certification is not enough to save rainforests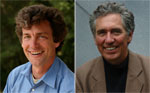 (06/02/2010) In the 1980s and 1990s pressure from activist groups led some of the world's largest forestry products companies and retailers to join forces with environmentalists to form the Forest Stewardship Council (FSC), a certification standard that aims to reduce the environmental impact of wood and paper production on natural forests. Despite initial skepticism on whether buyers would pay a premium for greener forest products, FSC quickly grew and by 2000 had become a standard in many markets, including Europe and the United States. Companies like Home Depot, Lowe's, and Ikea are today strong supporters of the FSC. But the FSC has not been without controversy. In recent years some activists have voiced concern about FSC standards as well as the credibility of auditors that certify timber operations. Among the initiative's supporters is the Rainforest Action Network (RAN), a group best known for its aggressive protest tactics. RAN says engagement with the FSC is better than the alternative: leaving the timber industry to devise its own sustainability standards.