African savannah elephants on the Chobe River in Botswana. From 2014 on, hunting will no longer be allowed in Botswana's public lands. Photo by: Tiffany Roufs.
Three developing countries have recently toughened hunting regulations believing the changes will better protect vanishing species. Botswana has announced it will ban trophy hunting on public lands beginning in 2014, while Zambia has recently banned any hunting of leopards or lions, both of which are disappearing across Africa. However, the most stringent ban comes from another continent: Costa Rica—often considered one of the "greenest" countries on Earth—has recently passed a law that bans all sport hunting and trapping both inside and outside protected areas. The controversial new law is considered the toughest in the Western Hemisphere.
"The shooting of wild game purely for sport and trophies is no longer compatible with our commitment to preserve local fauna as a national treasure, which should be treated as such," Botswana's President, Ian Khama, said in last year's state of the nation address.
Botswana's ban will go into effect in 2014 for the country's vast public lands. Although notable, this is not the first time an African nation has banned trophy hunting: Kenya has not allowed hunting since 1977. After 2014 wildlife will only be allowed to be hunted in Botswana if they are considered "problem animals," however, the ban will not affect the country's few private reserves.
Although Botswana contains more elephants than any other country on Earth (over 100,000 individuals), poaching, trophy hunting, and other pressures have hit some of Botswana's wilderness areas hard.
Also in southern Africa, Zambia has recently passed a law that will ban any hunting of lions and leopards.
"Tourists come to Zambia to see the lion and if we lose the lion we will be killing our tourism industry," Zambia's tourism minister Sylvia Masebo told Reuters.
A recent study has found that lion populations across Africa have plunged by 68 percent in just 50 years. Lion experts say trophy hunting for the top predators can have a huge impact on lion prides. By targeting adult males (for their manes) trophy hunters can unhinge an entire pride, leading to a new male taking over and killing all of the cubs. Lions (Panthera leo) are currently listed as Vulnerable on the IUCN Red List, while leopards (Panthera pardus) are considered Near Threatened.
According to the Food and Agriculture Organization (FAO), the average price to kill a lion is $29,000, while to kill a leopard is $7,000. To shoot an elephant, on average, costs $30,000.
Hunters have long argued that trophy hunting aids conservation efforts, for example they say that revenues brought in from commercial hunting far outweighs any loss in species. In addition, there's little question that historically hunting has contributed to additional lands being set aside. But given staggering declines in big mammals across Africa—a recent study found that big mammal populations have fallen by over half in just 40 years—it appears a number of nations have come to believe that banning commercial hunting is one straight-forward way to stem the loss.
Still, in order to truly safeguard Africa's big mammals, continued habitat loss, poaching, rising human populations, and poorly-planned development projects will also need to be addressed.
Trophy hunting is still going strong in countries like Tanzania, South Africa, Mozambique, and Namibia.
But, the biggest new hunting ban comes not from Africa, but Central America. Late last year, Costa Rica's legislature unanimously passed a new law banning all hunting and trapping across the entire country. The proposed law was brought to the legislature after it was signed by 177,000 Costa Ricans. Those caught hunting will face fines up to $3,000 or four months in prison. However, subsistence hunting by indigenous people will still be allowed, as will hunting to cull animals that are considered overpopulated.
Costa Rica has set aside one quarter of its land for protection, while tourism represents 5 percent of its GDP.

The African buffalo (Syncerus caffeer) in Chobe Naitonal Park. The African buffalo is a popular target for trophy hunters, costing on average just under $4,000. Photo by: Tiffany Roufs.
Related articles
From catastrophic to the sustainable: the flight of the Amur Falcon
(12/17/2012) It is said that the price of 'freedom and justice' is constant vigilance. It seems the same
can be said of conservation and sustainability in our ever changing world. In a story
and allegory appropriate for many of the challenges that face our global environment,
two Indian conservation champions, Shashank Dalvi and Ramki Sreenivasan (both
protégés and associates of famed conservation leader, Dr Ullas Karanth of the WCS
India), have stepped to work with a host of international and local interests to help save
one species of beleaguered bird, the Amur Falcon of Eurasia.
Why it's time to ban the ivory trade for good [Graphic images: viewer discretion advised]
(12/12/2012) This week the Kenya Wildlife Service (KWS) announced a 14% decline in elephants in the Samburu/Laikipia ecosystem over the last 4 years. The decline has occurred in a population whose natural growth rate was measured at 5.3% between 2002 and 2008 according to the previous survey, suggesting that over 300 elephants are dying annually in the Samburu and Laikipia's landscape, denting the poster child image of one of Kenya's most important wildlife landscapes. Poaching and drought are the main causes of mortality in this population. The impact of poaching on tourism cannot be ignored, heavily armed bandits threaten more than elephants, if we can't protect elephants how can we protect international tourists? But it's the long term consequence that are of greater concern.
Poaching in Serengeti seems worth the risk
(12/10/2012) Illegal hunting in Tanzania's Greater Serengeti Ecosystem (GSE) remains a prevalent activity for local people, despite government regulation and grassroots movements to prevent it. A new paper from mongabay.com's open-access Tropical Conversation Science examines the factors that drive poachers to continue their activities, despite the high costs involved. By interviewing citizens involved with illegal hunting in the Western part of the Serengeti, they were able to identify key risks that are faced by the hunters as well as the perceived gains of a successful hunt.
Lion population falls 68 percent in 50 years
(12/04/2012) African lions, one of the most iconic species on the planet, are in rapid decline. According to a new study in Biodiversity Conservation, the African lion (Panthera leo leo) population has dropped from around 100,000 animals just fifty years ago to as few as 32,000 today. The study, which used high resolution satellite imagery to study savannah ecosystems across Africa, also found that lion habitat had plunged by 75 percent.
Controversial wolf hunt moves to the Midwest, 196 wolves killed to date
(11/14/2012) The hugely controversial wolf hunt in the U.S. has spread from the western U.S. (Montana, Idaho, and Wyoming) to the Midwest (Minnesota and Wisconsin) this year. Although the wolf hunt is less than a month old in the region—and only eleven days old in Minnesota—196 animals so far have been shot. As in the west, the wolf hunt has raised hackles among environmentalists along with fierce defenders among hunters. Wolves, which were protected under the the Endangered Species Act (ESA) since 1973, were stripped of that status by legislation in 2009, opening the door—should a state choose—to trophy hunting.
Borneo may lose half its orangutans to deforestation, hunting, and plantations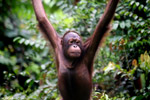 (11/13/2012) Borneo will likely lose half of its orangutans if current deforestation and forest conversion trends continue, warns a comprehensive new assessment by an international team of researchers. The study, published in the journal PLoS ONE, overlays orangutan distribution with land use regulations in Malaysian and Indonesian Borneo. Borneo has suffered high rates of deforestation, logging, and forest conversion for industrial plantations in recent decades, endangering the world's largest surviving populations of orangutans.
Poaching in the Serengeti linked to poverty, high legal hunting prices
(07/09/2012) In the effort to protect the Serengeti—arguably Africa's most famous ecosystem—one of the major problems is the bushmeat trade. Population growth, little available protein, poverty, and a long-standing history of hunting has led many communities to poach wildlife within Serengeti National Park. Interviewing over a thousand community members in the western Serengeti, scientists found that community members are largely aware that wildlife hunting is illegal and that conservation of wild species is important, but hunt animals anyway partly out of necessity.
New campaign targets snares in effort to save world's big cats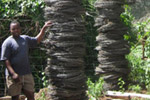 (06/05/2012) Last summer, a wild Sumatran tiger—one of only a few hundred surviving on the island—made news in a story that did not have a happy ending. The cat had become entangled in a snare in a logging concession owned by Asia Pulp and Paper (APP). The tiger spent seven days without food or water before wildlife rangers found it, but its snared right paw was a bloody black mess. Although the rangers were able to sedate and free the cat, it died shortly thereafter from its wounds.